Government to mull how NZ meets the costs of climate adaptation and invests in resilience, getting advice on flood insurance options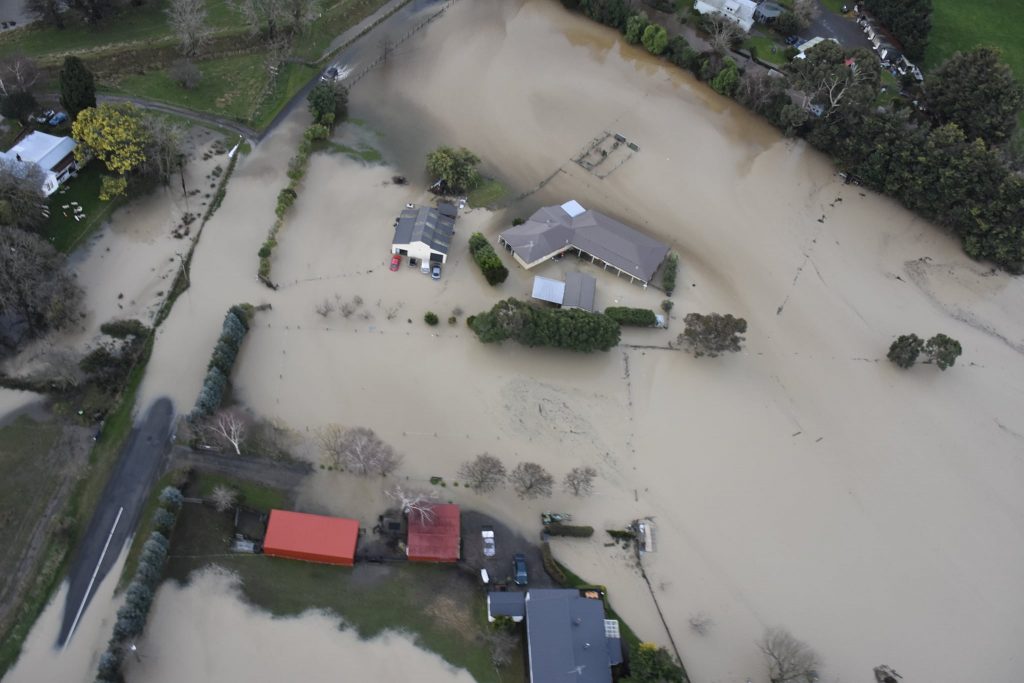 The Government's climate adaptation plan, unveiled on Wednesday, doesn't specify who will pay for it. It does, however, make it clear that one way or another we all will.
New Zealand's first national adaptation plan, which aims to "build a climate resilient NZ," brings the Government's efforts to help to build climate resilience together in one place, setting out priorities for the next six years.
The plan doesn't mention Flood Re, the British reinsurance scheme to support flood insurance in areas of high risk of flooding, that was canvassed in the draft plan. However the plan does say Treasury will lead work on developing options for home flood insurance.
In the plan's foreword Climate Change Minister James Shaw says central government won't bear every risk and cost of climate change, including climate change adaptation.
"Risk and cost will fall across different parts of society, including asset or property owners, their insurance companies, their banks, local government and central government. The Government can choose the role it plays and how it influences the way these costs and risks fall. Care will need to be taken to manage any perverse or unintended outcomes such as moral hazard. That is, inappropriate incentives to continue developing in at risk areas," Shaw says.
Speaking to RNZ on Wednesday evening, Shaw didn't add much detail to what's in the plan.
The plan itself says the Ministry for the Environment and Treasury will lead a programme of work on how NZ meets the costs of climate change and invests in resilience. It also says the Government will have received advice on flood insurance options and agreed to next steps by the end of 2022.
"Current New Zealanders share in the costs of managing natural hazard risk, through their own investment decisions, insurance, rates and taxes. Additional investment from public and private sources must also be facilitated where necessary to respond to the growing risks from climate change," the plan says.
"There are many processes underway that could change how New Zealanders currently share the costs of climate change. These include reforming institutional arrangements for water services, the Future of Local Government review and developing options for home flood insurance."
"The Government is also considering adaptation criteria for the Climate Emergency Response Fund and is launching its Sovereign Green Bond programme. In addition, it continues to explore other options to encourage climate-positive, resilient investment," the plan says.
"By the end of 2022, a dedicated webpage will be established to provide an update in one place on the range of work progressing across government."
Flood Re
Flood Re in Britain, meanwhile, is owned and operated by the insurance industry. It's funded by a mix of compulsory levies on all residential property insurers and reinsurance premiums on flood prone homes that are reinsured with the scheme. It's only available to homes built before 2009.
The draft plan asked whether a scheme similar to Flood Re should be used to address current and future access and affordability issues for flood insurance in NZ. The Insurance Council of NZ (ICNZ), which represents general insurers, isn't keen, saying there's no failure in the flood insurance market that requires an intervention.
"Reference to the Flood Re scheme in the United Kingdom is of limited relevance to New Zealand's situation today. Flood Re was an initiative of the private insurance market arising from the unavailability of insurance in parts of the UK because insufficient investment had been made in flood risk reduction. It has a limited lifespan till 2039 when governments are expected to have invested sufficiently in risk reduction measures to return to normal insurance market conditions. New Zealand has the opportunity to avoid costly flood schemes that are not needed now and has time to develop a comprehensive adaptation plan to prioritise risk reduction," the ICNZ says.
In a recent episode of interest.co.nz's Of Interest podcast, Tower CEO Blair Turnbull, who previously worked for British insurer Aviva, gave his views on Flood Re. Turnbull also said that, while there aren't uninsurable areas in NZ now, "we want to make sure we don't have them in the future and that's the reason we must take action."
Treasury will develop options for home flood insurance, after David Clark, the minister responsible for the Earthquake Commission, pushed for a flood reinsurance scheme late last year. The plan sets out how a home flood scheme might work.
"It does so by paying out for losses and reducing the risk that the Government has to design ad hoc, post-event interventions to help communities recover. Home insurance could also bring other benefits, including signalling risk through underwriting and pricing, and giving homeowners peace of mind. Work is underway to increase understanding of the scale and timing of changes to the insurance market arising from greater use of risk-based pricing by insurers and flooding exacerbated by climate change," the plan says.
"This work includes exploring options to support access and affordability of flood insurance. The Government intends to develop options that ensure home flood insurance continues to play an appropriate role in supporting community resilience. How effectively flood risks are managed in Aotearoa, including adapting to the changing climate, will influence the scale and timing of any insurance issues."
"This work has important links with other risk management and adaptation initiatives to keep communities safe. These initiatives reduce communities' exposure to flooding by giving them a better understanding of the risk they face, avoiding development in flood-prone locations, and increasing investment in flood protection. By the end of 2022, the Government will have received advice on flood insurance options and agreed to next steps. Further implementation measures will depend on the Government's decisions on options," the plan says.
'Some assets could become uninsurable'
Additionally Treasury will lead a programme of work on improving consumer understanding of property insurance pricing and risks. The plan says this links to work on Land Information Memoranda (LIMs), as greater disclosure can help people make better decisions on where to buy and build property. Treasury will also monitor residential insurance premiums.
"Some assets could become uninsurable. This will create further issues if they are used as collateral for lending. The value of buildings exposed to coastal flooding could increase from $12.4 billion now to $26 billion for a sea-level rise of 0.6 metres, and $44 billion at 1.2 metres," the plan says.
"Insurance retreat would likely reduce private and public asset values, making households and firms or public entities less able to invest in adaptation. There are likely to be more insurance claims, greater damage repairs and higher premiums. Claims for extreme weather events hit a record $321.6 million in 2021, breaking the previous record set in 2020 at $274 million." 
*This article was first published in our email for paying subscribers. See here for more details and how to subscribe.