Tower braces for $16.2m drop in net profit as Deloitte tells it to hike its Canterbury quake provisions due to it spending more on litigation and over-cap EQC claims; Share price hits 12-year low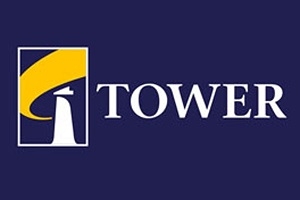 Tower is warning its shareholders it expects its profit after tax to take a $16.2 million hit, as it engages in more court action and receives additional claims from the Earthquake Commission (EQC), six years on from the Canterbury quakes.  
The insurer has this morning announced to the New Zealand Stock Exchange that Deloitte, in its draft actuarial review, has instructed it to strengthen its provisions for the earthquakes.  
The call follows Tower suffering a $6.6 million loss after tax in 2015, as a $53.2 million (gross) increase in quake provisions had a $36.2 million impact on its bottom line.  
Tower's statement also reveals it has a commercial dispute with Peak Re, the provider of the Adverse Development Cover (IE expensive additional reinsurance cover) it bought in April last year.
Tower Chief Executive Richard Harding says, "Tower will take every step to fully recover the amounts due."
The announcement has seen Tower's share price fall 16%, to hit a 12-year low of $1.15.
It follows Tower's Chief Financial Officer of two years, Brett Wilson, announcing his resignation in July, the day after ratings agency, A.M. Best, sounded the alarm bells over the insurer's finances. 
Affirming Tower's outlook as 'negative', A.M. Best red flagged the fact the company has run out of reinsurance to cover claims related to the February 2011 quakes, so is digging into its own coffers to cover outstanding claims.
It was concerned about Tower's "financial profile deteriorating", and said the quake hangover could have a "material impact on its prospective financial strength".
Settlement delays "exacerbated by opportunistic advocates who created unfounded fear"
In today's announcement, Harding says: "The general environment in Canterbury, six years after the event, has resulted in a greater number of disputes and extended time required to reach agreement with customers.
"This has been further exacerbated by opportunistic advocates who created unfounded fear in regards to application of the statute of limitations. This has resulted in a higher number of disputes and litigation than expected."
A couple, who have been battling Tower in the High Court in Christchurch for the last nine days, allege the insurer hasn't acted in good faith by being selective in choosing the experts it has called on for advice on what to do with their quake-damaged home, purposefully withholding information, and prolonging the settlement process.
The prominent Christchurch architect, Greg Young, and his wife Lisa McAra-Young are seeking $2.098 million for their home to be rebuilt.
Yet Tower has refused, arguing it would rather use a novel technique to winch the four-storey property up the hill it slid a disputed 115 millimetres down after the February quake.
'EQC's projected slowdown in new claims has not materialised'
As for the escalation in over-cap claims trickling in from EQC, Harding says: "Over the past six month, the insurance industry has received over 800 new claims as EQC accelerate their program.
"The average cost of the claims received has been greater than initially expected and, contrary to expectations, the EQC's projected slowdown in new claims has not materialised.
"Further, recent reports have shown there are potentially in excess of 6000 EQC claims requiring remediation. It is expected that some of these will exceed the $100,000 EQC threshold, resulting in the cost being borne by insurer.
"The EQC process continues to create significant uncertainty for the insurance industry."
Tower still has around 560 unsettled claims on its books, of the 16,000 it received further to the quakes.  
Tower confident in level of solvency  
Harding says that following the increase in provisions for the quakes, Tower will have a solvency ratio of 213%, which is above the Board's "long term operating range".
"Tower Insurance Limited retains excess solvency of $11.7 million, over the above the minimum regulatory position. Outside of the regulated insurance entity, Tower Limited holds $11.2 million of excess cash," he says.
"Taking into account the cash at Tower Limited, Tower Group has $22.9 million of capital available above the minimum regulatory requirement.
"Additionally, Tower Limited has a $50 million standby credit facility which may be drawn at any time and can be used for general corporate purposes, including the support of Tower Insurance Limited should it be required.
"The Tower Board has signalled its intention to review the dividend and dividend policy with the full year results."
Harding adds the Board will consider Deloitte's final report when it's done and confirm the impact to the market.