Insurers urge those affected by the quakes to document damage, lodge claims with EQC in the first instance, and be assured there's money in the kitty to cover the costs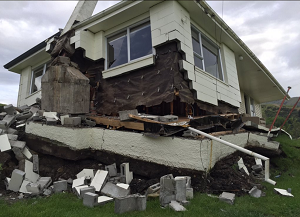 The insurance industry is advising people to document damage caused by the series of the earthquakes that have rattled parts of the South Island and lower North Island since midnight Sunday night.
A magnitude 7.5 quake centred near Hanmer Springs and a string of strong aftershocks, have killed two people and caused widespread damage, particularly in Kaikoura, Blenheim and Wellington.
Having spoken to the Insurance Council of New Zealand (ICNZ), and received updates from the Earthquake Commission (EQC), Insurance and Financial Services Ombudsman and Vero, interest.co.nz has the following tips for those affected by the quakes:
Immediate action:
Make sure you, your loved ones and neighbours are safe.
Check your property for damage. Just because you can't see damage, does not mean there is no damage, particularly in the foundations of your property.
Take any urgent action to make sure your property is safe, secure, weather-tight and sanitary. Clean up spilled liquids and turn off any main water or gas valves if you think a pipe may be broken or leaking. Take care around naked flames, electricity or gas, broken items and any items that could fall.
Document any damage. Take photos or videos and make lists of all damaged items.
Keep all damaged items for inspection.
Get essential services repaired, eg water, electricity, gas, sewerage – keep copies of your bills.
Don't start non-essential repairs without your insurance company's approval.
Read your house and contents insurance policies to understand what insurance cover you may have in addition to your EQC claim.
Making a claim:
Lodge a claim with the EQC in the first instance. It will cover you for damage to your home for up to $100,000, contents for up to $20,000 and defined areas of residential land. You have three months to make this claim. Your private insurer will be responsible for any damage from there.
While EQC will handle your claim initially, the ICNZ suggests getting in touch with your private insurer as well.
Make separate claims for separate events - IE significant aftershocks.
Have details about your private insurance policy on hand when you contact EQC. 
Remember EQC will only reimburse you for temporary or urgent repairs if it accepts your claim.
Note EQC staff will always carry photo identification and usually phone to arrange an assessment of your property should it be required.
If your property in Canterbury is currently under construction and has incurred new damage, lodge a new claim with both EQC and your private insurer.
If you're a commercial property or business owner, contact your insurance broker.
Get your business interruption claim in straight away. Unless you have a new policy with an indemnity period "pause button", time is starting to tick. 
Insurance industry: There's enough money in the kitty
The ICNZ's chief executive Tim Grafton says the extent of quake damage, and thus the cost to insurers, will be unknown for "some weeks".
Having walked around the CBD of Wellington his morning, he says a lot of the damage appears cosmetic but there are risks around the structures of buildings not yet quake strengthened.
He says insurers are "in good stead", so people shouldn't be concerned about there not be enough money in the kitty to pay for claims following the 2010/11 Canterbury quakes.
The Reserve Bank requires insurers to hold sufficient capital to withstand a one in 1000 year event.
Although "severe", Grafton says the series of quakes have "not triggered anything to those levels" and he's confident in the insurance industry's ability to meet its commitments.
While private insurers ran out of regular reinsurance cover for the February 2011 quakes, so have up until the past year had to buy expensive additional cover, the quakes overnight are separate events, so will trigger separate reinsurance cover.
As for the financial capability of EQC, Grafton this morning told Radio New Zealand he isn't concerned about this either.
"Yes there's a National Disaster Fund - that's starting to build up with a few hundred million dollars in it. But over and above that, EQC purchases reinsurance cover to the tune of a few billion dollars...
"Although it's too early to assess damage at the moment, I would be very confident there would be plenty of money in the kitty. And obviously as a backup, the Government is always there as well."