7.5 earthquake near Hanmer at 12.02 am damages Kaikoura; felt strongly in Wellington; reports of damage in Wellington buildings; Tsunami warning downgraded
By Bernard Hickey in Wellington
A magnitude 7.5 earthquake centred near Hanmer Springs at the top of the South Island has killed two people in Kaikoura and has damaged buildings and port facilities in Wellington.
Slips and quake damage cut road and rail links throughout the top of the South Island, while the coastal shipping connection between Wellington and Picton have also been cut off because of damage to port facilities in both Picton and Wellington.
Transport operators said logistics networks, particularly between Auckland, Wellington and Christchurch, could be significantly affected for weeks and months to come as freight normally carried by road and rail is diverted to coastal shipping -- particularly for Fast Moving Consumer Goods usually run on 'just in time' delivery systems on road and rail through the Cook Strait and down road and rail via Kaikoura.
Prime Minister John Key has said while visiting Kaikoura in the afternoon that the damage was much worse than first thought.
In later comments in radio interviews (see the interview above with John Campbell on RNZ) he said there were at least six slips similar to the big slip that blocked the Manawatu Gorge for over a year in 2011 and the cost could run into the billions. The Manawatu Gorge road was closed in August 2011 after a large slip and was re-opened after 13 months of repairs costing over NZ$21.4 million.
"It's just utter devastation, I just don't know...that's months of work," Key told Acting Civil Defence Minister Gerry Brownlee while flying over the affected areas.
"The roading and rail issues north and south on State Highway 1 are horrendous. If you turn your mind back to the Manawatu Gorge plus some. I saw at least six of that size north of Kaikoura," he said.
"It's a massive clean-up job."
Police report broken glass on many streets in the Wellington CBD and residents report a few chimneys have toppled into houses.
Centre Port, which operates the Port in Wellington, said early on Monday afternoon it had suspended operations until further notice while it inspects its facilities.
"We have sustained damage to buildings and the port and also some liquefaction and differential settlement in places," Chief Executive Derek Nind said in a statement, adding staff were inspecting the port and its assets during daylight hours and it inspected buildings would be re-occupied over the coming days.
The Ministry of Civil Defence reported buildings had collapsed in Kaikoura and tsunami waves have been recorded at Kaikoura at Christchurch.
Big impact on logistics systems
Mainfreight and other freight operators warned that logistics networks would be affected, particularly for those freighting goods from Auckland and Wellington to Christchurch by ferry, truck and rail.
"Damage remains to the linkspan (ferry loading ramp) in Wellington, which is critical in the loading and unloading of road and rail units on and off the Inter-Island ferries," Mainfreight said in a note to customers.
"KiwiRail appears hopeful to report back a timeline to complete repairs tomorrow," it said.
Freight operators said they may have to find other coastal shipping options to transport goods from Auckland to Christchurch. They recommended suppliers who usually moved goods via Cook St to stock up in Auckland and Christchurch.
"Our Auckland and Christchurch teams are sourcing as much capacity and equipment as possible to expand coastal shipping options," Mainfreight said.
"Service delays are imminent as coastal services will be impacted by port congestion and on-board space restrictions due to this event and seasonal imports. We are recommending to our Inter-Island customers to consider increasing stockhold in either our Christchurch or Auckland warehouses as an option to mitigate ongoing Inter-Island transit delays during this challenging period," it said.
NZTA said in a note at 3.30 pm that the main highways linking Seddon with Kaikoura and Cheviot had been cut by slips and it was trying to open up new routes, but cautioned alternatives would take an extra three hours and would be down to one lane in places. It said it was looking to re-open an old road to re-establish contact with Kaikoura.
"To enable access to Kaikoura, we are working with Kaikoura District Council to open the inland road (old State Highway 70) between Culverden and Kaikoura," NZTA said.
"Work crews are currently assessing the road and structures for damage and we hope to have this route safely open within days."d
At 5.45 pm NZTA said an alternative inland state highway route has been re-established between Picton and Christchurch, via Murchison and the Lewis Pass.
"NZTA contractors have been working urgently throughout the day to assess the safety of bridges and clear slips to safely open the route. Vitally, this will re-establish access for communities, as well as allowing large trucks through to Christchurch," NZTA said.
Wellington CBD open from Tuesday
Officials have advised people not to travel into Wellington's CBD and there are reports of liquefaction on reclaimed areas on and near the waterfront.
As of 1.30 pm, I have just completed a two-hour walk around the streets of Wellington and along the waterfront to the Port and can find little substantial damage, other than cracks in the pavement and the occasional lump of plaster that has fallen off older building exteriors. The CBD is very quiet because of the official advice to stay away.
Prime Minister John Key told reporters in Wellington before 9 am there had been two fatalities and the township of Kaikoura was cut off because road closures. He said an RNZAF NH 90 helicopter was being flown to Kaikoura to establish better communications.
"The area is cut off from a road perspective," Key said.
"One casualty has been reported at a collapsed property in Kaikoura. Police are also trying to access a property at Mt Lyford north of Christchurch where a further casualty has been reported, which is believed to be a fatality," the Police Media Centre said earlier in the morning.
A Tsunami warning was downgraded to a marine and beach threat for the East Coast of New Zealand shortly after 6 am, the Ministry of Civil Defence and Emergency Management said.
Wellington's rail network has been closed until further notice for safety checks, Wellington Police Transport Manager Mike Wright said.
Wellington City Council said early on Monday members of the public were urged to stay away from central Wellington for at least this afternoon and evening because forecast high winds could dislodge broken glass and other materials from buildings damaged in the earthquakes.
"Wellington City Council inspectors are starting a sweep of the city to do external rapid assessment checks on buildings in the CBD and in suburban commercial areas in the wake of the big quakes. However it is likely that not all buildings will be able to be made safe and there is a risk the forecast winds of up to 140kmh could bring glass and other materials into the streets," it said.
Wellington City Civil Defence Controller Simon Fleisher said pedestrians and motorists should avoid CBD streets until further notice.
Wellington Regional Civil Defence Controller Bruce Pepperell said: "Early indications are that a number of major buildings are showing "signs of structural stress" and that the strong quake will likely have caused a mess and disruption inside some buildings – particularly on higher floors."
Mayor Justin Lester told reporters late on Monday that the Wellington CBD would be open for business from Tuesday.
Evacuations of hotels
Key said a large number of people had been evacuated from hotels in central Wellington.
Key, who was staying at Premier House overnight after meeting US Secretary of State John Kerry, described it as the largest shake he could remember in Wellington.
"It was a very significant shake," he said.
Key said in a later statement he had postponed his trip to Argentina, but planned to travel to Peru later this week to attend the APEC Economic Leaders' Meeting from November 19-20 "if circumstances permit." He was scheduled to depart tomorrow for Buenos Aires before travelling to Lima for the APEC meeting.
"The situation is still unfolding and we don't yet know the full extent of the damage," Key said.
"I believe it is better that I remain in New Zealand in the coming days to offer my assistance and support until we have a better understanding of the event's full impact," he sai.d

Some schools in Wellington were closed, including Wellington Girls College (WGC), which is in Thorndon between Parliament and the waterfront, because of damage to the school. WGC said NCEA exams would not be held today. Ngaio and Raroa Intermediate schools have been closed for the day to check for damage to buildings. NCEA said it had postponed all its NZ Scholarship exams due to be held today.
Damage to port
There are reports of damage to the Wellington Port, with cracks in roads and liquefaction. The glass-fronted BNZ building on the waterfront is also reported to be damaged.
The Cook Strait ferries are moored in Wellington Harbour and unable to berth because of damage to berthing areas in both Wellington and Picton, Civil Defence officials said.
The picture below from Isaac Davison by Twitter shows damage to a road and railway tracks at the Port of Wellington.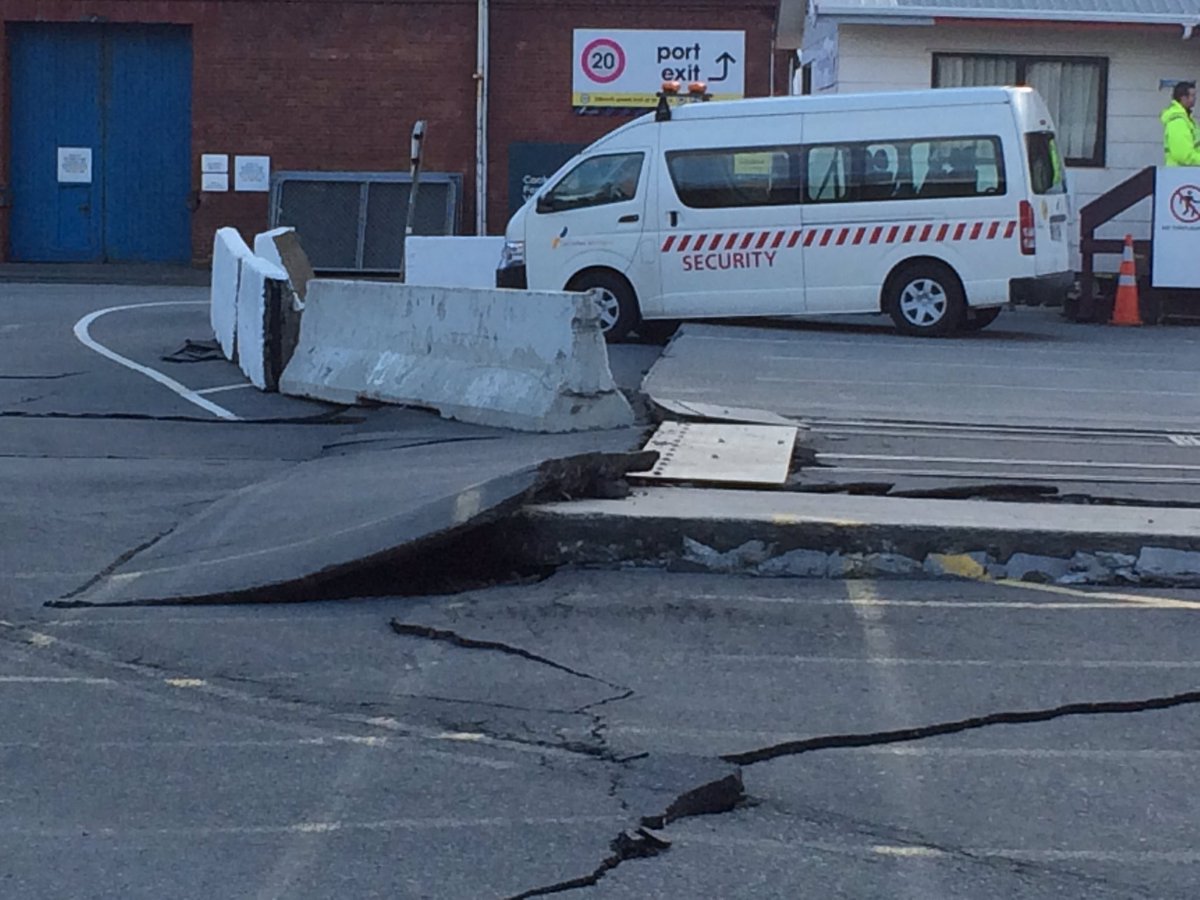 This is a picture circulated on social media of slips blocking the main highway and railway near Kaikoura.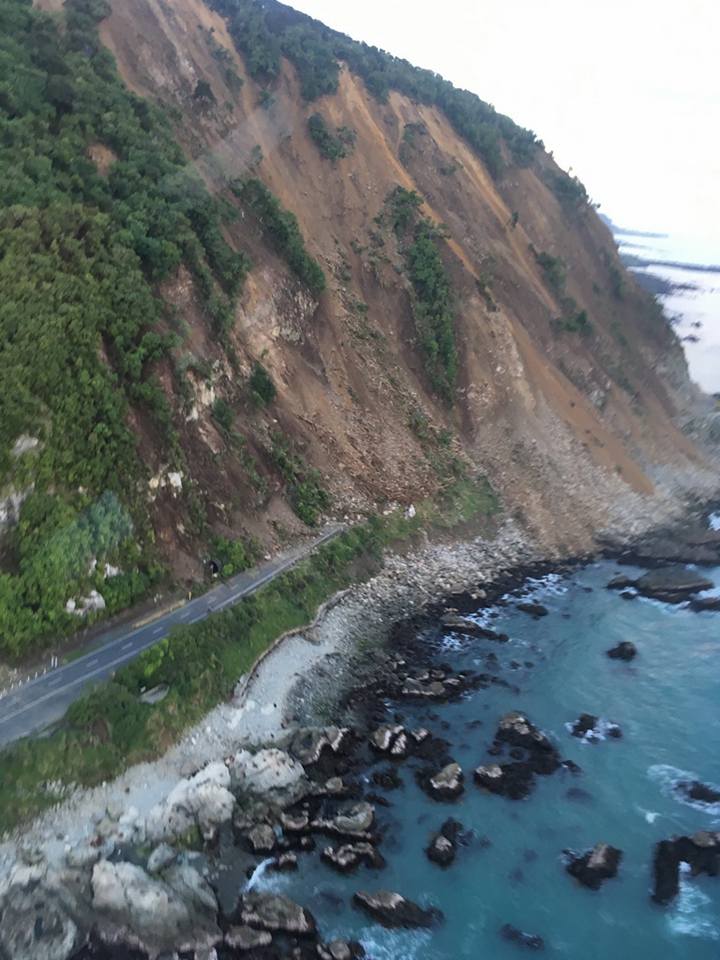 Here is National MP for Kaikoura Stuart Smith standing in a chasm in state highway 1 near Tirohanga stream south of Kaikoura.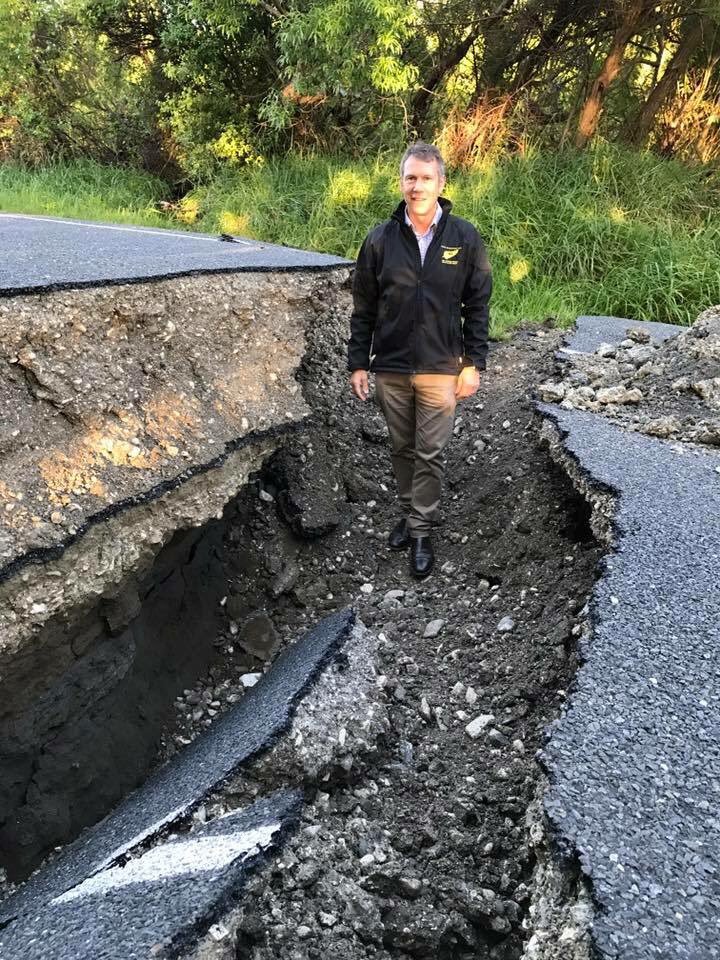 There are no early estimates of the cost of any damage. The New Zealand dollar initially dropped around 30 basis points to 70.8 USc, but quickly rebounded to 71 USc, having fallen from 73 USc on Thursday and Friday night because of higher US interest rates in the wake of Donald Trump's surprise election. The NZX said the market would open as normal this morning. The Reserve Bank said the ESAS-NZClear payment networks were fully operational.
Insurers have advised those with damage to document the extent of it with photos.
The earthquake moved parts of the earth by two metres in some place.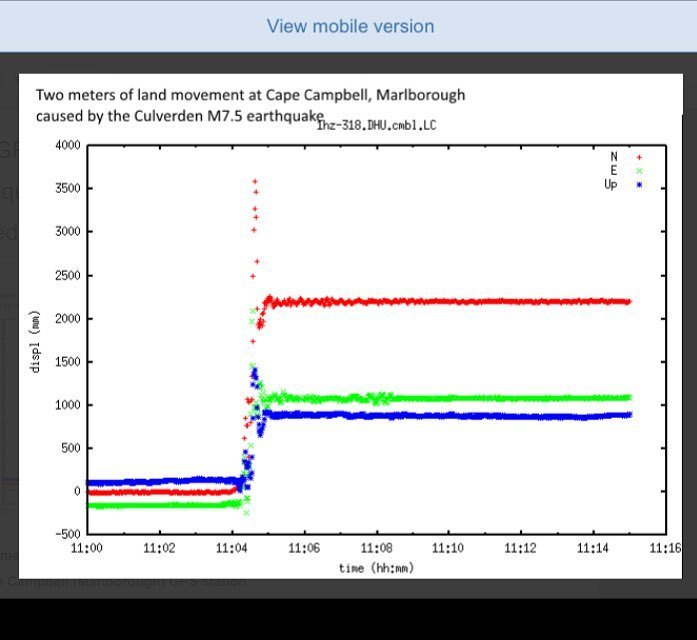 This picture circulated on social media shows damage to State Highway 1 near Kaikoura.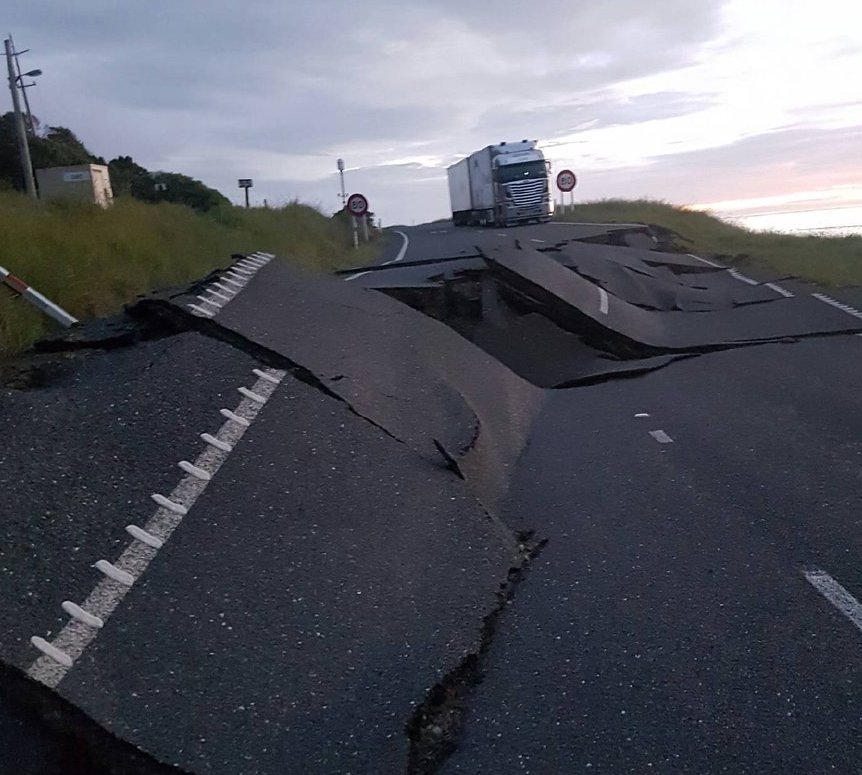 This picture circulated on social media shows damage to shopfronts in Picton.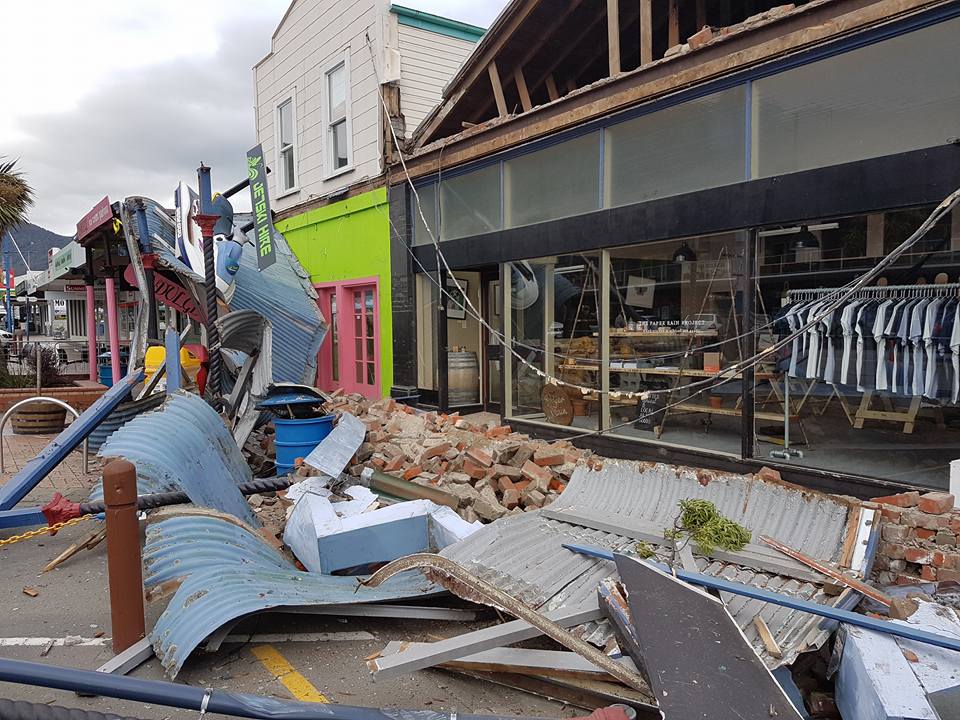 (Updated with more details, pictures, video of Key news conference, details of Key delaying APEC trip, Updated after walk around CBD, Centre Port suspension of operations 'until further notice', comments from Key in fresh video)