Government confirms it has not been approached by Tower as the insurer seeks capital to ring-fence its quake-related business; Forsyth Barr expects Tower to sell 'RunOff Co'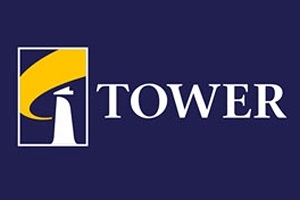 The Government isn't planning to bail out Tower's troublesome earthquake business, which the New Zealand insurer wants to ring-fence from the rest of its operations.
Tower last Tuesday announced its intentions to create a new entity, RunOff Co, to deal with its 564 outstanding 2010/11 Canterbury earthquake claims, the legal battles connected to around 100 of these, and its disputes with the Earthquake Commission (EQC) and one of its reinsurers to secure $100 million of quake recoveries.
Chairman Michael Stiassny said Tower was "evaluating a number of potential sources of capital - including strategic sources" for the split.
All this begs the question as to whether taxpayers could end up on the hook for Tower as they have for AMI.
Finance Minister Bill English says: "Tower has not sought any assistance from the Government and it has not asked the Government to buy the run off company it is proposing to establish."
Asked by interest.co.nz whether the Government would consider a bailout if the alternative was Tower going under and not settling all the claims on its books, English says he doesn't have any comment to make as the question is "hypothetical".
The Government bailed out AMI in 2011. Its non quake-related business was sold to IAG, while the Crown-owned company, Southern Response, was formed to mop up the mess from the quakes.
In 2012, Treasury's "best estimate of the likely cost of the AMI support package over its life" was only $98 million. Southern Response's bill to taxpayers now heads towards $1.25 billion, as another $250 million was set aside for it earlier this year.
Tower expected to sell RunOff Co and ensure New Tower isn't held responsible for it
If a government bailout isn't on the cards at this stage, the question is where will Tower get the capital to settle its outstanding claims and satisfy the Reserve Bank's (RBNZ) capital requirements? What "strategic sources" is it looking to?
Forsyth Barr analyst, James Bascand, believes Tower will sell RunOff Co. He can't say who would buy it, but has his bets on a large reinsurer.
While additional capital would be needed, the buyer would get $39 million of capital from Tower. It would also hope to secure the $100 million of quake recoveries in dispute (explained below).
Bascand also maintains Tower's board is planning to "Devise a new structure under RBNZ guidance that creates a no-recourse relationship between RunOff Co and New Tower. This could include a de-listing of RunOff Co."
He essentially says RunOff Co can't be guaranteed against Tower's regular business as shareholders won't want to invest in New Tower if there's a risk their returns will be dampened by their funds being used to prop up RunOff Co, especially if the company has to keep increasing its quake provisions as it has up until now.
"For the market to have faith in reassessing the value of Tower's pure general insurance business without having to account for future Canterbury earthquake liabilities, we believe Tower needs to ensure any split is on a no-recourse basis…" Bascand says.
"Should shareholder capital still be liable for further capital erosion under a split model then we cannot see the merit of the 'split business solution'."
Forsyth Barr suggests Tower's new structure could look like this:

Tower has confirmed its intention for RunOff Co to have a different management team to New Tower.
$39 million available to put into RunOff Co
So what will Tower's capital requirements be initially?
Bascand explains: "The $50 million earthquake related capital buffer that is currently required by the RBNZ is likely to be removed on a split in businesses.
"However, management has suggested that only a small part of Tower's solvency capital is currently related to Canterbury earthquake provisions, and given the company's internal target of holding 160%-180% of MSC [minimum solvency capital] there is only $27 million in capital above the mid-point of that range that could be attributed to RunOff Co.
"Management also has $12m cash at head-office level, so a maximum of $39 million could be put into RunOff Co.
"Management has implied that additional capital will be required to split the businesses. No range has been provided as to the potential sum required and the company is still in discussions with the RBNZ as to what the requirements may be."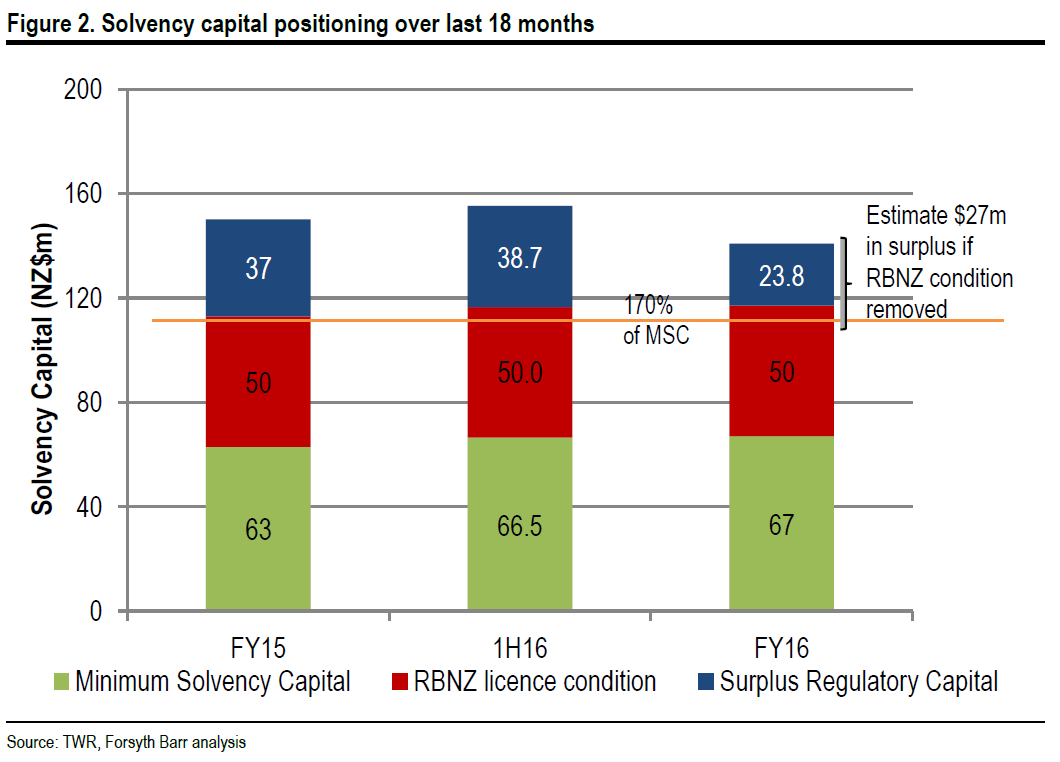 $100 million of recoveries up in the air
Thereafter, Tower expects to receive $43.7 million from Peak Re and $57.6 million from EQC. It has already accounted for these receivables in its balance sheet.
Bascand explains: "Tower is currently in arbitration with PeakRe for the reinsurance it is owed, and remains exceedingly confident of receiving the cash within the next 12-18 months.
"The view is that PeakRe is attempting to hold out as long as possible to force Tower into settling for a smaller cash sum.
"Tower has indicated it will be pursuing the full amount regardless and expects to recover full costs including interest as a function of the legal case.
"Recoveries from the EQC are expected to take longer with sporadic cashflows over 2-3 years targeted and the potential for a full legal challenge to be mounted."
*This article was first published in our email for paying subscribers. See here for more details and how to subscribe.