A.M. Best warns Tower's credit rating could be downgraded if it doesn't improve its capital position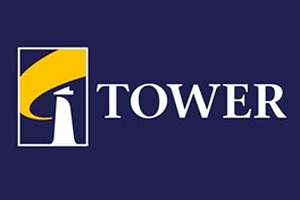 A.M. Best has revised the outlook of Tower's "under review" credit ratings from "developing" to "negative".
The shift relates to the Financial Strength Rating of Tower Insurance Limited (TIL), and the Long-Term Issuer Credit Rating of both TIL and its parent Tower Limited (TL).
A.M. Best says its move follows the Commerce Commission last month preventing Vero from taking over the New Zealand insurer.
"The negative implications status reflects TL's relatively weak balance sheet strength for its current rating levels. A.M. Best's concern, however, is offset partially by management considering a capital raise to strengthen the group's consolidated capital position," it says.
"The ratings will remain under review with negative implications pending further discussions between A.M. Best and TL's management team related to its capital-raising initiatives.
"Downward rating pressure could result if TL fails to improve its consolidated capital position to a level more supportive of the current ratings."
A.M. Best put Tower's credit rating under review in February, when the insurer announced its proposal for Canadian giant, Fairfax Financial Holdings, to buy all its shares.
TIL has a Financial Strength Rating of A- (Excellent) and a Long-Term Issuer Credit Rating of a-.
TL has a Long-Term Issuer Credit Rating of bbb-.
Tower Chairman Michael Stiassny says: "The Tower Board is pleased that A.M. Best has maintained Tower's A- rating, and as previously indicated, [Tower] is considering conducing a capital raise to accelerate the transformation of the underlying business and ensure the long term sustainability of Tower.
"Tower retains an adequate and stable capital base and continues to improve the underlying business."
Tower, in its half year results released in May, revealed it had drawn down $30 million from a $50 billion BNZ loan it had taken out, as it came within $5 million of breaching the Reserve Bank's solvency requirements.