With a strong economy, modest insurance premium increases, and the EQC Act review set to benefit insurers, S&P says quakes and cyclones aren't deterring reinsurers from the NZ market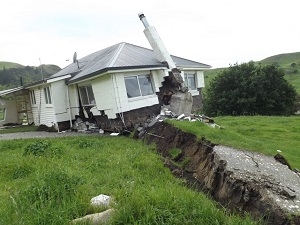 The spate of earthquakes, floods and cyclones that have hit New Zealand in recent years won't scare off reinsurers, according to S&P Global Ratings.
Acknowledging the uptick in natural disasters, the credit ratings agency says there are no indications reinsurers are looking to exit the region.
Rather, insurers are continuing to benefit from "ample capacity at favourable pricing and terms and conditions, due to the continuing soft state of the global reinsurance market".
In a new report, Sound Economy And Modest Price Rises Are Helping New Zealand P&C Insurance Sector Stand Firm, S&P notes a number of general insurers exceeded their budged catastrophe allowances in the last financial year, with the majority of claims stemming from the November 14 Kaikoura earthquake.
IAG, in its financial results to June 30 for example, noted the disaster cost it AU$120 million after reinsurance.
It also recognised the impact of Tropical Cyclone Debbie, Ex-Tropical Cyclone Cook, the Northland floods and the Port Hill fires; its New Zealand division exceeding its AU$64 million 'natural peril allowance' by AU$118 million in the financial year:

Suncorp's results told a similar story.
All up S&P says the Kaikoura quake is expected to cost the industry NZ$1.9 billion.
Yet with around 50% of residential building claims related to the event assessed by July 31, and the majority of claimants expected to receive offers by the end the year, it says claims are being settled much quicker than was the case after the 2010/11 Canterbury quakes.
This is largely due to private insurers handling claims on behalf of EQC.
This "increases confidence in reserving and capital".
Strong market
S&P also notes the resilience of the market.
"We believe New Zealand's P&C [property and casualty] market will continue to post solid underlying results over the next year underpinned by a sound economy, which should support good premium growth at the retail level, and some degree of further upward movement in prices for commercial lines of business."
It recognises the solid underwriting results reported by insurers in the last financial year.
IAG's New Zealand division's gross written premiums (GWP) grew by 4.3% for example, while Suncorp's grew by 7.9%.
"In contrast with recent years, premium growth was reasonable, especially at the retail level, with price increases and volume gains in both the home and motor vehicle lines," S&P says.
As previously reported by interest.co.nz, S&P recognises rates have increased as insurers have responded to higher motor claims costs caused by more cars being on the roads and higher repair costs.
Likewise, the Kaikoura quake has seen them increase the cost of property insurance.
"Nevertheless, we expect competition to remain intense, with new entrants and offshore participants making their presence felt," it says.
This S&P graph shows P&C (property and casualty) insurers have been performing reasonably well.
"The main exception to this is IAG New Zealand Ltd., which at times has been affected by significant Canterbury earthquake related reserve strengthening, although the company has returned to underwriting profits in 2016 and 2017, which we expect to continue."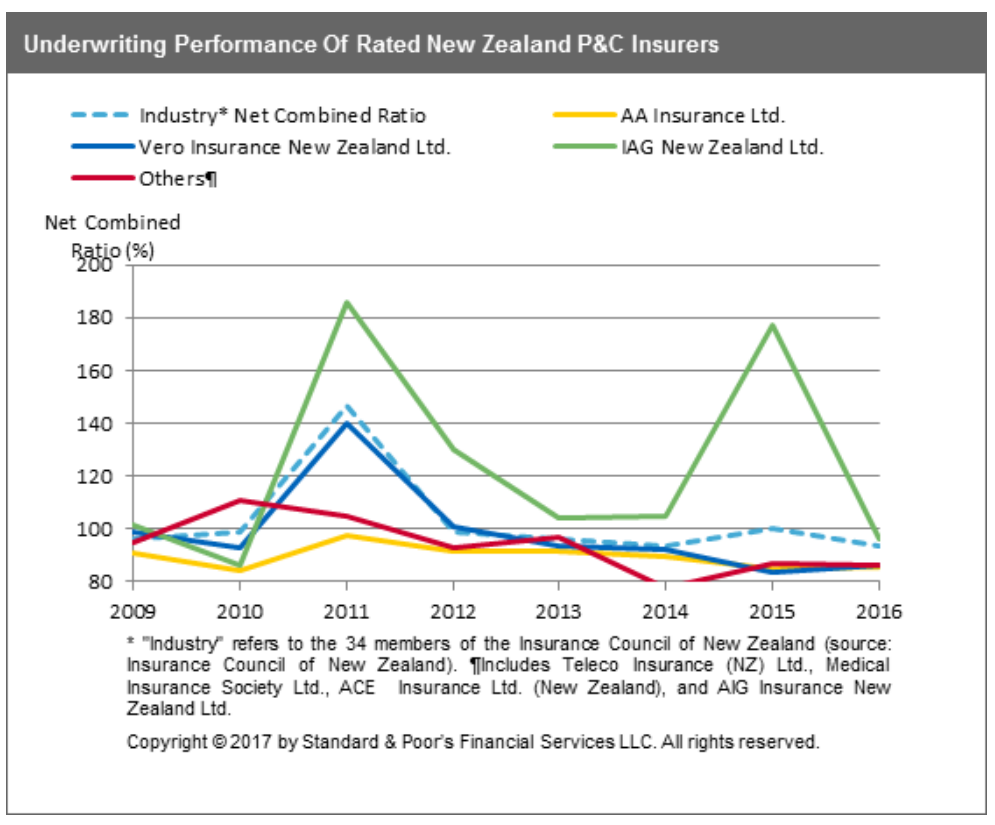 Positive law reform
Finally, S&P says the review of the EQC Act is looking positive for the industry.
A draft reform bill is expected later this year or early next, with changes likely to be implemented in 2020.
S&P says the expectation that policyholders will lodge their claims with their private insurers, rather than EQC first (as has been done in Kaikoura) "should assist in improving the transparency and efficiency of the claims process".
S&P goes on to say: "The suggestion that the EQC no longer provide contents insurance (currently capped at NZ$20,000) should increase the market size and therefore growth opportunities for private insurers.
"Moreover, the extent of insurers' exposure to earthquake risk is lessened with the proposal to increase the EQC building claims coverage cap to NZ$150,000 from NZ$100,000.
"Other proposed changes that should aid the transparency of the claims process include: Standardizing EQC excess on buildings to NZ$1,000, compared with a current range of between NZ$200 to NZ$1,150; and clarifying that land cover relates to damage that directly affects the insured residence."