SOE shares should go to KiwiSavers says Brian Gaynor, who warns Treasury not to be hoodwinked by investment bankers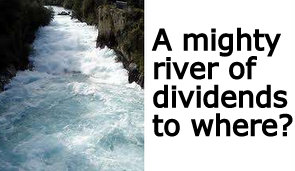 By Gareth Vaughan
A significant chunk of the shares in state owned enterprises (SOEs) the National Party is pledging to sell should go to KiwiSaver funds, says an arch critic of the style of privatisations pursued by the governments of the 1980s and 1990s.
Brian Gaynor, executive director at Milford Asset Management which manages KiwiSaver funds, told interest.co.nz he had never been opposed to government asset sales per se. Rather it was the way SOEs were sold in New Zealand in the 1980s and 1990s that was at fault. Gaynor said National's mixed ownership model, which would see the Government sell no more than 49% of Mighty River Power, Meridian Energy, Genesis Energy and Solid Energy through sharemarket floats, plus reduce its 76% Air New Zealand stake, should be more palatable to the electorate.
However, execution of any SOE sell-downs would be key.
"I'd like to see schemes introduced here which have been introduced elsewhere where there's a priority given to retail investors in New Zealand, either directly themselves or through their KiwiSaver funds," Gaynor said. " And that they [retail investors] possibly be given the shares at a discount."
How about bonus shares?
Another idea was for a bonus option, used in Australian privatisations, where if they hold their shares for say three years, retail investors get additional shares.
"There's a whole pile of innovative things you can do. But unless you make the shares primarily available to the New Zealand public and give them an incentive to hold, quickly they will probably sell out and quickly we'll end up with the same position as Contact Energy where we get overseas companies that will take an ownership position," Gaynor said.
The last big state asset sale was that of Contact Energy in April 1999. It raised NZ$2.3 billion from 227,000 initial shareholders. However, in a major difference to what National is now proposing, a 40% stake was sold to Edison Mission of the US for NZ$1.2 billion, or NZ$5 a share. The remaining 60% was sold through an initial public offering raising NZ$1.1 billion at NZ$3.10 a share. Of the latter, 30% went to foreign investors, 24% to New Zealand and Australian institutions and 46% to retail investors.
Contact now has about 81,000 shareholders and is just over 51% owned by Australia's Origin Energy which bought its stake from Edison (which had increased its holding from the initial 40%) for NZ$1.675 billion, or NZ$5.67 a share, in 2004. Contact shares are currently around NZ$5.90 a share.
SOEs perfect fit for KiwiSaver & Australia's 'public capitalism'
Ideally, Gaynor suggested, many of the SOE shares should go to KiwiSaver funds.
"Because KiwiSaver funds are long-term funds because people can't get their money out till they're 65 and these are the ideal type of assets (for them). They're long-term, stable, low risk assets."
"Second thing, if they go into KiwiSaver they're unlikely to be sellers of the shares because money's flowing into KiwiSaver funds every week and if you don't like a stock but you've got a KiwiSaver fund with money coming in every week, you just don't buy any more and as the size of the fund goes up the shares in any individual company become a smaller percentage of the total portfolio."
Gaynor, who recently told interest.co.nz that New Zealanders need to stop selling all their assets to foreigners or resign themselves to being "serfs in their own country", said Australia had executed privatisations much better than New Zealand. See a 1999 Gaynor column here entitled How asset sales went wrong.
"They (Australia) have always done it completely different to us. It has been public capitalism rather than selling it off to one big overseas company," said Gaynor.
A notable recent example is last year's sell down by the Queensland State Government of rail operator QR National. Retail investors were given incentives comprising a retail price discount, a maximum price per share and an entitlement to loyalty bonus shares. See more details here. Gaynor notes other major Australian privatisations such as that of ASB's parent Commonwealth Bank of Australia, Telstra, Qantas and CSR were handled in a similar way.
In contrast when selling 100% shareholdings in state assets, previous New Zealand governments allowed a small group of mainly overseas investors to make big profits when with some foresight this money could have been kept for the benefit of domestic investors and taxpayers.
'Don't be hoodwinked by investment bankers'
Gaynor added that he wasn't convinced the Government would execute the sales well with the risk a "very naive" Treasury would have the wool pulled over its eyes by investment bankers advising on any sell downs.  Treasury is already looking for an array of advisers.
"Although they (Treasury) might start out with the right intentions they get gamed because there are smarter people around than the officials in Treasury who are going to be in charge of it," Gaynor said.
It was important that retail investors both got shares and an incentive to keep them. But that's not the way investment bankers were likely to be thinking.
"There's a huge conflict because if you're an investment banker you're normally connected with a broking arm so you want a lot of shares traded. So it's to your disadvantage to have incentives for people to hold the shares for a long time because that means the sharemarket trading tends to be less," said Gaynor. "Unless a government department insists, you end up being dictated to by the investment bankers."
As for Treasury itself, it has released documents and advice given to ministers on the proposed mixed ownership model. However, there's no detailed Treasury information available yet looking at how this particular form of SOE sell down has worked overseas with Treasury spokesman Angus Barclay acknowledging it differs from the style of previous privatisations in New Zealand.
Barclay said Treasury officials have looked at some of the experiences from overseas to see what lessons can be learnt and applied this to the mixed-ownership model proposed for New Zealand. Although none of this was yet publicly available, over the coming weeks and months Treasury would be " pro-actively" releasing documents relating to its work on, and advice about, the mixed-ownership model.
"We want this stuff out in the public so people can make up their own minds on the basis of good information," Barclay said.
'80s and 90s asset sales helped get govt debt down ahead of the credit crunch'
Among the work Treasury has released is a report by John Wilson entitled Short History of Post Privatisation in New Zealand. It traces the modern origins of privatisation back to the Labour government of the 1980s and reviews the performance of nine companies central or local government sold down being Ports of Auckland, BNZ, Air New Zealand, Auckland International Airport, Telecom, Tranz Rail, Trustpower, Contact Energy, and Forestry Corporation of New Zealand. 
Wilson's report concludes that contrary to what the public view might be, the Crown didn't necessarily receive consistently poor prices, the reliance on "light-handed regulation", especially post the sale of Telecom, was "rather optimistic", the Crown was unable to avoid the cost of recapitalising Air New Zealand and the BNZ, but that the privatisation programme of the 1980s and 1990s is one reason why New Zealand entered the global financial turmoil of recent years with a relatively modest level of government debt.
Goff, once part of a government selling assets, now says he wouldn't sell
Speaking on TVNZ's Breakfast programme this week, Labour Party leader Phil Goff reiterated his party's opposition to National's partial privatisation plans. He said the only way to keep the assets both New Zealand and community owned was to vote for Labour in November's election.
"Why would you sell the power companies when they return to the New Zealand taxpayer NZ$700 million a year?" Goff asked.
"Contact Energy was privatised in 1999, (and) NZ$100 million a year flows out of New Zealand to foreign investors. Do we really want to do that with the other power companies as well? What's in it for New Zealand? You sell the assets, you lose the assets forever, you lose that dividend stream. It's crazy and 2-1 New Zealanders believe that," Goff said.  Here's a Labour back grounder covering Contact's number of shareholders, profits, dividends, directors' fees and share price performance since the sale.
When told by interviewer Petra Bagust that he sounded like he was scare mongering given the Government was talking about selling less than half the shares in the SOEs Goff, who was part of the 1980s Labour government that kicked off an asset sales programme continued by National in the 1990s, said: "Yes, that's what they'd start with but we know they sold the whole lot off last time. And why would you sell half of an effectively performing asset?"
"If you've got a Don Brash/John Key government that's exactly what they'd be doing, that's what (ACT Party leader) Don Brash is pushing, that's the advice Treasury is giving the government. That's what they'd do. There's only one way to keep those assets kiwi owned and community owned and that's a vote for Labour."
Releasing the Government's Budget on May 19 Finance Minister Bill English confirmed National would go ahead with the SOE sell down plans should it be re-elected. English said they would happen over a three to five year period starting in 2012. Treasury estimates implementation of the mixed ownership model would free up between NZ$5 billion and NZ$7 billion of capital, which would be put toward other areas of government spending. New Zealanders would be at the front of the queue for shares, English said.
The floats will help reduce Government debt, increase investment opportunities for mum and dad investors and improve the companies' financial performance, National says.
Positive impact on government accounts seen
Meanwhile, a report by analysts at investment bank Goldman Sachs estimates the proposed sell-downs would have a net positive impact on the Government's accounts of about NZ$306 million and suggests the partial privatisations could help halve the gap between New Zealand and Australia's Gross Domestic Product per capita.
The Goldman report also notes that New Zealand privatisations between 1988 and 1999, which raised proceeds of more than NZ$19 billion, were unique in the preference for trade sales. Some 60% of  assets were sold via trade sales compared with the Organisation for Economic Cooperation and Development (OECD) average of just 20%. Just 2% of New Zealand sales were via public floats, versus 62% across the OECD.
Goldman also noted that about 60% by value of New Zealand's public assets sold between 1988 and 1999 went to international rather than domestic buyers, and New Zealand's net equity liabilities represent just 4% of the country's net foreign liabilities with 96% stemming from households borrowing through banks to fund consumption and housing investment.
This article was first published in our email for paid subscribers this morning. See here for more details and to subscribe.