Labour's Andrew Little says rising cost of NZ Super 'scares the bejeesus out of me'; says unfair that those working over 65 get NZ Super when asked about means testing; but still committed to 65 retirement age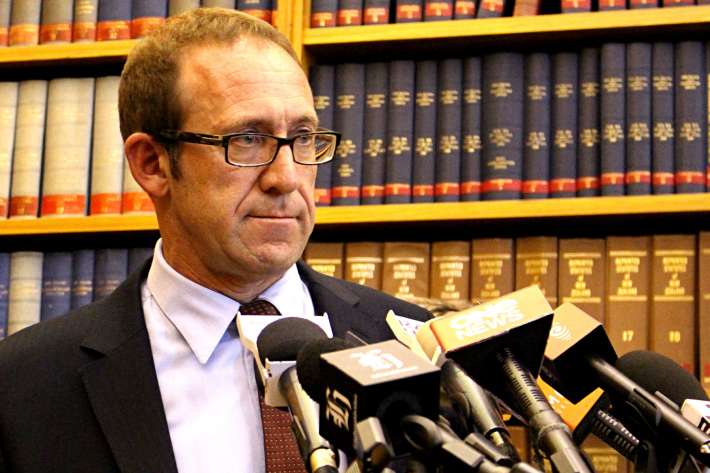 By Bernard Hickey
Labour Leader Andrew Little has stumbled into a political hornets' nest by appearing to say for the first time that Labour could deny or reduce New Zealand Superannuation to people who were also working over the age of 65
Little spoke this morning at a post-Budget briefing for business leaders in Wellington and was quoted by the New Zealand Herald's Claire Trevett as saying Labour would consider means testing the currently universal pension, or at least that he thought that working pensioners should not receive the full New Zealand Superannuation.
Little's office later denied that means testing was being considered, but confirmed he had said it was unfair and costly to pay New Zealand Superannuation to workers earning income over the age of 65.
Little said the rise in the cost of New Zealand Superannuation towards NZ$30 billion a year was "terrifying."
"If there's one thing that scares the bejeesus out of me, it's the looming cost of superannuation. That's a significant chunk of the Budget," Little was quoted as saying.
When asked about means testing, Little said there were some elements of unfairness in universal superannuation, pointing to an example of someone over the age of 65 who was still working and receiving the benefit. He was reported as saying Labour would look at the issue, which he considered unfair.
However, Little said he was committed to his previously expressed view that the age of eligiblity for New Zealand Superannuation should not change from the current 65, even though Labour's policy before the election was to progressively lift it to 67.
"I have a personal view that I don't want to see the age of eligibility raised," Little said.
He added that Labour's focus would be on pre-funding New Zealand Superannuation by resuming contributions to the New Zealand Superannuation Fund, although he would not say when that would begin.
"I'm confident we could manage the future cost without changing the role of eligibility," he said.
Then came the denial...
A spokeswoman for Little later denied he had suggested Labour was considering means testing New Zealand Superannuation.
"He said superannuation was a looming issue requiring $30b by 2030 and the Government has failed to even consider what to do about it," she said.
"He said our policy was under review and offered as an example someone working and receiving super and spoke about the fairness of that. Means testing was not mentioned nor is it a policy option we're looking at."
"There was a question from the floor and Andrew responded about the need to do something about Super, spoke about the complexities of it as an issue and about the fairness of current policy. He did not mention means testing and he wasn't referring to it. It is not being considered in any review."
ACT welcomes debate
ACT Leader and Epsom MP David Seymour offered to help Little out of a tight spot by repeating his suggestion of a referendum to reform the cost of NZ Super.
"He has shown why an issue with such important long term implications might better be better handled under ACT's referendum proposal," Seymour said.
"All parties can put aside their political positions, join together to form a cross party working group – like the flag committee – and appoint an expert group to identify workable options for the long term sustainability of NZ Super. These options, including no change, could then be put to referendum for the voters to decide," he said.
"I have confidence in the common sense of voters to support an option which would ensure the fiscal sustainability of NZ Superannuation, an option which is fair across the generations of taxpayers."
(Updated with spokeswoman denying Little had mentioned means testing, Seymour's comments).