Bank lobby voices concerns over NZ First's bid to have a government-guaranteed, government-run KiwiSaver provider that prioritises local investment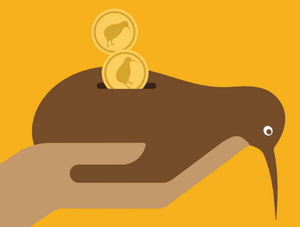 Banks are concerned New Zealand First's bid to launch a government-run KiwiSaver provider risks undermining the whole KiwiSaver scheme.
The KiwiFund Bill proposes establishing a working group to advise on setting up a fund that's guaranteed by the government, has lower fees and gives preferential treatment to ethical and New Zealand-based investments.
Having passed its first reading in Parliament on February 21, the public had until April 13 to provide feedback on the Bill to the Economic Development, Science and Innovation Select Committee.
The New Zealand Bankers' Association (NZBA) in its submission highlights a raft of concerns that echo some of those made by National MPs during the Bill's first reading.
Government guarantee skews competition
The NZBA argues giving preferential treatment to 'KiwiFund' in the form of a government guarantee would "skew the competitive nature of the KiwiSaver market".
While banks are arguably the worst offenders in terms of giving their customers incentives to join their KiwiSaver schemes, the NZBA points to a warning the Financial Markets Authority (FMA) recently made on this: "Our [The FMA's] concern would centre on whether the value of the incentive is such that the customer focused on that, rather than making a good decision about KiwiSaver."
The NZBA goes on to say a government guarantee could "create a moral hazard, where investors may not apply the normal rigour to their investment decisions".
Furthermore, it "may disadvantage investors in other schemes and raises the question: why should all New Zealanders bail out just one group of KiwiSaver investors, or any KiwiSaver investors at all?...
"There is also a risk that some providers may exit the market, resulting in less choice for consumers."
Prioritising local investment concentrates risk
The NZBA also sees giving preferential treatment to New Zealand-based investments as problematic.
It says, "Currently 47% of total KiwiSaver funds under management are invested in New Zealand assets (we note that this is significantly higher than the New Zealand Superannuation Fund which has 14.4% of its funds under management invested in New Zealand assets). This suggests there is already a strong representation of New Zealand assets in KiwiSaver.
"Mandating a bias towards New Zealand assets by way of the Bill could inflate New Zealand asset prices and create concentration risk, which could adversely impact fund performance.
"Additionally, it may encourage investment in passive conservative assets which does not benefit New Zealand businesses."
Implying the KiwiSaver regime isn't in good shape dampens investor confidence
Fundamentally, the NZBA says the proposals in the Bill signal that something's wrong with the current KiwiSaver regime and that the FMA isn't adequately regulating providers.
The NZBA disagrees with the general policy statement that the working group "examine the accountability of current KiwiSaver providers relating to complaints of charging exorbitant fees, unethical investments, and profiteering in the trading of KiwiSaver providers".
It says claims of exorbitant fees, unethical investments and profiteering generalised across the industry are simply incorrect.
While KiwiSaver investment fees as a percentage of returns fell in 2017 (from 16.87% in 2016), they still sat at 9.84%, according to the FMA.
The NZBA says "significant work" is underway across the industry to help KiwiSaver investors better understand the fees they pay.
It notes the FMA's focus on this area, which has resulted in providers being made to publish fees in dollar terms as of this month.
"Providers offer a wide range of investment options, and this necessitates a wide range of business models," it says.
"Additionally, the industry has made considerable progress with regard to responsible investment practices. Transparency has greatly improved through the provision of environmental, social and governance statements as part of KiwiSaver product disclosure statements."
Overall, the NZBA says the working group "should be cognisant of FMA's efforts to date".
It warns the signals the Bill sends about the state of the KiwiSaver regime are "likely to have a negative effect on investor confidence".
*This article was first published in our email for paying subscribers early on Thursday morning. See here for more details and how to subscribe.