New report highlights congestion problems in the country's major cities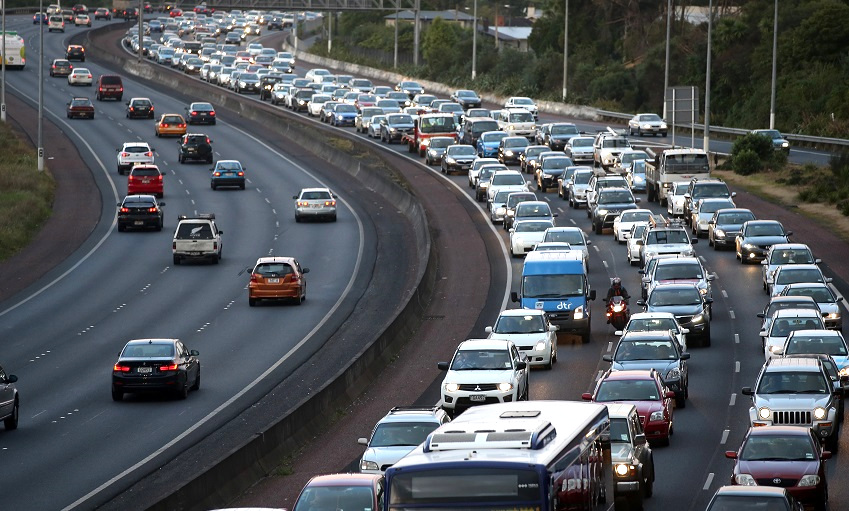 A report by Dutch-based navigation company TomTom NV looking at traffic congestion around the world has Auckland coming in second equal with Melbourne for the worst traffic congestion in Australia and Oceania.
Only Sydney fared worse in the Australia and Oceania category. The TomTom Traffic Index shows motorists in the City of Sails spent 29% more extra time in travel in 2018. This is based on the added travel time more than an average trip would take in uncongested conditions.
Auckland came in 112 overall, but it's not all bad. The figures show the amount of time spent in congestion in Auckland is down 2% on the same period on 2017.
While in Wellington, which was 4th in the Australia and Oceania top 10, commuters spent 27% more in extra travel time in the 2018 year. The city came in 142nd overall.
Other Kiwi cities to make the Australia and Oceania top 10 were Hamilton which came in 8th place and motorist's spent 22% more in extra travel time in 2018 and Christchurch, which came in 9th and where commuters spent 21% more time in transit.
While the report says Hobart, New Zealand came in 10th place where motorists spent 21% more time in travel. But we think there may have been an Australian statistician involved playing a joke on their Tasmanian brethren.   
The report is based on data collected in 403 cities in 56 countries around the world and looks at cities with a population of 800,000 of more. TomTom says in 75% of the cities included in the study congestion levels had either continued to grow or remained stable and 90 of the cities surveyed recorded measurable declines.
TomTom's vice president of traffic information Ralf-Peter Schaefer says the study shows globally traffic congestion is rising, which means more drivers are wasting time daily sitting in traffic.
"We're working towards a future where vehicles are electric, shared and autonomous so that our future really is free of congestion and emissions. We have the technology to make this future happen – but it takes a collaborative effort. From road authorities, to governments; car makers to car drivers, we all have a part to play."
An explanation of how the company's data is calculated states:
"We also perform the same calculations for individual hours of each day of the week, so it's possible to see how high congestion levels are in each city during the busiest times of the day, including morning and evening peak hours. The TomTom Traffic index statistics are calculated from anonymized GPS data collected via navigation devices, in-dash systems and smartphones."
Auckland Mayor Phil Goff says the TomTom report highlights the very issues the council is trying to address.
"Am I surprised by the TomTom report? No, I'm not surprised, our city has been growing by 40-45,000 people a year," Goff says. "You can't keep growing a city at that rate unless you grow the infrastructure to meet those needs and that applies to housing and infrastructure."
He says through Auckland Transport Alignment Project (ATAP) the Government and council have committed $28 billion towards funding Auckland's transport infrastructure over the next 10 years.
"And with the Government we've put another $1 billion into the City Rail Link and through that we will double Auckland's rail capacity. We're making some progress, but sometimes it feels like we're running just to stand still."
Goff says Aucklanders are more than paying their way with the Regional Fuel Tax to help provide the much needed investment in the city's public transport.
"If you want the city to keep growing and to be New Zealand's globally competitive city we need to keep working on these things and central Government is going to have to make a bigger effort."
He says the city's traffic congestion is a cost to the city.
"It's a huge source of frustration and a huge cost in terms of lost productivity."
Auckland Mayoral candidate John Tamihere says anyone who drives on the city's roads knows how dire the traffic congestion is.
"We probably don't need them (TomTom NV) to tell us that," Tamihere says. "But it can be fixed."
However, he says forcing motorist out of their cars isn't the solution to Auckland's gridlock, until we've got a viable public transport system.
Tamihere says he's not opposed to the City Rail Link (CRL), or the proposed Auckland light rail project. Under the project proposal first outlined by Transport Minister Phil Twyford in 2017 two light rail lines would be established in Auckland. One leading from downtown Auckland out to the airport at Mangere, while a second line would run from the central city along State Highway 16 to Kumeu/Huapai. Twyford has estimated that the Auckland that project would cost about $6 billion, making it the biggest transport project in New Zealand history. But it remains up in the air until a business case for it is finalised.
"The issue is who is funding these projects and how are they being funded," he says.
Tamihere says Auckland Council shouldn't have been expected to pay its $500 million share of the CRL project's cost overrun.
And he questions why Aucklanders are being forced to pay an extra fuel tax when no other region in the country does. He says Mayor Phil Goff and the council should have never agreed to it.
But Twyford has a different take on the latest TomTom Traffic Index data.
He says the fact the figures are down on previous year's shows there has been an improvement. The 2017 TomTom Traffic Index showed Aucklanders spent 31% more extra time in travel in 2017 and was ranked 77th overall.
"We know the only lasting solution to congestion to take a balanced approach and that's why we're investing in roads, motorways, rail, public transport and walking and cycling. This is in comparison to the last government who invested 40 percent of the transport budget in a few handpicked motorways that only carry 4 percent of vehicle journeys. 
"Our Government is investing nearly $2.2 billion on public transport in Auckland over this three-year period and the growing trip numbers are evidence that if you invest in more and better public transport, people will use it. We know that there is more work to done and that's why we're investing more than ever before in public transport throughout New Zealand to help free up the roads for those that have to drive by giving people real options.
He says transport infrastructure is vital to enabling good growth and that is why it has partnered with the Auckland Council to invest in the 10 year Auckland Transport Alignment Project (ATAP).
"ATAP is creating a congestion-free rapid transit to help free up the roads, enable growth, and improve safety for drivers."
Twyford says the City Rail Link will carry the equivalent of 16 extra traffic lanes into the city at peak times and the proposed Auckland light rail project will carry to carry 11,000 commuters per hour.
"Both will make a massive difference and help ease congestion when completed."