Discussion paper from Local Government New Zealand, with the backing of the NZ Initiative, calls for devolution of power including taxing from central to local government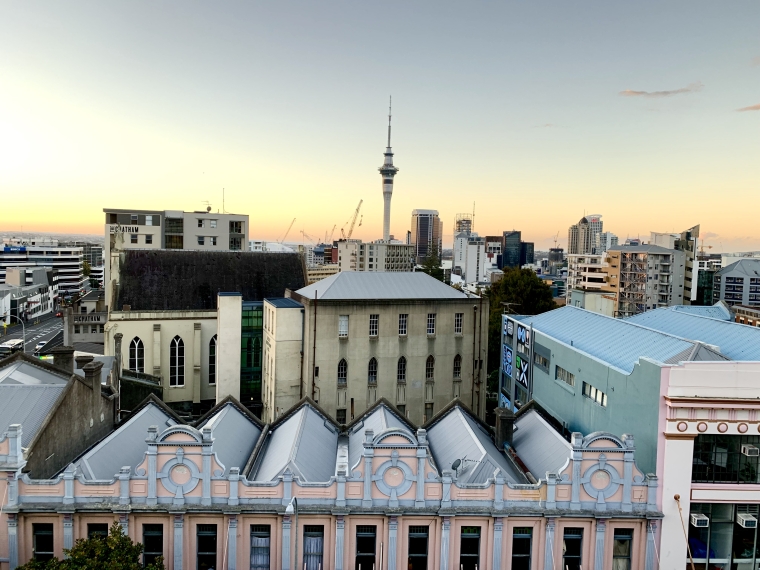 Local Government New Zealand's (LGNZ) says the country's centralised approach to government is holding back our economy, diluting democracy, and crowding out community input.
The key message from LGNZ's conference this week is a call for greater devolution.
LGNZ says it wants to see more power shifted from central to local government and it has a plan on how to do it. But whether its grand vision gets any traction in the Beehive is another story.
It follows the release last week of the Productivity Commission's draft report on the funding and financing of local government. The commission says council's couldn't rely on rates alone to pay for the the rising cost pressures they face due to infrastructure, climate change, tourism and the growing responsibilities placed on them by central government.
LGNZ spells out its case in its latest discussion paper titled: Reinvigorating local democracy: The case for localising power and decision-making to councils and communities.
"LGNZ, with the support of the New Zealand Initiative, is calling for a shift in the way public decisions are made in New Zealand by seeking a commitment to localism. Instead of relying on central government to decide what is good for our communities it is time to empower councils and communities themselves to make such decisions," LGNZ president Dave Cull says.
"This means strengthening local self-government, putting people back in charge of politics and reinvigorating our democracy. We are seeking an active programme of devolution and decentralisation. We are seeking an active programme of devolution and decentralisation. Localism is underpinned by the principle that power and authority should flow up from citizens and communities, not down from the Government."
Blueprint or wish list?
The paper outlines what it says is a process for gradually changing from the top down, centralised approach to government, to one based on more local input, where communities play more of a meaningful role in the country's social, economic and cultural development.
It says when it comes to government New Zealand is one of the most centralised countries in the developed world, despite the fact this isn't something widely known by the public at large.
"The share of tax expenditure shows just how stark our centralist tendencies are, with 90% of all public expenditure controlled by central government. As a fiscally centralised nation our responses to emerging problems and challenges tends to be "top down" and "one size fits all" in nature."
LGNZ says the risks to the country of placing so much control in the hands of central government is similar to those created by any monopoly provider. It says this includes a lack of contestability and the risk of policy capture, undifferentiated services, diseconomies of scale and a lack of responsiveness and bureaucracy. It says in addition centralisation can have negative economic and social outcomes.
"Recent data from the OECD (2016) shows that decentralised countries tend on the whole to be wealthier than centralised countries. This is partly explained by the way in which localising decisions through decentralisation strengthens allocative efficiency. This is achieved because decentralisation of public services is more likely to result in a better match between communities' needs and preferences and the provision of public services, that is, over-provision and under-provision are less likely to occur.
"Reinforcing this trend are two recent research projects from the World Bank, which found that a 10% increase in the level of decentralisation is associated with an average increase in per capita GDP of 3%. In short, decentralised countries tend to be wealthier than centralised ones. They also vote more at the local level." 
It says devolution, or localism, provides local politicians and their communities with an incentive to take a more proactive approach to economic and social development.
"It gives them a real stake in the running of their communities. Centralisation is prone to paternalistic behaviours (we know what is best for you) that leads citizens to believe that the Government will necessarily "fix things", which it is not always well positioned to do.
"This is not to say that we don't need a strong and effective system of central government. Central government has a critical role to play, but successful outcomes increasingly depend on the willingness of governments to stand back and be prepare to support local efforts. Too often government programmes are "helicoptered" into communities with little understanding of the local context."
It says we can no longer afford to use a paternalistic "central government knows best" model of public decision-making.
Who pays?
But central to any talk of devolution is who is going to pay for it? Something LGNZ makes mention of in its report.
"One of the first challenges any move towards localism needs to get right is funding. If we are serious about enabling communities to develop and take ownership for solutions to local problems and challenges then fiscal discretion is essential. Unfortunately, the current way in which councils are funded fails to adequately incentivise them to grow their tax base in order to invest in the services, amenities and infrastructure that will attract new residents and investment.
The report says councils received most of their funding through rates. And while it is efficient, it's also inflexible.
"One solution would be to introduce a local tax, as happens in a number of countries whereby citizens pay taxes to their municipality as well as to central or federal government. Alternatively, a share of the GST spent in their districts or cities could be retained or returned to councils. A second solution, which might help "sell" the idea to central government, would be a "tax swap" whereby the Government agrees to share a proportion of its GST income with councils in exchange for a share of each council's property taxes."
The paper says this would also serve as an incentive to councils to foster economic growth and development.
While it might not appear to address councils' immediate funding needs it would provide a strong incentive to promote local economic growth, as their GST receipts would increase respectively. This may need to be accompanied by a rates cap to ensure that taxes stay low, and councils' incentives are aligned with growing the local economy.
Local levies or taxes
"Some areas face unique pressures that existing funding tools are insufficient to solve and where central government processes are either too slow, or unsupportive, to help adequately. Two examples are Queenstown Lakes District Council, which faces pressures of visitor demand, and Auckland Council, which faces pressures created by fast population growth.
"In both cases reliance on property taxes and limits on the ability to borrow have exacerbated the problems facing the councils and their communities, risking the attractiveness of Queenstown as a holiday destination and economic growth in Auckland due to housing affordability and an infrastructure backlog."
It says the answer is to allow councils to develop specific funding tools which are able to be targeted to those sectors creating the pressures. It says this could involve local levies or taxes to meet "exceptional" demands, such as the impact of visitors on infrastructure.
"This would need to be supported by a robust regulatory framework to ensure it operates in an efficient and accountable way and also evidence of community support, such as through a local referendum."
Threat of Government cost shifting
But it says it is important that greater devolution, or localism, isn't accompanied by greater cost shifting.
"LGNZ is calling for an end to cost shifting and unfunded mandates. These occur when central government requires a council to undertake a new service but fails to provide the funding necessary to carry the service out. They can also occur where councils are required by central government to increase service level standards of existing services, again with no funding to pay the additional costs."
"Preventing cost shifting and unfunded mandates is also important to our localism agenda as arbitrary interventions by ministers in decision-making by councils will ultimately diminish the willingness of citizens to contribute to, and the willingness of elected members and officials to endorse, a localist approach."
It cites the Sale and Supply of Alcohol Act 2012 as a prime example.
"In 2012 the Sale and Supply of Alcohol Act was amended to give communities the right to adopt local alcohol policies in order to control harm from the sale and consumption of alcohol. Years later many councils are still trying to adopt their policies despite spending significant resources defending legal challenges.
"This example highlights a common situation where central government gives councils a duty but fails to provide them with the powers or resources to carry the duty out in a way that will meet the expectations of their communities or the intent of the legislation."
Need to deepen democracy
The paper says part of the reason for its call for localism is the perilous position democracy finds itself in in many western countries in the 21st century.
"Democracy, not just in New Zealand but in much of the world, is under pressure. Fewer people are voting, trust in democratic institutions is declining or low and we are seeing a growth in populist parties, many of which show little sympathy for the democratic process that put them in power. One reason given for this "democratic recession" is a growth in the number of citizens who feel marginalised and excluded from social and political life."
It says the key to turning it around is more democracy, not less, with citizens having a meaningful say in the way in which their town or city develops.
"Localism is not just about shifting decision-making from central government to local government, it also involves giving citizens themselves the ability to be directly involved in the decision-making process. We want to devolve power to communities through a reform of the local government system, not a devolution of power to local government per se. To make this work we need to move away from the pure "representative" model of democracy currently in use, where councillors are ultimately accountable at the ballot box, to one that is inclusive and engages the community in the decision making process.
"The evidence suggests the quality of decision-making is improved where government actions more closely match the wishes of their citizens. In this way, empowerment can revive civic society and drive improvements."
It says there are numerous ways to achieve greater community engagement in council decision-making.