NY Fed scrambles to protect message; Canada retail disappoints; China faces pressure everywhere; Aussie investors cheer McEwan; UST 10yr 2.05%; oil flat and gold up; NZ$1 = 67.7 USc; TWI-5 = 72.5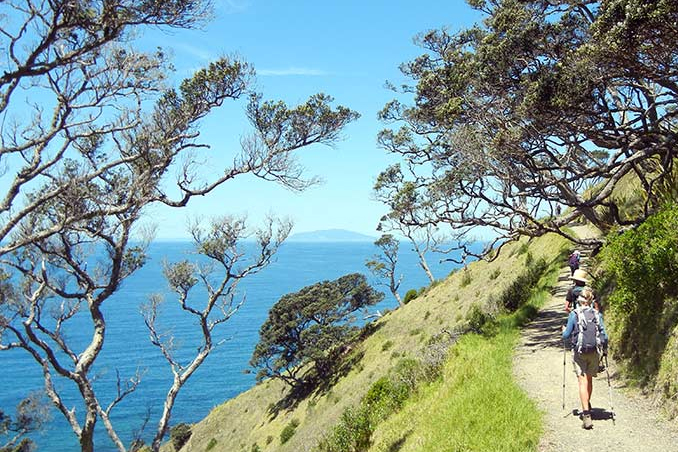 Here's our summary of key events overnight that affect New Zealand, with news China is scrambling to hold its position.
But first in New York, the key Fed branch that watches over Wall Street has taken the very unusual step of 'clarifying' its governor's comments. From a speech yesterday, markets took it that John Williams, a voting Fed member, was signaling a -50 bps rate cut at the next meeting. But not so, a misinterpretation, now says the bank. Markets now expect a -25 bps cut instead.
In the closely-watch University of Michigan survey of consumer sentiment has come in only marginally firmer this month. But it did undershoot analyst expectations somewhat.
Canada retail sales for May were disappointing, continuing a weak trend. Although this the first time in four months they have declined, they are now up less than +1% year-on-year.
In China, banks sold a net NZ$28 bln of foreign exchange in June, the biggest one-month net sale in two years, as pressure from the trade war builds, in turn adding to pressure on the Chinese currency.
And yet another in a growing list of companies in the Middle Kingdom is having trouble meeting its debt obligations as they fall due.
China is now actively working to keep foreign companies from leaving the country, dangling special benefits so that the advantages of staying outweigh the heavy tariffs imposed by the Americans. More than 50 global companies have announced or are considering plans to move production out of China. And not just foreign companies. Chinese manufacturers as well are part of the planned exodus.
And to reinforce the point, it turns out that Vietnam's port throughput now exceeds that for Hong Kong, a major China trade gateway. Vietnam is a major winner from the trade war.
In Australia, markets have cheered the appointment of kiwi Ross McEwan to head up pillar bank NAB. He makes it a kiwi duo at the bank with their new chairman also having kiwi roots. McEwan is another pupil of Ralph Norris, both earning their stripes at ASB. Taking over at NAB is not for the fainthearted and they had to promise heaps to entice him. He will be paid a base salary of AU$2.5 mln, and incentives could see his total annual remuneration reach AU$9.5 mln.
Near the end of weekly trading, Wall Street is heading for a down day. The S&P500 is now down -0.5%, reversing earlier gains. Oil jitters are weighing on the market. Over the past week it has down -1.1% and below the 3000 index level. Shanghai was up +0.8% on the day, but for the week it is just holding its own and closing even.
The UST 10yr yield is now at 2.05% and a +2 bps rise overnight. But it is a -6 bps fall back from this time last week. Their 2-10 curve is slightly flatter for the week, now at +24 bps and their negative 1-5 curve is a little steeper at -13 bps. The Aussie Govt 10yr is at 1.36%, down -6 bps for the week. The China Govt 10yr is down -2 bps for the week to 3.17%, while the NZ Govt 10 yr is now at 1.60%, a -5 bps fall on the same basis.
Gold is up overnight to US$1,422/oz and a +US$6 gain for the week. But at this level, it is a small -US$4 dip overnight.
The VIX volatility index is now just under 14 and a little below its average over the past year of 16. The Fear & Greed index we follow is now back at 'neutral', a retreat from the moderate 'greed' level we had last week.
US oil prices are a little firmer today. They are now just on US$55.50/bbl. The Brent benchmark is also little changed at US$62.50. Both levels represent a -US$5 drop for the week. The US rig count is lower again this week. But in late news, it seems that Iran has seized a British tanker in the Persian Gulf. No doubt the Brent benchmark price will rise now.
The Kiwi dollar is stronger yet again today and just touching 67.7 USc with another rise overnight and a 'good' weekly rise. On the cross rates we are also firmer over the week at 96 AUc. Against the euro we are up at 60.3 euro cents. That pushes the TWI-5 up to just on 72.5.
Bitcoin has been unusually volatile over the past week but is now at US$10,448 and down only -1.1% overnight. For the week it is down -10% however. Volatility has been wild however at +/- 15%, generated because of official concerns over Facebook's Libra and much increase regulation and oversight. The bitcoin rate is charted in the exchange rate set below.
The easiest place to stay up with event risk today is by following our Economic Calendar here ».