Foreign Affairs Minister Winston Peters says a NZ-US free trade agreement is step closer to becoming a reality as the US understands the 'theatre' playing out in the Pacific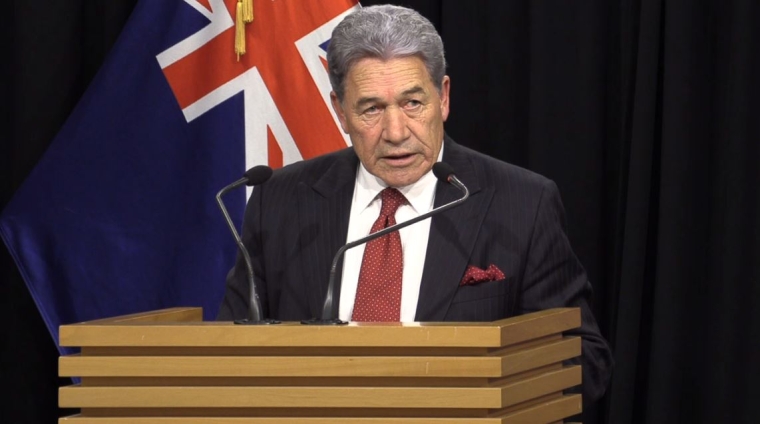 Foreign Affairs Minister Winston Peters says New Zealand is a "whole lot closer" to securing a free trade agreement with the United States further to his trip to Washington earlier this month.
Speaking at a post-Cabinet press conference as Acting Prime Minster, Peters wouldn't provide details on exactly where talks got to, but said things were "very very positive".
"They're looking at New Zealand with new eyes and with a new sense of obligation, so I came away very encouraged," Peters said.
Asked what had changed for the US to view New Zealand through this new lens, he said: "They share an understanding of the realities that we have to deal with out here in the Pacific, and the theatre which goes all the way to Hawaii, all the way to Japan…
"For the first time in a long time a number of countries are realising how we must all refresh and reset our views to secure, economically and socially, the security of our part of the world."
Pressed on whether the "theatre" he mentioned referred to China's growing influence in the region, Peters remained diplomatic.  
"We're talking about the theatre with our eyes wide open," he responded.
He then referred to a speech he delivered to Australia's Lowy Institute in March last year, in which he talked up New Zealand's "Pacific reset" or renewed development focus in the Pacific.
He talked in his speech about how post-colonial Pacific leaders were increasingly comfortable "courting a range of external partners" which was "changing New Zealand's relative influence" in the region.
"The Pacific overall has also become an increasingly contested strategic space, no longer neglected by Great Power ambition, and so Pacific Island leaders have more options. This is creating a degree of strategic anxiety," Peters said.
"New Zealand – which is the Pacific's second-largest donor, accounting for around a tenth of total development spending in the region – is not alone in grappling with the new realities. 
"It is the same question Australia, the European Union, and the United States all pose to themselves. We need to better pool our energies and resources to maintain our relative influence."
Speaking at the press conference on Monday, Peters went on to say: "I'm delighted to say that a whole lot of countries have seen what we've seen and are joining us in ensuring that our values, our belief in freedom of security in our part of the world, has defenders."
During his time in the US, Peters met with Secretary of State Michael Pompeo, National Security Advisor John Bolton, National Intelligence Director Dan Coats, and Secretary of the Interior David Bernhardt.
He highlighted, in a speech delivered at the Centre for Strategic and International Studies in Washington, the economic and "strategic" benefits of a NZ-US free trade agreement, saying it would indicate to the Indo‑Pacific community "that the US is in the region to stay".
In the same breath, Peters pointed out how New Zealand's free trade agreement with China had seen trade between the countries grow, while trade with the US had slumped.
"In 1990, 17.4% of all goods imported to Asia came from the US. By 2018, that 17.4% had fallen to just 7.4%," Peters said.
"That means that the US has lost half of its market share over a 28-year period, and gives you a sense of the significant scale of lost opportunities for US exporters and workers."