Northland Chamber of Commerce chief executive Stephen Smith says shifting the Ports of Auckland to Northport could cost $20 billion and take 10 to 15 years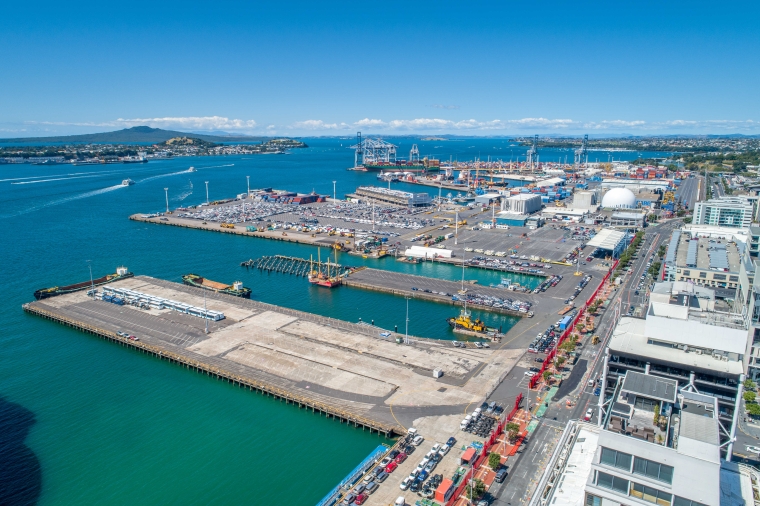 Northland Chamber of Commerce chief executive Stephen Smith says he thinks moving the Ports of Auckland operations to Northport could cost twice as much as estimates suggest and take 10 to 15 years to complete. 
Smith says he doesn't doubt the Ports of Auckland will eventually have to move and most of the debate seems to be centred around when and how it will happen. But he says upgrading Northland's rail network, roading and introducing coastal shipping to cater for an upgraded Northport, will be a massive undertaking. And he says shifting the Ports of Auckland would have to be done gradually over a 10 to 15 year period.
"It think that's the way it would have to be done," Smith says.
The Government established the Upper North Island Supply Chain Strategy working group last year to look at the development and delivery of freight and logistics in the Upper North Island. It has also been tasked with investigating the feasibility of relocating the Ports of Auckland to Northport near Whangarei.
The working group's second interim report, which was presented to the Government in August, was released last week and recommended closing the Ports of Auckland and shifting its operations to Northport. It says this would provide the greatest level of benefit to the upper North Island and New Zealand. 
Smith doubts the $10.3 billion cost estimate quoted in an EY report released with the working group report.
"If you are looking at a 10 to 15 year transition how much is that going to cost? It's probably going to be double that. I haven't seen any of the numbers in depth, but the scope of the work at this stage isn't even complete, so trying to estimate the costs in a report like that isn't realistic."
Smith says we've underinvested in the country's infrastructure for too long and some projects, such as relocating the port, will have a "sting in their tail" when it comes to cost. 
While he thinks the working group's proposal will take time, moving the processing of imported cars from the Ports of Auckland to Northport would be a good start. Smith says Northland has suffered from a lack of development for far too long.
"I don't think there's any question of that. The north has so much potential and has for a very long time. It's time we made the north more productive."
He says Northport and Marsden Maritime Holdings, which owns 50% of Northport and land around Marsden Point, are perfectly located and could easily expand their operations with the right investment. Marsden Maritime Holdings' two largest shareholders are the Northland Regional Council with 56.3%, and the Ports of Auckland with 19.9%. Northport is owned equally by Marsden Maritime Holdings and Port of Tauranga.   
Regional council watching with interest
His thoughts are shared by Northland Regional Council chief executive Malcolm Nicolson, who says he is waiting with interest to see the working group's final report and the Government's response.
"I think there's definitely more work that needs to be done on how they would transition from one model to the next if that's the path the Government wants to go down."
Nicolson says there are a lot of positives to take out of the working group's latest report.
"I was particularly pleased to see that there was an acknowledgement of the need to have an integrated transport policy in Northland. With Northport we will need really effective infrastructure such as rail, roads and coastal shipping to provide an effective operation."
And he says some tough decisions will have to be made.
"At some point there will need to be some discussions between the ports and a formal response from the Government."
Nicolson says if the working group's proposal does get the green light from the Government he has no doubt it would have positive impact on Northland.  
"If it was to become Government policy it would create huge development opportunities for private sector here."
Final report within next six weeks
According to Associate Transport Minister Shane Jones, the working group is now expected to provide its final report to the Government in the next four to six weeks. It will include recommendations on infrastructure investment, as well as outline future challenges and key steps that will need to be taken over the next five years and beyond to implement the plan.
The EY report entitled Economic Analysis of Upper North Island Supply Chain Scenarios, says the absence of a suitable rail network is one of the biggest challenges the working group's proposal would face. It would require upgrading the rail network between Auckland and Whangarei, as well as the construction of a 20km spur, or secondary line, to Northport at Marsden Point.
"The Northland region does have an existing rail network (the North Auckland Line); however, it has been under maintained, and has seen no significant investment in the last 50 years. Consequently, the line is no longer fit for purpose and cannot meet modern requirements for transportation of freight and passengers. Restricted tunnel heights prevent Northland exporters from utilising rail to move modern high-cube containers to and from Auckland.
"These conditions and restrictions have necessitated the transference of over a million tonnes of freight to road transport per annum. Rail is currently an infeasible option for businesses to move freight in or out of Northland."
But it says upgrading the rail network would have wider ramifications for Northport and the Northland region and would deliver direct and indirect benefits to the local area, industries and communities. While relocating the port to Northport could be a catalyst for greater economic development in Northland, delivering direct and indirect benefits to the local area, industries and communities.
"Available industrial land near the new Northport site could be used to develop industrial parks and production facilities, stimulating additional economic growth in the local area."
While an upgraded rail network would give local businesses within the Northland region better access to regional, interregional, and international markets.
In 2016 the Auckland Council formed a working group to look at the long term options for the Ports of Auckland. The resulting Port Future Study said that the port would face problems going forward due to its location. The report identified two potential locations for a new port at either the Manukau Harbour, or the Firth of Thames, which it said should be investigated.