Government gives itself more spending wriggle room sooner than expected, having met goal of reducing net debt to 20% of GDP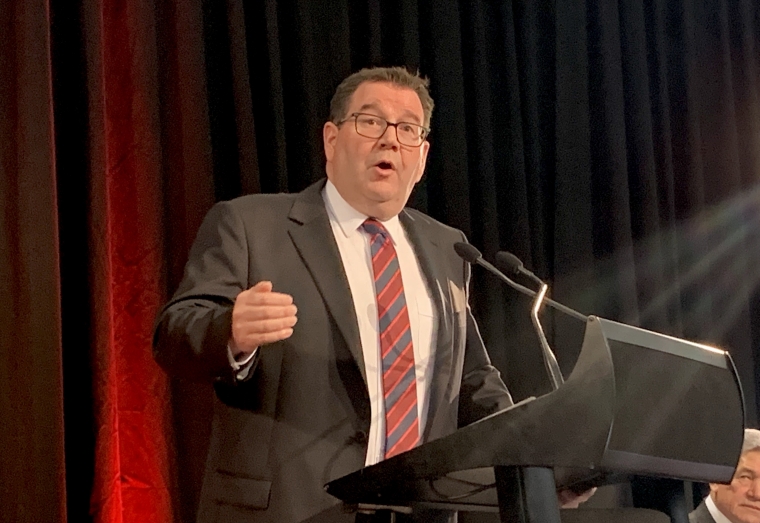 The Government has loosened its fiscal straightjacket now that it's met its target to reduce net Crown debt to 20% of GDP within the first five years of it taking office.
The Labour Party, ahead of the 2017 election, believed it would need until the 2021/22 year to reduce debt to 20%.
The Coalition Government reached this point earlier.
The assumption some of us made was that the Government would continue trying to keep debt at 20% of GDP until the 2021/22 year, as it in May announced that after 2021/22 it would replace its 20% target with a target range of between 15% and 25% of GDP.
However Finance Minister Grant Robertson says the Government is moving to that target range now.
His comments follow him on Saturday announcing the Government will spend "significantly" more to bring forward planned infrastructure projects.
Details around the spend will be revealed on December 11 when Robertson releases his Budget Policy Statement with Treasury's Half Year Fiscal and Economic Update (HYEFU).
Robertson on Tuesday confirmed he didn't consider Treasury's latest forecasts around government debt to GDP when he decided on this infrastructure package.
Asked by interest.co.nz whether his goal was still to reduce net Crown debt to 20% of GDP by 2021/22, as per the projection the Labour Party made ahead of the 2017 election, Robertson said: "Our commitment was that within five years of taking office we'd have net debt at 20% or below.
"In our first two Budgets we've done that. We are moving to the range. You'll see on the 11th of December exactly where that lands…
"We made this commitment around infrastructure spending separate to that. We made that commitment in advance of knowing the final numbers…
"We won't be changing the fact that we'll be careful fiscal managers, but what we've signalled is that there's a lot of need in terms of our infrastructure deficit. Borrowing costs are low, the books are in reasonable shape, so now's a good time to make that investment…
"The BRRs [Budget Responsibility Rules] were always about setting ourselves some boundaries, but we always said we'd adjust to the economic cycle."
Quizzed on whether the Government was technically moving away from its BRRs, Robertson said: "I think we are at the level of semantics here."
The National Party has taken the opportunity to have a go at the Government for "throwing out" its commitment.
It's calling for the government to "rein in wasteful spending", while delivering tax cuts and investing more in roads.
National's finance spokesperson, Paul Goldsmith, in August said net Crown debt at 20% of GDP was "about right". Before the 2017 election the party campaigned on reducing debt to between 10% and 15% of GDP by 2025.
National hasn't formally announced a debt target going in to the 2020 election.
The Reserve Bank, when it cut the Official Cash Rate (OCR) by 50 points in August, explicitly called for the Government to spend more to stimulate the economy.
It toned back its rhetoric when it reviewed the OCR in November, saying in its Monetary Policy Statement that it "noted that fiscal stimulus could be greater than assumed".
Asked to elaborate on this comment, Governor Adrian Orr said he imagined the Government had heard the RBNZ's calls for more fiscal stimulus, so it didn't need to keep "shouting" about it.