Penlink, the Tauranga Northern Link, Otaki to Levin, Mill Road and the Skypath among transport projects to get government funding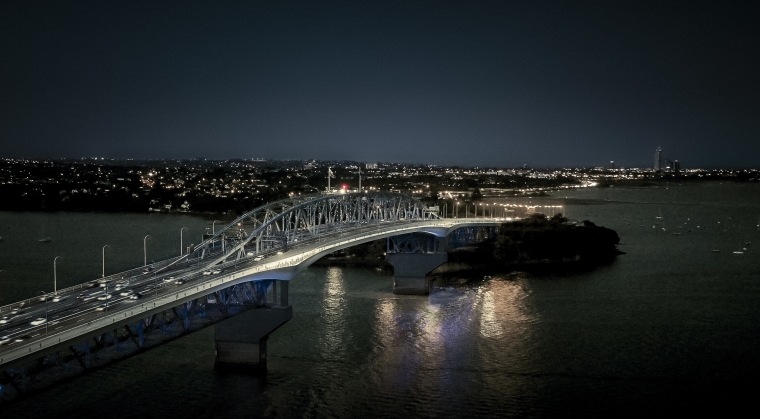 The Government is committing to funding a number of roads consented under the previous National-led Government.
It has detailed the transport projects, worth $6.8 billion, which will be included in the $12b new infrastructure spend announced at the end of last year.
These include roads consented, but not funded, under National. Some of these were earmarked as 'Roads of National Significance'.
The 'New Zealand Upgrade Programme' announced on Wednesday also brings forward and funds other significant projects, allowing them to be built sooner.
As well as roads, the $6.8b will be invested in rail ($1.1b), public transport, walking and cycling.
Prime Minister Jacinda Ardern said the programme was about making transport infrastructure "better, faster and funded".
Projects that have already been consented include Penlink, the Tauranga Northern Link, a third of Mill Road, some of the SH1 Papakura to Drury South improvements, and some of SH2 Te Puna to Omokoroa.
SH1 Whangarei to Port Marsden, the Tauranga Northern Link, SH2 Te Puna to Omokoroa, and Otaki to north of Levin were earmarked in the second phase of the previous government's Roads of National Significance.
Finance Minister Grant Robertson will be in charge of the 'New Zealand Upgrade Programme'. Other ministers involved in the programme, including Transport Minister Phil Twyford, will have to report progress to him.
Twyford said:"The significant package is designed to give the construction industry certainty and confidence about future work.
"Many of these projects have been talked about for a long time, but we are the first Government to fund them. We have also made important changes.
"We must look to the future as we design this critical infrastructure. The projects have also been redesigned and future proofed to include provision for public transport and walking and cycling.
"We can do this and bring these projects forward because of our careful management of the Government's books. It means New Zealanders can be assured they will be built as soon as possible.
"Our decision to fund these projects by taking advantage of historically low long-term interest rates means this Programme will free up funding in the National Land Transport Fund and Auckland transport budgets."
Here is a full list of projects:
Roads
Upgrade SH1 Whangarei to Port Marsden to four lanes ($692m).
Penlink - build a two-lane highway between SH1 and Whangaparoa ($411m).
Upgrade Mill Road to four lanes and connect Manukau to Drury ($1.35b).
Widen SH1 from Papakura to Drury and building a cycleway alongside it ($423m).
Build a roundabout at the intersection of SH1/SH29 at Piarere, between Tauranga and Hamilton ($58m).
Build a new Tauranga Northern Link, connecting SH29 to SH2 by Te Puna ($478m).
Upgrade SH2 from Te Puna to Omokoroa ($455m).
Upgrade SH1 from Otaki to North of Levin to four lanes ($817m).
Make further safety upgrades on SH58 at Pauatahanui ($58m).
Improve the Melling interchange in Lower Hutt ($258m)
Improve safety on SH76 in Christchurch city, build bus lanes on SH76 at Halswell, make rural intersections safer ($159m).
Improve public transport into Queenstown's town centre and improve intersections ($90m).
Rail
Improve the Wiri to Quay Park Corridor in Auckland, including by constructing a third rail line to ease the bottleneck between Wiri and Westfield, providing additional capacity around Westfield Junction, and works around Quay Park to improve rail access to the Ports of Auckland ($315m).
Extend electrification from Papakura to Pukekohe by 19km ($371m).
Improve the Wellington, Wairarapa and Palmerston North networks, including by upgrading tracks for the Wairarapa and Capital Connection lines, safety connections and refurbishment of Capital Connection carriages ($211m).
Develop the Drury railway station, with two new stations at Drury East and Drury West ($247m).
Walking and cycling
Build the Skypath for walkers and cyclists over the Auckland Harbour Bridge ($360m).