Fullerton Markets, which said it was quitting New Zealand for St Vincent and the Grenadines in 2018, advertises for a compliance manager with knowledge of NZ securities laws who is able to work in NZ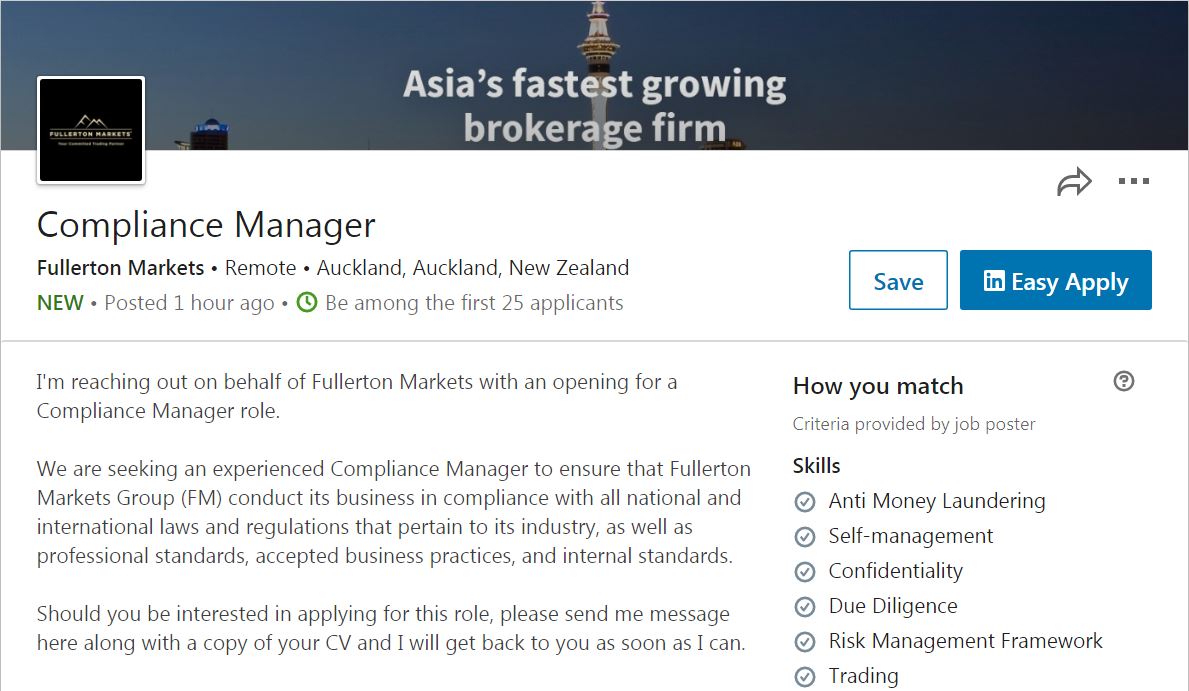 Fullerton Markets, the scandal plagued foreign exchange and derivatives trader that announced it was swapping New Zealand for St Vincent and the Grenadines in 2018, is now advertising for a compliance manager with knowledge of NZ securities laws who is able to work in NZ.
The advert, posted on LinkedIn on Tuesday, says applicants need "outstanding knowledge of securities rules and regulations in New Zealand." Applicants "must be eligible to work in New Zealand with a valid working Visa."
"We are seeking an experienced compliance manager to ensure that Fullerton Markets Group (FM) conduct its business in compliance with all national and international laws and regulations that pertain to its industry, as well as professional standards, accepted business practices, and internal standards. Should you be interested in applying for this role, please send me message here along with a copy of your CV and I will get back to you as soon as I can," says human resources specialist Hajar Selamat of Singapore-based IWS Intelligent Workflow Solutions Pte. Ltd. 
Fullerton launched in NZ in 2016 and secured a range of high profile sponsorship deals including with the Hurricanes rugby team, the Wellington Phoenix football team, the Wellington Gold Awards and the Wellys, or Wellingtonian of the Year Awards. Singapore-based CEO Mario Singh described Wellington as "the next financial hub of New Zealand," before Fullerton's registered office and address for service was moved to an Auckland serviced and virtual office in 2018.
Fullerton managed to entice then-Finance Minister Bill English to its June 2016 launch party, saw its man on the ground in Wellington, Malaysian national Chanthrueen Sarigabani, forced by Immigration NZ to leave the country in 2017, had its trustee Kiwi Global Trust Ltd lay a complaint with the Police over millions of dollars from its ANZ bank account being moved overseas. Fullerton also received a formal anti-money laundering warning from the Financial Markets Authority (FMA). (There's a full summary of Fullerton's time in NZ here).
Fullerton deregistered from NZ's Financial Service Providers' Register in late August 2018 and announced it was transferring "all business" to Fullerton Markets International Ltd and Fullerton Custodian Ltd in Saint Vincent and the Grenadines. Meanwhile the Wellington Phoenix gave up on getting tens of thousands of dollars owed through a sponsorship deal with Fullerton.
Despite quitting NZ, Fullerton Markets Ltd remains a registered NZ company. Its directors are listed as Christchurch-based Gerald Carter and Singh who is also listed as sole shareholder. Its registered office and address for service is given as the West Plaza Business Centre on level 8 at 3 Albert Street, Auckland.
Interest.co.nz asked Carter whether Fullerton Markets has plans to ramp up its business in NZ, whether it's again seeking to become a registered financial service provider, or whether it will seek some form of FMA licence.
"I am a director of Fullerton Markets Limited and not associated with the larger Fullerton Group. I have referred this to Group HR for comment and their response was that 'they are a significant employer in several global locations and are looking to strengthen their capabilities. This is one role of many that are currently being advertised'," Carter said.
The advert describes Fullerton Markets as; "an award-winning broker recognised for being a disruptive force in the trading industry. Committed to delivering unparalled [sic] safety of funds, lightning-speed execution and reliable system of wealth creation, it offers its global clients direct access to the world's largest financial market. Equipping clients with the necessary tools and knowledge, Fullerton Markets empowers traders to effectively compete in the markets."
*This article was first published in our email for paying subscribers early on Wednesday morning. See here for more details and how to subscribe.