Simon Bridges promises yet-to-be detailed tax relief if National's elected into government; comments on burden of 33% top income tax rate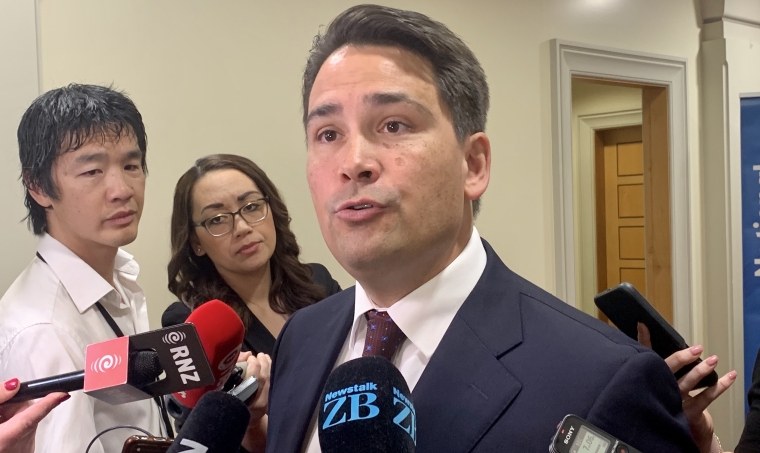 National is promising to provide tax relief that will benefit average income earners, if elected into government after the September election.
Delivering a speech on Monday on the party's economic plan, leader Simon Bridges said National's tax plan will "see people on the average wage better off and keeping more of what they earn".
"People on the average wage shouldn't be paying almost 33% in the dollar," he said.
Average hourly earnings in New Zealand are only $32.76, so average wage earners do not meet the $70,000 per annum income threshold, requiring them to pay 33% tax on income earned over this amount. 
Bridges didn't detail how National would provide tax relief and how this would be funded.
National has already committed to adjusting income tax brackets according to inflation, to prevent taxpayers moving into higher tax brackets when increases to their incomes don't keep up with rising living costs.  
It will also repeal the Auckland fuel tax, but wants to introduce "revenue neutral" congestion charging. Nonetheless, it's campaigning on not introducing new taxes. 
Bridges also reaffirmed National's commitment to "keeping debt low", but didn't put a figure on where it wanted net core Crown debt as a portion of gross domestic product (GDP) to sit.
The Coalition Government met its target of reducing net core Crown debt to below 20% of GDP within five years of taking office, and is now giving itself room to borrow proportionately more by broadening its target to 15% to 25% of GDP.
National is promising to out-spend the Coalition Government on investment in infrastructure.
"We won't be afraid to use the private sector to partner with government to deliver projects that matter to us all," Bridges said, highlighting his support for public private partnerships.
Overall, a key theme of Bridges' speech was around putting more money in people's back pockets. He mentioned the term "back pocket" five times. 
"This Government is a failed experiment. A failed experiment is fine when you're in high school science, not when you're running the country," he said.
Bridges summarised: 
We will keep taxes and red tape low and grow incomes to help with your cost of living
We will be responsible managers of the economy
We will focus on growing the economy for all
We will invest more in core public services like health and education
Finally, we will create more jobs and opportunities for all New Zealanders

To do this, today I am announcing five key measures that I want the sixth National Government's first term to be measured by…

New Zealand's economic growth is back to at least 3% per annum.
New Zealand's growth rate per person is in the top half of the OECD
We are reducing the after-tax income gap with Australia
More New Zealanders feel they can reach their potential at home, rather than overseas
We have revived business confidence so that businesses feel like they can take more risks and create opportunities for you and your family…

Over the next few months I will be announcing our comprehensive Economic Plan.

The five major planks to it are five packages on:

Tax relief
Regulation reduction
Infrastructure
Small Business
Families