Simon Bridges says his leadership is being challenged; Todd Muller and Nikki Kaye said to be gunning for leader/deputy; Issue expected to be dealt with by Tuesday at the latest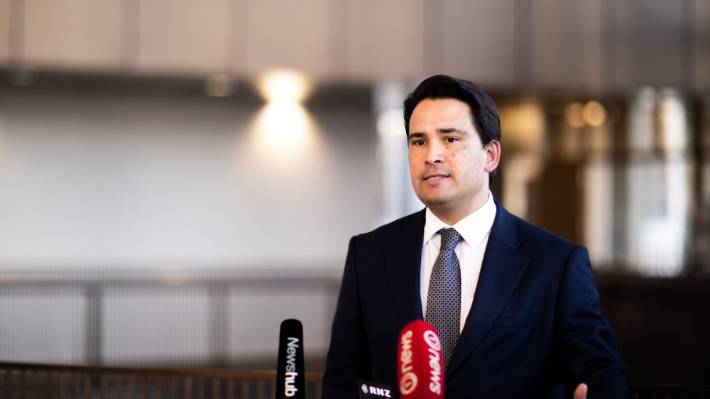 Simon Bridges says he and Paula Bennett are being challenged for National's leader and deputy leader positions.
Word on the street is that Todd Muller and Nikki Kaye are vying for the top jobs, however they haven't publicly confirmed this. 
Bridges during Wednesday morning media interviews said he expected the issue to be resolved "quickly" - by Tuesday "at the latest" when the party's caucus meets.
Asked by Morning Report's Susie Ferguson whether he would remain in the party as an MP if he lost the leadership, Bridges said he had "no plan B", but that he was confident he had the numbers to remain leader with Bennett's support.
Later on Wednesday morning, RNZ political editor, Jane Patterson, said Bridges looked to be calling the bluff of Muller and Kaye by coming out and saying a vote would be held soon. Patterson's view was that Bridges was essentially challenging them to put up or shut up.
Judith Collins and Mark Mitchell - earlier speculated to be challengers - told the NZ Herald and Newstalk ZB they weren't going for it.
Support for National plummeted in the latest Newshub-Reid Research Poll conducted between May 8 and 16.
The poll indicated that if there was an election tomorrow, National would receive 30.6% of the vote (down 12.7% points from the last poll done in February). It would only secure 39 seats in Parliament - well short of the 61 required to govern.
Support for Bridges fell to only 4.5% (down 6.1% points from the last poll), as Jacinda Ardern's popularity hit a record high for this particular poll.
Rubbing salt in the wound, former National prime minister Jim Bolger on Tuesday evening did an interview with RNZ, endorsing Muller, who previously worked for him. 
Meanwhile another former National prime minister, John Key, last month did a Facebook Live with Chinese media, Skykiwi, effectively endorsing Christopher Luxon - the former Air New Zealand CEO selected as National's candidate for Botany. 
Reporter's opinion:
Muller and Kaye are highly competent individuals. Their problem is their lack of public profile.
The other hurdle they may face is solidifying the support of National's conservative wing.
Who are Muller and Kaye?
Muller towards the start of the current term of government made a name for himself as a climate conscious National MP, as he worked collaboratively with Climate Change Minister James Shaw to ensure Shaw's Zero Carbon Bill had cross-party support.
In mid-2019 he become agriculture spokesperson - an important job for the National Party as the sector faced a number of regulatory changes around water quality, emissions pricing and land use changes to promote forestry.
Muller is also National's spokesperson for biosecurity, food safety and forestry. First elected in 2014, he's the MP for the Bay of Plenty.
Muller is a former Zespri general manager, Apata (kiwifruit and avocado post-harvest service) CEO, and most recently, Fonterra corporate affairs director.
While Muller is only ranked 16th on the National Party list, Kaye is seventh.
She has been the MP for Auckland Central since 2008, beating Ardern when she ran in this seat in 2011 and 2014.
Kaye is National's spokesperson for education, sport and recreation. She held a number of ministerial portfolios during National's previous terms in government, including education, ACC, youth affairs and civil defence.
Of particular interest to interest.co.nz readers, Kaye is continuing to lead a campaign to try to reform the Unit Titles Act to strengthen the management of apartments and townhouses.