Todd Muller loses his climate change portfolio in National Party reshuffle; James Shaw hopes his replacement is 'open to similar cross-party cooperation'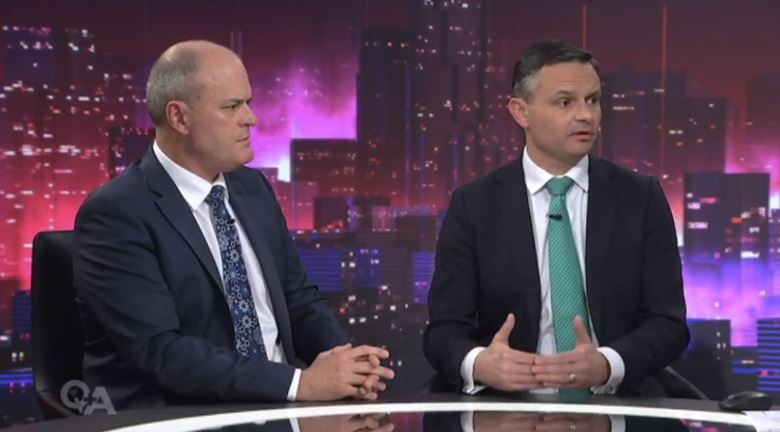 The National Party MP, credited for working with Climate Change Minister James Shaw on ensuring the Zero Carbon Bill has cross-party support, has had his climate change portfolio traded for a primary industries one.
Todd Muller will no longer be the person to bring National's interests to the table, as Shaw continues to refine legislation to lay out a route for New Zealand to reduce its emissions and set up an independent Climate Commission to police this transition.
Instead Muller will become the party's agriculture, biosecurity and food safety spokesperson - a position he's always wanted being a "primary sector guy" - a former Zespri, Apata and Fonterra executive.
The reshuffle, prompted by Nathan Guy announcing he'll retire at next year's election, will see Muller jump from 31 to 17 on the party list.
While he will hang on to his forestry portfolio, his climate change role will go to National's environment spokesperson and Bluegreens team leader, Scott Simpson.
National leader Simon Bridges credited Simpson for being passionate about the environment and taking a "pragmatic approach" to climate issues. But Muller's pragmatism is what's given him kudos from many across the political spectrum.
Shaw said Muller was a "constructive, thoughtful and responsible climate change spokesperson for the National Party".
"I thank him for his willingness to engage in bipartisan discussions as I developed the Zero Carbon Bill."
Shaw hoped Simpson was "open to similar cross-party cooperation that can ensure New Zealand has climate legislation which will endure changes of government and provide the certainty New Zealanders need to invest and commit to a low emissions future for generations to come".
Both Bridges and Muller strongly denied the reshuffle signalled a change of approach by National on climate issues.
Muller said the bipartisan approach was one led by Bridges.  
"The prioritisation of climate as part of National's environmental credentials don't change," he said.
"The only thing changing is the person giving effect to that… I think that's hugely positive."
Muller said he didn't ask Bridges if he could hang on to his climate portfolio.
Both he and Bridges believed it would be challenging for the same person to hold climate and agriculture roles.
Muller made headlines just over a week ago when he told Newshub Nation he was "broadly supportive" of the Government's electric vehicle feebate policy, despite his party later launching a major campaign against it.
He then backtracked on TVNZ's Q + A, very strongly toeing the National Party line on the policy.
Muller's performance again led some political commentators to talk him up as future leader material.
Indeed, questions were raised when following Amy Adams announcing her retirement in June, a reshuffle didn't see Muller bumped up the party list.
However following Tuesday's reshuffle, Bridges said Muller was a "hardworking and high performing" MP "deserving of a promotion".
"I have no doubt that Todd will hold this Government to account on behalf of rural New Zealand."
The Zero Carbon Bill is at the select committee stage and is yet to have its second and third readings.