In a COVID-19 ravaged world, could Modern Monetary Theory help us break free of 'myths and misunderstandings holding us back' and stand up to our full height?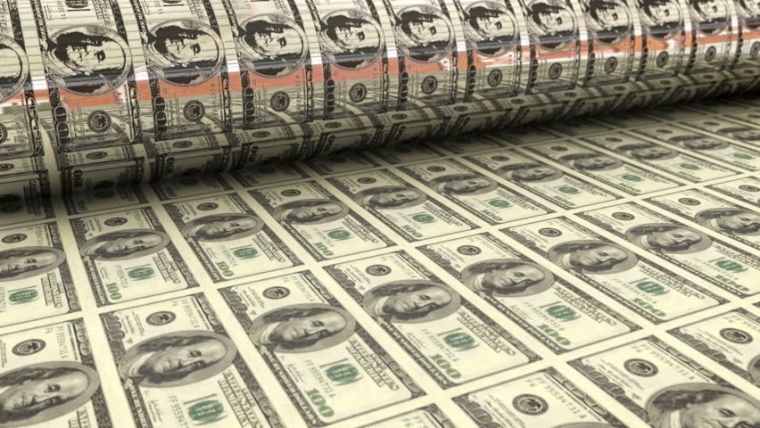 By Gareth Vaughan
COVID-19 has turned the world upside down. Globally the number of people catching the virus continues to rise and the economic fallout is enormous. The uncertainty this is causing shows no signs of abating.
With governments and policy makers facing huge challenges, there's plenty of scope to think outside the square. Turning the clock back to 2019 is not an option. Unconventional ideas should be on the table, and perhaps there's even scope for a paradigm shift in the way we view, or consider, certain issues?
We recently ran a video of this conversation between American economist Stephanie Kelton and DCReport editor David Cay Johnston. In June Kelton published a book entitled The Deficit Myth, Modern Monetary Theory and How to Build a Better Economy. Kelton is a professor of economics and public policy at New York's Stony Brook University.
Whilst there are those who argue Modern Monetary Theory (MMT) is not new, it's certainly not the conventional way economists and politicians think about money. 
Before this year I hadn't given much though to MMT. During the series of lockdown video interviews I did, David Skilling, director at economic advisory firm Landfall Strategy Group, suggested we were defacto moving in the direction of MMT which had been "fringe economic policy even a year ago." Strategy and risk consultant Raf Manji, another interviewee, talked about upgrading New Zealand's infrastructure at effectively no cost, and learning about money transmission from trading the yen and Japanese government bonds.
With my interest piqued, I've read Kelton's book and there's certainly food for thought in it. Especially against a COVID-19 backdrop.
The powers of a currency issuer
The fundamental point Kelton makes is that countries with monetary sovereignty such as the United States and New Zealand, where the government is the monopoly issuer of a fiat currency, don't have to manage their budgets as a household, business or local government does. This is because the government is the currency issuer. The others are currency users. Or, put another way, unlike a household, business or local council, the government issues the currency it spends.
Being a currency issuer gives a special power that must be exercised with great care, Kelton says. Rather than asking how the government will pay for something we should be asking how will they resource it.
"The problem we have today is that economic policy is often prescribed by people who, despite holding advanced degrees in economics, possess no real understanding of how our monetary system works," Kelton says.
She likes to talk about looking at things through an MMT lens. When doing so, things look quite different to when using a conventional economist's lens. 
"When a country issues its own nonconvertible (fiat) currency and only borrows in its own currency, that country has obtained monetary sovereignty. Countries with monetary sovereignty, then, don't have to manage their budgets as a household would," says Kelton. "Most importantly, having monetary sovereignty means that a country can prioritise the security and wellbeing of its people without needing to worry about how to pay for it."
The world through an MMT lens is arguably rose tinted compared to the world through an orthodox economist's lens. But it isn't limitless milk and honey.
"Do I believe the solution to all our problems is to simply spend more money? No, of course not. Just because there are no financial constraints on the federal budget doesn't mean there aren't real limits to what the government can and should do. Every economy has its own internal speed limit, regulated by the availability of our real productive resources - the state of technology and quantity and quality of its land, workers, factories, machines, and other materials. If the government tries to spend too much into an economy that's already running at full speed, inflation will accelerate. There are limits. However the limits are not in our government's ability to spend money, or in the deficit, but in inflationary pressures and resources within the real economy. MMT distinguishes the real limits from delusional and unnecessary self-imposed constraints," Kelton says.
She declares austerity and trade wars "a failure of imagination," and says  the "cruel and inefficient" practice of relying on democratically unaccountable central bankers to target the "right" mix of inflation and unemployment must end.
The government's budget isn't supposed to balance, Kelton argues. A fiscal deficit adds more dollars than it subtracts, while a fiscal surplus subtracts more dollars than it adds. And government surpluses shift deficits onto the non-government sector.
'A keyboard at the New York Federal Reserve Bank'
Even at US$26 trillion, the US national debt "poses no financial burden whatsoever." That's because it "could be paid off tomorrow and none of us would have to chip in a dime." Some Americans fret about China holding more than US$1 trillion of US treasuries securities. But Kelton doesn't see a problem.
"Borrowing from China involves nothing more than an accounting adjustment, whereby the Federal Reserve subtracts numbers from China's reserve account (checking) and adds numbers to its securities account (savings)...To pay back China the Fed simply reverses the accounting entries marking down the number in its securities account and marking up the number in its reserve account. It's all accomplished using nothing more than a keyboard at the New York Federal Reserve Bank."
Even Japan, with the developed world's highest debt-to-GDP ratio of 240%, is not in trouble. 
"Financial markets can't push Japan into crisis because the Bank of Japan can override any unwanted move in interest rates. It could also, essentially, retire the entire debt using nothing more than a computer keyboard at the Japanese central bank."
Here in New Zealand net core Crown debt is expected to increase from 19% of GDP in 2019 to 53.6% by 2023 as government bond issues ramp up.
Saying taxes pay for what the government spends is 'pure fantasy'
Conventional thinking is that government funding comes from raising taxes and borrowing. In yet more heresy Kelton labels the idea that taxes pay for what the government spends as "pure fantasy." Actually governments spend before they tax and borrow. 
"Taxes aren't important because they help the government pay the bills. They're important because they help to prevent government spending from creating an inflation problem. Similarly, bond sales aren't important because they allow the government to finance fiscal deficits. They're important because they drain off excessive reserves, which enables the Federal Reserve to hit a positive interest rate target. But today the Fed pays interest on reserve balances, so it no longer relies on treasuries to hit its rate target."
To wipe US government debt the Fed could buy up government bonds in exchange for bank reserves, Kelton suggests, using nothing more than a keyboard at the Fed. Or it could phase out the issuance of treasuries over time. Or alternatively those worried about government debt could just learn to live with it.
"There's nothing inherently dangerous about offering a safe, interest bearing way for people to hold on to dollars," says Kelton. "The thing we call the national debt is nothing more than a footprint from the past."
She goes on to say that arguing that so-called entitlement programmes like social security and Medicare are financially unsustainable and can't be afforded is a myth. In reality, Kelton says, so long as the government commits to funding the programmes, it can always afford to do so.
"The deficit myth has warped our understanding of all government spending," says Kelton.
Taxes can't be paid without the government currency monopolist supplying money, and the government "spends its currency into existence" by giving people access to it. Kelton notes former Fed chairman Ben Bernanke refuted the idea that taxpayer funding was being used to rescue banks during the global financial crisis.
"The banks have accounts with the Fed," she quotes Bernanke saying. "We just use the computer to mark up the size of the accounts."
But even though the government can manufacture all the dollars it needs, taxes have their uses. These, Kelton says, include encouraging or discouraging certain behaviours, altering the distribution of wealth and income, and helping avoid an inflation problem.
'A non-partisan lens that describes how the monetary system actually works'
Kelton had a stint as chief economist for the Democrats on the US Senate Budget Committee after being hired by Bernie Sanders in 2015. What she found there was "incredibly disheartening," with none of the committee's senators - Democrats or Republicans - seeming to realise the Federal Budget didn't work like a household budget. 
Critics sometimes describe MMT as a cult. It's not. But looking at the world through an MMT lens, as Kelton puts it, changes the view dramatically. She describes MMT as a non-partisan lens that describes how the monetary system actually works. MMT's not a blank cheque, and nor is it  a plot to grow the size of government, Kelton argues.
"MMT can be used to defend policies that are traditionally more liberal (e.g. Medicare for all, free college, or middle class tax cuts) or more conservative (e.g. military spending or corporate tax cuts)."
"The point is that we run our economy like a six-foot-tall guy who wanders around perpetually hunched over in a house with eight-foot ceilings because someone convinced him if he tries to stand up tall he'll suffer a massive head trauma," says Kelton.
Helping fix the deficits that actually matter
Kelton argues there are a whole range of deficits that actually matter including a good jobs deficit, an education deficit, an infrastructure deficit, and a climate deficit. One example she gives of what an MMT-led approach could help achieve is a transition to sustainable and zero carbon energy production.
In order to decarbonise the grid she suggests the federal government could allow electric utilities to sell, at book value, any high emission generator to the government no matter its age.
"This would free up private capital for a rapid transition to renewable energy and avoid burdening households and businesses with higher costs for electricity due to a change in public policy. The federal government could go further and increase funding for research and development and scaled up deployment of energy storage technologies. The US could have the lowest electricity costs in the world while rapidly transitioning to 100% renewable energy. That's good for businesses, the environment, and households. And it's financially affordable for the government," Kelton says.
Ultimately MMT is a description of how a modern fiat currency works, she adds.
"With an improved understanding of the monetary system comes the ability to distinguish artificial barriers from legitimate constraints. The descriptive side of MMT is about helping us break free of the myths and misunderstandings that have been holding us back. Getting an accurate picture of how the monetary system works is a necessary first step toward building an economy that works for all people."
When there's a fiscal deficit, gov't adds dollars to some part of the economy

When gov't matches the deficit with bond sales, it turns those dollars into bonds

When gov't retires bonds, it turns bonds back into dollars

"Paying it back" just shifts dollars between Fed accounts

— Stephanie Kelton (@StephanieKelton) June 30, 2020
*This article was first published in our email for paying subscribers early on Wednesday morning. See here for more details and how to subscribe.