Budget 2020 sees another $16 billion allocated towards COVID relief packages, including an extended wage subsidy; Treasury forecasts a $28 billion budget deficit in 2020 and a $60 billion bond issuance programme for 2021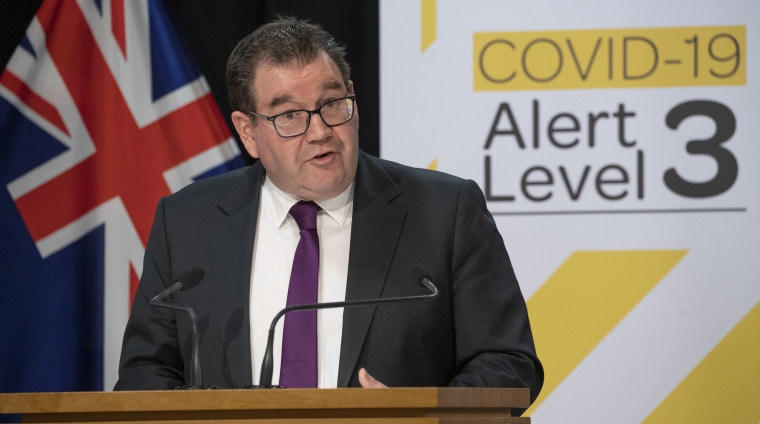 Finance Minister Grant Robertson is extending the wage subsidy, committing to investing more in infrastructure and state housing, offering free trades training and throwing the tourism sector a lifeline through Budget 2020.
Robertson has stuck to his word and provided another phase of COVID-19 relief via the Budget, rather than going all out with a huge package - in the context of what is "huge" in the environment we're in.
The COVID-19 relief schemes announced in the Budget are worth less than the $26 billion of support announced before the Budget (the wage subsidy, business tax changes, loan schemes, benefit increase, etc).
The new schemes are worth $15.9 billion. Robertson has also ring-fenced an additional $20.2 billion in the Budget for yet-to-determined COVID-19 support.
So altogether, he's put a $62.1 billion price tag on the COVID-19 relief effort.
Treasury forecasts this spend will result in a $28.3 billion deficit in the year to June 2020. In December, it forecast a deficit of only $900 million for 2020.
It forecasts deficits across its entire forecast period, peaking at $29.6 billion in 2021 and falling to $4.9 billion by 2024.
Net core Crown debt is expected to increase from 19% of Gross Domestic Product (GDP) in 2019 to 30.2% in 2020, rising to 53.6% by 2023.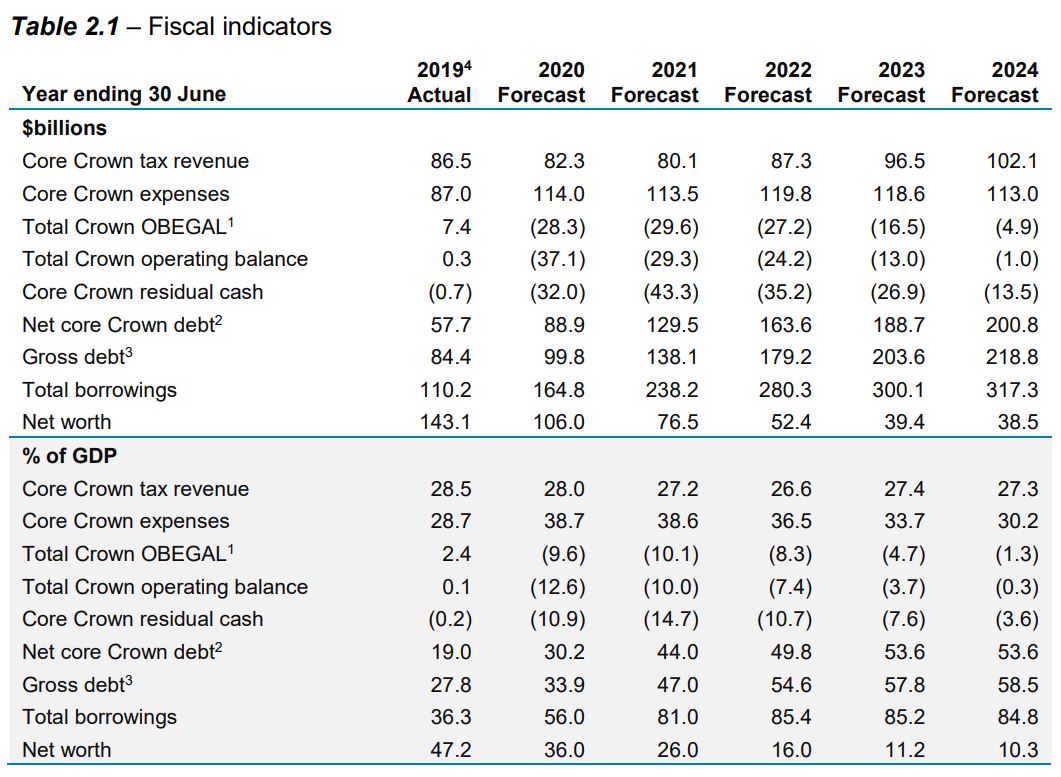 $60 billion of bonds to be issued in year to June 2021
To pay for all this spending, Treasury will have to issue a lot more bonds.
It has hiked its forecast issuance for the year to June 2021 to a whopping $60 billion - six times more than what it forecast in December.
Bond issuance is expected to be $40 billion in 2022, $35 billion in 2023 and $30 billion in 2024.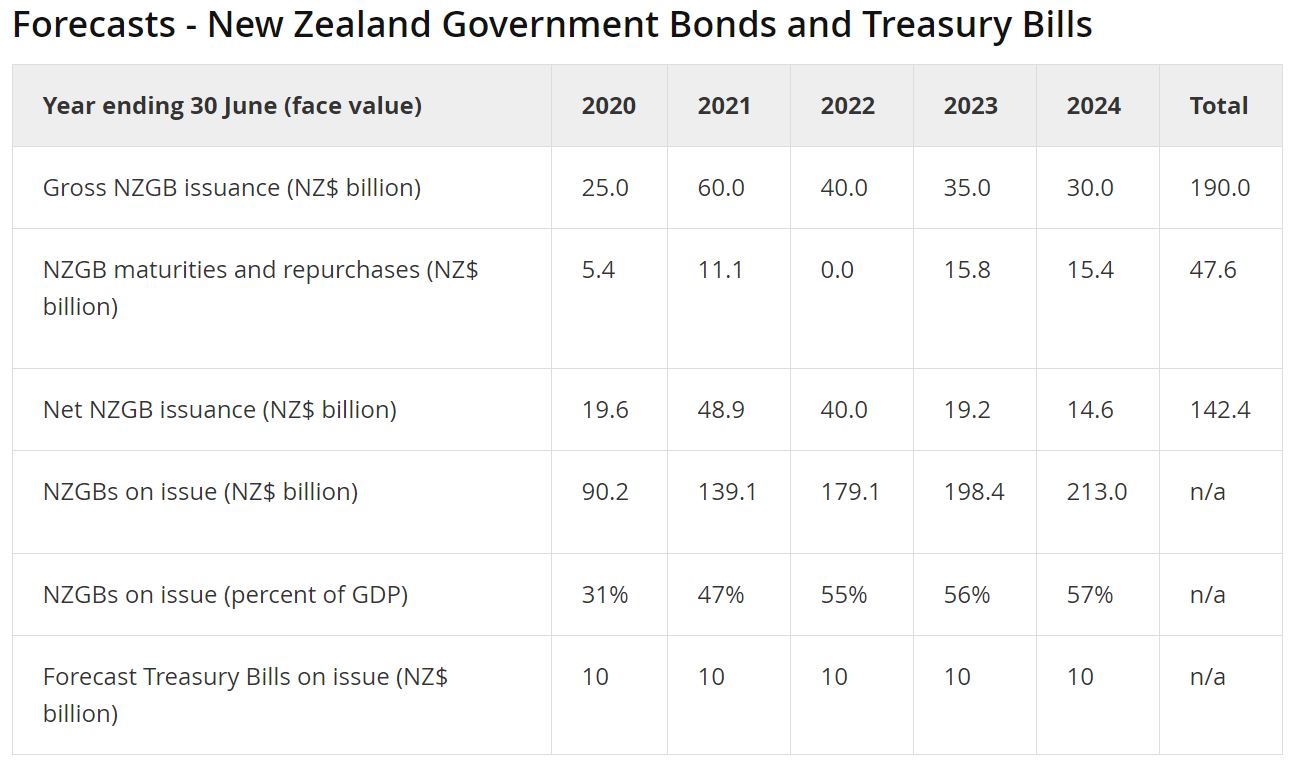 The Reserve Bank has committed to buying up to $57 billion of New Zealand Governments Bonds over the next year as a part of its QE programme.
In terms of repaying this debt, Robertson said there wouldn't be major tax changes in this term of government.
Robertson hasn't committed to directly supporting households with cash payments or further welfare increases through the Budget - as some might've hoped. A media package isn't included either.
Here's a list of the big-ticket new schemes that make up the $15.9 billion of new COVID-19-related expenditure:
Wage subsidy extension
The 12-week wage subsidy will be extended by eight weeks for businesses that are really struggling.
To date, businesses that have suffered a 30% decline in revenue in a 30-day period between January and June, compared to the same period in 2019, have been eligible.
To get an extension, businesses have to prove they've suffered a 50% decline for a 30-day period, compared to last year.
The subsidy will once again be paid in a lump sum and its value will remain the same - $585.80 a week for full-time employees and $350.00 for part-timers.
Some high-growth new firms will also be eligible. Applications will open on June 10.
The extended subsidy is expected to cost $3.2 billion. About $11 billion has already been paid out in wage subsidies.
While this will buy employers and employees more time, Treasury expects the number of people to go on Jobseeker Support and receive Emergency Benefits to more than double, or increase by 158,000 people, between 2019 and 2021.
Infrastructure
$3 billion has been allocated towards infrastructure.
This comes on top of the $12 billion announced at the end of last year as a part of the New Zealand Upgrade Programme.
An Infrastructure Industry Reference Group, set up in response to COVID-19 and headed by Crown Infrastructure Partners chair Mark Binns, will in coming weeks advise government ministers on which water, transport, housing, environment and health projects to spend the funding on.
To date, the group has received 1924 applications worth a combined value of $136 billion.
It will be able to draw on the $3 billion announced in the Budget, some of the $4 billion of unallocated funding as a part of the $12 billion Upgrade Programme, and possibly some regular funding allocated towards capital expenditure.
Housing
The government is committing to building and buying an additional 6000 public houses and 2000 transitional houses over the next four to five years. 
This comes in addition to its existing commitments, and according to Housing Minister Megan Woods, "takes the number of public and transitional houses funded by this Government to approximately 17,000 and represents the largest public housing building programme in recent decades".
Tourism
$400 million has been set aside for a Tourism Recovery Fund.
This will largely help businesses pivot towards the domestic and Australian markets. It will also help protect some of the country's "strategic tourism assets".
Training
A raft of programmes has been announced to help train people who might've lost their jobs.
Included is this is $320 million towards supporting free trades training in "critical industries".
While the existing first year fees free tertiary education programme is only available to people who haven't done higher education, this funding will be available to anyone who wants to retrain in a critical trades industry.