Collins promotes Bridges and keeps Muller and his mates relatively high on the list; Includes a mix of political centrists and those on the centre-right in her front bench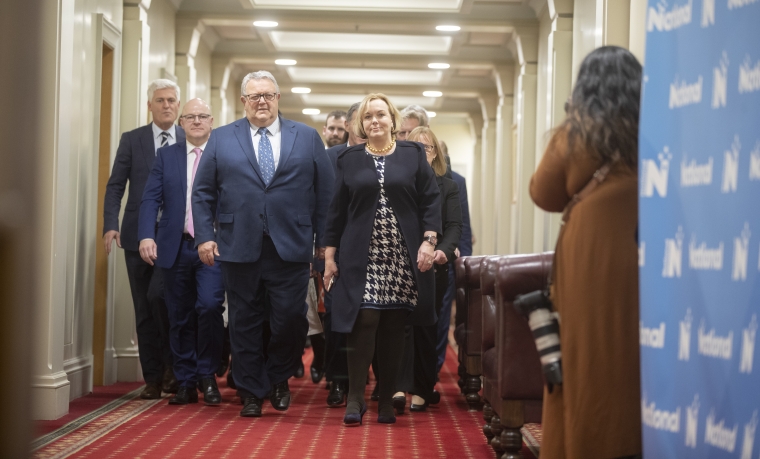 National's new leader, Judith Collins, is keeping her rivals close as she reshuffles her caucus.
Simon Bridges been promoted from 17th to fourth on the party's list and been given the Justice portfolio on top of Foreign Affairs.
Meanwhile Todd Muller is number eight. He's lost Small Business, but has been given Trade, which Collins said he was "very happy" about.
Mark Mitchell, who's believed to have run for Leader following Muller stepping down, has been demoted six spots to 15.
The new Health spokesperson, Shane Reti, has been bumped up to five, while his predecessor, Michael Woodhouse has been pushed down to 12.
Collins has promoted Chris Bishop, who was instrumental in helping Muller and Nikki Kaye topple Bridges and Paula Bennett, from 12 to seven.
Nicola Willis, who played a similar role to Bishop, remains at 13, and been has been given the Education portfolio.
The Housing and Urban Development portfolio she had under Muller has been passed to the lesser-known MP, Jacqui Dean.
Reforming the Resource Management Act has long been Collins' solution to addressing the country's housing woes. While this will presumably continue to be her pet project, Scott Simpson has the role of Planning (RMA reform).
Paul Goldsmith remains Finance spokesperson and is third on the list.
Todd McClay has jumped five spots to six.
Collins' Deputy, Gerry Brownlee, will remain campaign chair going into the election. McClay will be his deputy.
Brownlee will also get the role of Covid-19 Border Response - a role akin to that Amy Adams said she revoked her retirement for when Muller became leader.
Collins said she would keep on all the staff in the Leader's office and hadn't received any resignations.
And while she said there wouldn't be wholesale policy changes under her leadership either, she said her and Brownlee would bring a more "direct" approach to the election campaign.
Collins expected Muller to return to work in three weeks' time.
Asked whether she had kept her friends close and enemies closer in the reshuffle, Collins said the MPs she had selected for top jobs were all "loyalists to the National Party".
She stressed that National was a "broad church" party, with a "diversity of thought" in its front bench. 
Collins also sang the praises of Kaye and Adams, clarifying she didn't ask them to leave. She had no reason to believe they were culpable in the handling of the Michelle Boag/Michael Woodhouse/Hamish Walker Covid-19 patient detail leaks.
There have been reports that Woodhouse wanted to go public with the fact Boag had leaked the information to him too, but Muller said no on the advice of Kaye and Adams. Interest.co.nz cannot verify whether this is in fact correct.
Collins was calm and chirpy, as she made the announcement to media on Thursday morning - shortly after Kaye and Adams announced they would retire at the September 19 election.
They join Paula Bennett, Hamish Walker and Jian Yang, who have also announced their retirements in recent weeks.
A further seven National MPs will be retiring at the election - Maggie Barry, David Carter, Nathan Guy, Anne Tolley, Nicky Wagner, Sarah Dowie and Alastair Scott.
See the full National Party list here, and the old list here.