Trade relationships are not a measure of popularity or acceptance of the other country's political leadership - and New Zealanders are among the most sceptical, even if we trade a lot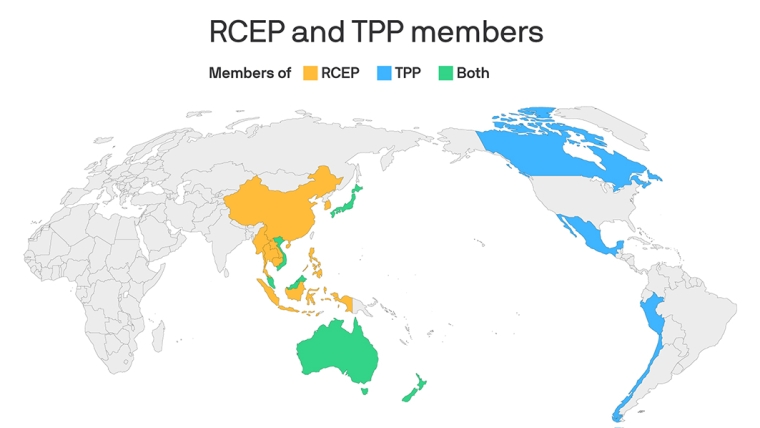 New Zealand has signed up to the Regional Comprehensive Economic Partnership (RCEP), a sort of TPP-lite.
A feature of the RCEP is that it is a result of China's effort to push back against US trade initiatives, that once included the TPP.
A modified version of the TPP is also now in force, the CPTPP, but it now includes many additional protections and provisions that would make it even harder for the US to rejoin.
China's parallel drive for influence in trade not only includes the RCEP, but also its Belt & Road Initiative.
The two big power actors in all this trade activity are pressing their advantages, and with a new US Administration about to take power in a few months, that rivalry may turn more serious again. Both sides will pressure smaller countries to declare whether they are "with them" or "against them". It will become increasingly hard for negotiators to thread a path between them. Up until now, New Zealand has done a stand-out job in this regard.
In the background is acceptance of the general population for these trade policy manoeuvres.
Gallup has recently (2019) polled all countries in the RCEP to assess how they view the leadership of the US and China. (And this was before the latest US election result.)
 
Approve
China's leadership
Approve
US leadership
Advantage
China
Advantage
USA
 
%
%
net %
net %
Singapore
48
39
9
 
Myanmar
43
53
 
10
Thailand
35
34
1
 
Cambodia
27
49
 
22
Malaysia
27
19
8
 
Australia
22
23
 
1
New Zealand
22
17
5
 
Philippines
21
58
 
37
South Korea
21
41
 
20
Indonesia
20
21
 
1
Japan
15
34
 
19
Laos
9
8
1
 
Vietnam
8
32
 
24

GALLUP WORLD POLL, 2019

 
 
 
 
There are some strong views here, and mainly negative ones.
People in countries bordering China clearly don't like China, even when their country's leadership is China's pawn. Vietnam, Laos and Cambodia are clear examples.
People in countries led by dictators and strongmen rulers liked the Trump US. (Philippines, Cambodia, Myanmar.)
New Zealanders disliked both, but disliked the US more than China. The reverse was true for Australia, although not by much.
China has few friends in the popularity stakes, apart from Singapore and Myanmar. (Approval over 40% = 2.) The Trump USA had more. (Approval over 40% = 4.) But after the new Biden Administration takes office, that could grow quickly giving a new advantage. The China number is unlikely to rise.
Trade deals with large markets are a natural magnet for policymakers trying to win jump-start economic benefits. But even if people in their countries view the main protagonists very sceptically, this only works so long as those benefits materialise. Without them, the social tolerance for deals with either block may undermine the effort.