US non-farm payrolls disappoint; ditto for Canada; Taiwan's export prowess continues; the IMF warns on China distortions; UST 10yr at 1.10%; oil up but gold slumps; NZ$1 = 72.5 USc; TWI-5 = 73.7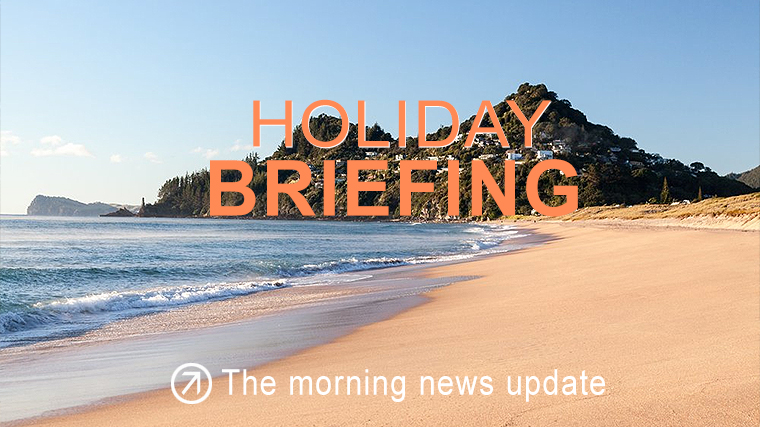 Here's our summary of key economic events over the New Year holiday break that affect New Zealand, with news markets are facing ever more large financial stimulus as authorities battle sagging economic prospects.
In the US non-farm payrolls fell in December in an unexpectedly disappointing result. Analysts had expected a +100,000 rise but in fact they fell -140,000. It is a backsliding of the minor economic recovery that took place over their summer and autumn. But markets aren't worried; there is an opportunity for 2021 to be the year of a considerable bounce-back, thanks to monetary and fiscal stimulus that will be more flexible and forthcoming after January 20, the delayed effects of buoyant markets over the last few months, and above all the expectations of widespread coronavirus vaccination. Whether that opportunity converts into reality is a major question. 'Reality' has been in short supply in the US over the past four years.
In December 2020 there were 8.9 mln fewer people employed than in December 2019. Their participation rate was 61.5%, and down from 63.3% a year ago. And all this happened while their working aged population grew by more than +1 mln people. Average wage rates rose but that is because job losses were hardest in low-paid employment and removing them from the averaging calculation.
Canada also recorded a sharp fall in employment in December. A fall was expected there, but the -63,000 was far larger than expected and wiped out the +62,000 November gain.
Taiwan's export prowess continued in December with another +12% year-on-year rise and boosting their trade surplus to +US$5.8 bln for the month. Helping that was a slowdown in their imports.
The IMF says China's economic growth will rebound to +7.9% in 2021 after dipping to +1.9% in 2020, and then expand in the +5% range over the following 15 years. But more importantly, they are calling out the slow pace of structural reform in China and its reliance on debt and Beijing stimulus for this growth. They report that central government debt will grow to +113% of GDP by 2025 and that ignores provincial and local government debt. The IMF implores than to shift away from growth based on massive infrastructure projects, to one driven by consumer demand and supported by a much better social safety net system.
The IMF said China needs to find a way to wind down problem banks, and it warns of the 'decreasing quality' of Chinese corporate debt.
China has reported rising foreign exchange reserves, now up to US$3.217 tln as at the end of December 2020 and almost +2% higher in a year. These are now at a five year high.
Chinese authorities are succeeding in holding iron ore and coal prices from rising further, but they are not managing to get them lower following the recent sharp run up. However they are not succeeding in getting key imported food commodity prices from their sharp rises, which are continuing. And this is despite sharp falls in local pork prices recently.
In New Zealand, check the soil moisture maps below; 2021 is remarkably normal, not a feature usually reported when the weather or climate is discussed these days.
Wall Street is flatlining today with the S&P500 up a minor +0.1% in early afternoon trade, but holding on to recent gains and finishing at a new record high. That is two consecutive weeks where the S&P500 has risen +1.4%. Overnight, European markets rose about +0.6%. Yesterday, the very large Tokyo market rose a strong +2.4% and for the week it gained +2.5%. Hong Kong rose +1.2% yesterday. also for a similar weekly rise of +2.4%. Shanghai fell -0.2% yesterday but they still booked a +2.8% weekly gain. The ASX200 rose +0.7% yesterday for a weekly gain of +2.7% while the NZX50 Capital Index rose +0.5% yesterday and cementing in a +3.6% weekly rise and finishing at a new record high.
The latest global compilation of COVID-19 data is here. The global tally is rising faster, now at 88,390,000 and up +956,000 overnight. We are heading for 100 mln before the end of January mainly because the UK variant is taking off worldwide now. It is still very grim in Russia (+23,000 overnight), the UK (+63,000), and South Africa (+21,000). It is surging again in Europe with Italy up +18,000 overnight, Spain up +42,000, France up +25,000 and Germany up +33,000. Sweden recorded another +13,000 cases overnight. Japan is stressed with a rising tide of cases, up +8000 yesterday. China is facing a new surge too but reliable data is suppressed. Global deaths reported now exceed 1,905,000 and surging +16,000 in a single day as death rates rise everywhere.
But the largest number of reported cases globally is still in the US, which rose a record +310,000 overnight for their tally to reach 22,190,000. The US remains the global epicenter of the virus. The number of active cases rose overnight and is now at 8,666,000 and that level is up +184,000 in just a day, so more new cases than recoveries again by a substantial margin. Their death total is up to 375,000 however (+5000 and a new daily record). The US now has a COVID death rate of 1129/mln, sadly comparing with the disastrous UK level (1173).
In Australia, their Sydney-based community resurgence is back under control although officials are on high alert over the risks from the UK variant which is starting to show up in the community. That takes their all-time cases reported to 28,547, and +24 more cases overnight with most in managed isolation. But 303 of these cases are 'active' (+6). Reported deaths are unchanged at 909.
The UST 10yr yield will start today up another +2 bps at just over 1.10%. Their 2-10 rate curve is steeper again at +98 bps, their 1-5 curve is also steeper at +38 bps, and their 3m-10 year curve is steeper too at +103 bps. The Australian Govt 10 year yield is up +2 bps at 1.10%. The China Govt 10 year yield is also up +2 bps at 3.22%, while the New Zealand Govt 10 year yield is up another +5 bps at 1.07%.
The price of gold has taken a very big tumble in New York, down -US71/oz or -3.7% to be now at US$1842/oz. Silver is down more than -8% today.
Oil prices are slightly firmer today at just over US$51.50/bbl in the US, while the international price are +US$1 firmer at just over US$55.50/bbl. Rig counts are rising faster now.
And the Kiwi dollar is virtually unchanged at 72.5 USc today. Against the Australian dollar we are softish at 93.3 AUc. Against the euro we are still at 59.2 euro cents. That means our TWI-5 is still at 73.7.
The bitcoin price has pushed well above the US$40,000 level today, but still very volatile. An hour ago it was at US$41,311 which is another +5.1% above the level at this time yesterday. But since it has fallen to US$40,201. The bitcoin rate is charted in the exchange rate set below.
The easiest place to stay up with event risk today is by following our Economic Calendar here ».