Institute of International Finance's Global Debt Monitor shows global debt down slightly in the March quarter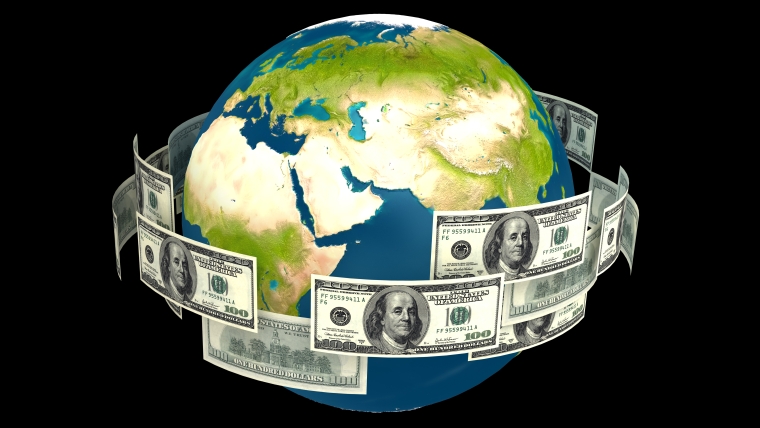 Global debt fell in the March quarter for the first time in 10 quarters, the Institute of International Finance's latest Global Debt Monitor shows.
Debt fell by US$1.7 trillion to US$289 trillion in the first quarter of 2021 with the decline driven by so-called mature market countries such as the US and Japan.
In mature markets total debt dropped US$2.3 trillion to about US$203 trillion. However, debt in emerging markets such as China and India rose US$0.6 trillion to a record high of more than US$86 trillion. The growth was, however, at a significantly slower pace than in the previous three quarters.
Despite the overall first quarter decline, total global debt is up $30 trillion, or 12%, since the end of 2019, with mature markets accounting for nearly two-thirds of the increase.
"Despite the slight drop in total debt, debt ratios continued to increase in the first quarter as economic activity remained below pre-pandemic levels in many countries. However, the pace has slowed dramatically: after a jump of over 36 percentage points in 2020, global debt/GDP rose only one percentage point in the first quarter of 2021, to just over 360% of GDP. New borrowing has slowed: with global bond issuance now back below pre-COVID levels, debt ratios should dip slightly this year given the projected recovery in global economic activity," the Institute of International Finance says.
The Washington DC based Institute of International Finance describes itself as the global association of the financial industry with more than 450 members from some 70 countries.
"In mature markets, the financial sector accounted for nearly half of the decline in debt levels in the first quarter of 2021, with household and non-financial corporate debt also declining slightly. In contrast, mature market government debt continued to increase, but at its slowest pace since the fourth quarter of 2018. Across emerging markets, the increase in debt was driven by the private sector. With emerging market government debt broadly stable, the non-financial corporate and financial sectors have been the main drivers of the debt build-up."
The Institute of International Finance says Greece, Singapore, and Spain have seen the sharpest increases in debt-to-GDP ratios, excluding the financial sector, since the start of the COVID-19 pandemic, although the pace slowed during the first quarter.
"Government spending was the main driver of the overall rise in mature market debt ratios in the first quarter, increasing the most in Slovakia, Greece, Cyprus, Italy, and Spain."
New Zealand doesn't feature in the countries' debt/GDP chart in the Global Debt Monitor included at the foot of this article.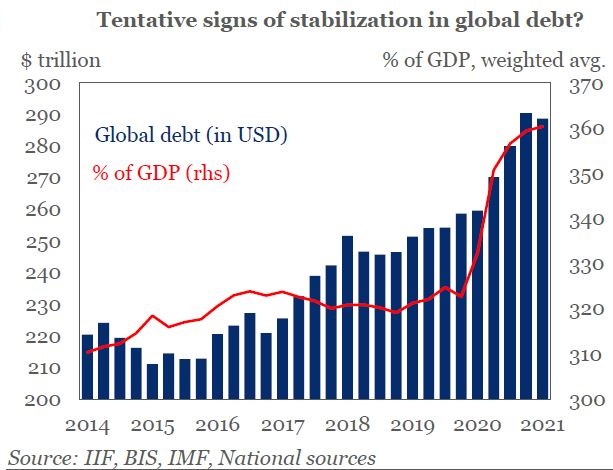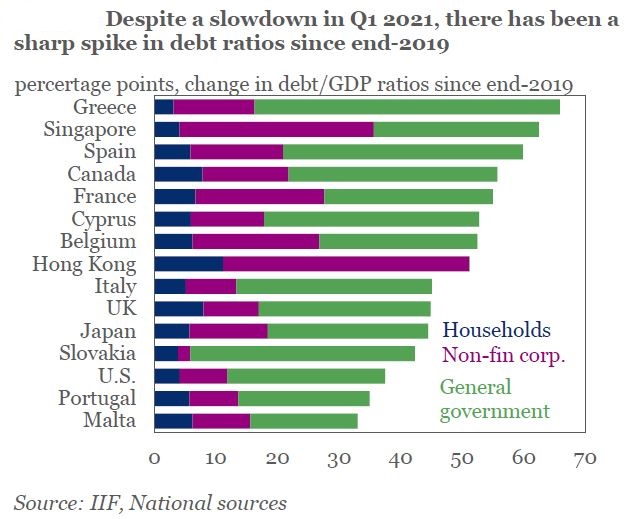 *This article was first published in our email for paying subscribers early on Friday morning. See here for more details and how to subscribe.