New Zealand man, and former Worldclear employee Richard Whitham, pleads guilty to removing more than S$1 million from Singapore that wasn't his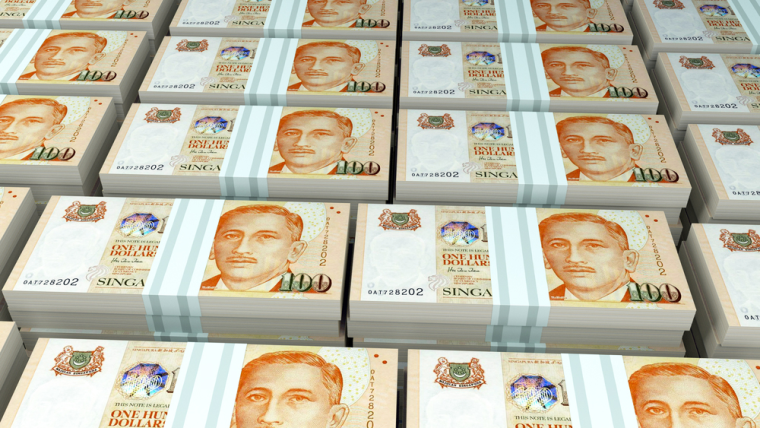 Arrested and effectively detained on the day he arrived in Singapore from New Zealand more than three years ago, Richard Whitham is now able to leave, despite being sentenced this week to 38 months imprisonment.
Having arrived in Singapore at 8:30am on June 4, 2018, Whitham was arrested at about 3:30pm the same day when attempting to withdraw money at the OCBC Bank Centre on Chulia Street.
He faced seven charges of dishonestly misappropriating money in his role as banking relationship establishment project officer for the Hamilton-based Worldclear. Whitham was remanded in Changi Prison from March 5, 2019 until his trial this week, accused of making unauthorised banking transfers from money he held on trust for Worldclear.
After previously pleading not guilty, he pleaded guilty this week to three charges under Singapore's Corruption, Drug Trafficking and Other Serious Crimes (Confiscation of Benefits) Act. He was charged with removing more than S$1.1 million from Singapore through three outward transfers from an OCBC bank account "which in part directly represents his benefits from criminal conduct," according to Singapore Public Prosecutors.
Whitham's wife Erika says he decided to plead guilty in order to be reunited with his family as soon as possible. The 38 months imprisonment sentence came with effect from March 5, 2019.
"It was not an easy decision to plead guilty to something you absolutely did not do, but our [four] kids deserve to have their dad home. He has been gone almost three years," Erika Whitham says.
She says Whitham, who heading into his trial was potentially facing several more years in prison, is now able to leave Singapore. After his arrest in June 2018 Whitham had to surrender his passport to Singapore Police and was told not to leave the country. He stayed in various accommodation, including backpackers, until being charged and remanded in Changi Prison with bail of S$250,000.
Worldclear's managing director David Hillary declined to comment on Whitham's guilty plea and sentencing. Hillary's LinkedIn profile says Worldclear has been closed down and he is; "resolving some remaining issues … following employee theft [in] May 2018."
NZ Police have prepared an arrest warrant for Whitham, who has dual New Zealand and Australian citizenship. However, with the Singapore proceedings completed, this could be withdrawn under double jeopardy rules that set out no one who has been finally acquitted or convicted of, or pardoned for, an offence shall be tried or punished for it again.
'Belated'
In court this week Singapore's public prosecutors said the 42 year-old Whitham's guilty plea was belated. They sought 42 months imprisonment and noted his offences were committed within just one day. The prosecutors said however; "the plan to dissipate the stolen/misappropriated monies was not particularly sophisticated."
Whitham's relationship with Worldclear began in 2017. Worldclear is majority owned by Hillary. According to Hillary, Worldclear operated internationally assisting clients with money transfers, currency trading and banking. It charged clients establishment fees, monthly fees and transaction fees. Hillary says Worldclear worked with customers that banks wouldn't work with due to reasons such as their location or business structure. He has said Worldclear moved hundreds of millions of dollars for many clients.
The idea was that Whitham would try and get banks to accept Worldclear as a customer or partner. At the same time Whitham says he was also trying to grow his Retail Guru retail consultancy business and driving for Uber to keep food on his family's table.
Whitham says he contacted more than 500 banks primarily in Europe and the United States, but says none wanted to work with Worldclear.
Prior to hiring Whitham, Hillary says Worldclear had bank accounts he opened but banks closed these due to Worldclear being categorised as a remittance company. Banks often view money remittance companies as risky under the Anti-Money Laundering and Countering Financing of Terrorism (AML/CFT) Act, and thus decide not to have them as customers. Banks are supervised for AML/CFT Act compliance by the Reserve Bank. Worldclear was supervised for AML/CFT Act compliance by the Department of Internal Affairs.
Worldclear was incorporated in April 2014 and registered on New Zealand's financial service providers' register between April 2014 and February 2019. Worldclear remains a registered NZ company. Companies Office records show Hillary as Worldclear's sole director and majority shareholder.
T1 Holdings
In December 2017 Whitham incorporated T1 Holdings Ltd with himself as sole director and shareholder. According to Whitham, T1 Holdings was to be a retail shop fitting business. However, T1 Holdings also received funding from Worldclear, with Hillary's companies able to use T1 Holdings' bank accounts for conducting financial transactions. Worldclear employees were provided with access to conduct transactions via T1 Holdings' bank accounts.
Hillary says he had suggested, to Whitham, getting somebody to setup a new company to open bank accounts to facilitate financial transactions for Worldclear. From these discussions Whitham agreed to establish T1 Holdings solely for this purpose, Hillary says, with bank accounts in NZ, Singapore and Europe subsequently established.
Hillary says $41,500 in banking start-up funds were provided to Whitham by Worldclear. The deal was for Whitham to receive commissions ranging from $500 to $1500 for opening bank accounts to hold money on behalf of Worldclear.
On May 18, 2018 Hillary says Worldclear staff, with two transactions to process and who normally had access to T1 Holdings accounts, weren't able to access T1 Holdings' ANZ, ASB or BNZ accounts. That afternoon Hillary says he noticed files in Worldclear's online storage dropbox were being deleted and he noticed Whitham had logged on from a Singapore-based IP address and was deleting folders. On the previous afternoon, Thursday May 17, Whitham had left the Worldclear office early saying he had to look after his sick child.
Hillary says he took screen shots of Whitham's activity, restored the files and suspended his access. He also turned to the Police, and Worldclear obtained a freezing order through the High Court in Hamilton for the funds held by T1 Holdings, Retail Guru and Whitham on May 23, 2018.
Whitham says he went to Singapore in June 2018 to transfer funds from T1 Operations Pte Ltd, a company he had established there on a previous visit, to his lawyer's account in NZ. He says he couldn't do this via internet banking because the account's security token was mailed to T1 Operations' virtual office in Singapore.
Whitham says he also wanted to establish business contacts in Singapore, and that T1 Operations was to be a contractor agent for retail shop fitting. Whitham's Singapore lawyers said he became concerned in April 2018 when he discovered large transactions were being conducted by Worldclear employees via T1 Holdings' accounts to various locations around the world.
Twenty-six bank accounts
Hillary says Whitham absconded from New Zealand after misappropriating money from Worldclear and used some of it to pay personal bills. Hillary says T1 Operations in Singapore was established for the same purpose, and subject to the same arrangements, as T1 Holdings in NZ. According to a May 2018 New Zealand court judgment, T1 Holdings had 26 bank accounts. These included accounts with ANZ, ASB, BNZ and OCBC in Singapore. Worldclear's accounting records showed it had exposure to T1 Holdings of $4.6 million, the judgment said.
Of seven transfers from TI Holdings' OCBC accounts at the centre of the Whitham Singapore case, one saw three million South African Rand sent to Whitham's mother-in-law's bank account in South Africa. According to Whitham, this was for stock purchases in South Africa with his mother-in-law's bank account to be used temporarily until a local bank account could be opened for T1 Holdings. A further two transfers, one of €50,000, and another of €200,000 were sent to a bank account at WB21 in Lithuania. Further transfers were made to New York, Lithuania, Singapore and Bulgaria.
"The accused transferred the monies to the respective accounts in order to make it more difficult for these to be traced and/or recovered by the victim and/or authorities," the Singapore Public Prosecutors said.
McDonald Vague was appointed T1 Holdings' liquidator on July 9, 2018, receiving an unsecured creditor claim of $4.5 million from Worldclear. This sum was ordered in a NZ judgment obtained by Worldclear against T1 Holdings.
In their most recent liquidators' report, McDonald Vague say they've thus far distributed $1.2 million to Worldclear. Via the courts, they continue to try and recover the €250,000 from Lithuania, which they say was sent there in an unauthorised transaction by Whitham on May 18, 2018. McDonald Vague's Colin Sanderson says they're still waiting on a decision from the court in Lithuania.
Worldclear had received the €250,000 via Global Fidelity Bank of the Cayman Islands. Liquidators were appointed to Global Fidelity Bank last month.
Lithuania's Financial Crime Investigation Service, or FNTT, is involved in the legal process as a third party, an FNTT spokeswoman says. She says the prosecutor initiated proceedings to declare the money derelict and transfer it to the budget of the Republic of Lithuania due to uncertainty over who the beneficial owner of the €250,000 is. Hillary says this money belongs to Worldclear.
McDonald Vague were also appointed liquidators for Retail Guru. In their final report they say claims from Worldclear and T1 Holdings total $4.9 million with $358,360 distributed to T1 Holdings. On the application of Worldclear, Whitham was adjudicated bankrupt in the High Court at Hamilton on May 27, 2019.
'Unlikely the banks had visibility'
Of the arrangement that saw T1 Holdings open bank accounts and hold money on behalf of Worldclear, a Reserve Bank (RBNZ) spokeswoman told interest.co.nz in 2018 New Zealand banks that opened accounts for TI Holdings probably didn't know about the connection back to Worldclear. The three banks themselves - ANZ, ASB and BNZ - declined to comment.
"If the major banks had either closed the accounts of Worldclear, or refused completely to establish accounts with Worldclear, [the] RBNZ doubts these banks would have knowingly opened accounts for another company if they had actual knowledge of the connection with Worldclear. The T1 Holdings accounts were opened in a different name and with a different director, therefore it is unlikely the major banks had visibility of the connection with Worldclear," a Reserve Bank spokeswoman said in 2018.
"Operating under a different name, either company or personal, to avoid further detection is a common ploy used by persons who have had their bank accounts closed."