Auckland to move to Level 3 on Wednesday for two weeks; Part of Upper Hauraki to lock down; Gathering size limit lifted to 100 through rest of NZ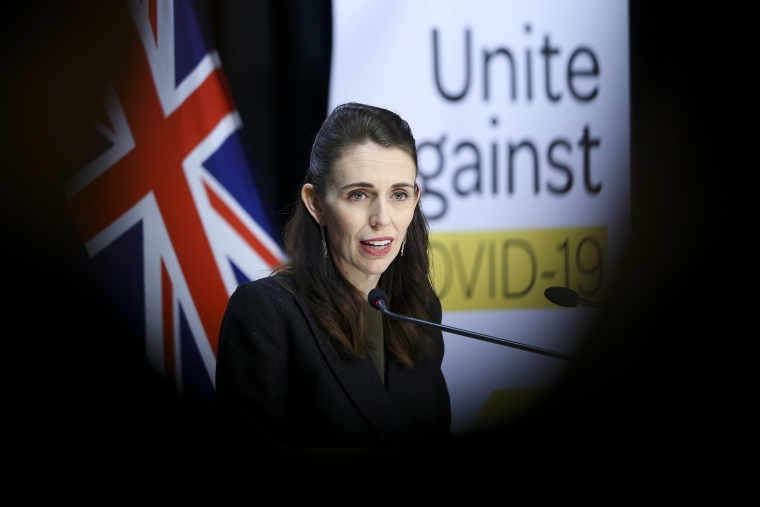 Auckland will move to Covid-19 Alert Level 3 at 11:59pm on Tuesday, September 21. 
It will stay there for at least two weeks. The settings will be reviewed on October 4. 
The area around Whakatīwai, where three people have tested positive for Covid-19, will go into a Level 4 lockdown until Friday.
Anyone who visited Upper Hauraki north of State Highway 2 around Mangatangi from September 8, but doesn't live there, also needs to stay home in Level 4 conditions. The restricted area is within the blue line in the map below.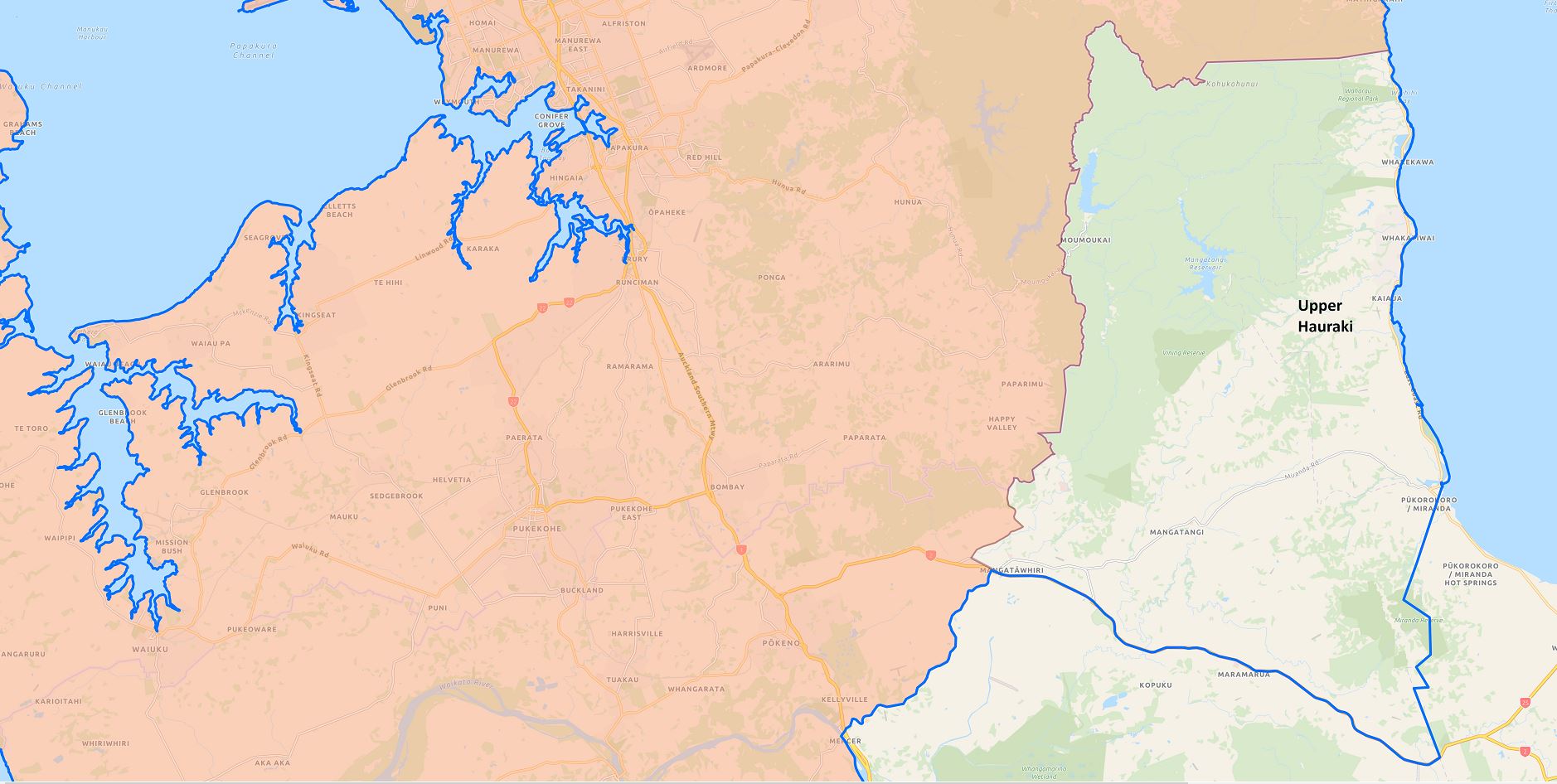 The rest of New Zealand will remain at Delta Level 2, although the gathering size limit will be lifted from 50 to 100 people. 
Cabinet made the decision following the Ministry of Health announcing 22 new cases in the community on Monday, including three cases in Whakatīwai.
Of the 22 cases, five are unlinked. Three of the five are from one family. 
Prime Minister Jacinda Ardern said Level 3 reflects a continuation of the Government taking a "stamp it out" approach.
She advised over-65s in Auckland to stay home until they're vaccinated. 
She said Cabinet also decided to make mask-wearing in indoor areas at high schools mandatory in Level 3. 
Director-General of Health Bloomfield expected 90% of eligible Aucklanders to have received their first vaccine by early October.
Cabinet's alert level decisions align with advice provided by Bloomfield. 
REACTION
Te Pūnaha Matatini and University of Canterbury Professor Michael Plank:
"Moving Auckland to Level 3 on Tuesday night is a calculated risk. Although the majority of the cluster has been controlled and most new cases are household members or known contacts, we are still seeing some stubborn spread between households that is proving difficult to stamp out.
"There is a danger that the increased number of people out in the community and the workplace at Level 3 will add fuel to a smouldering fire and lead to an increase in cases.
"Contact tracers are finding that most new cases are not being infected in essential workplaces or services, but via extended family or friends. This means that some increase in the number of workplaces and services operating at Level 3 may a relatively low-risk way to relax the lockdown, provided they carefully follow the appropriate procedures.
"But, it also means it's absolutely crucial that people continue to stick to their bubble and don't take Level 3 as a signal that it's OK to meet up with family and friends.
"If people do this, there is still a good chance this outbreak could be eliminated under Level 3. But we will need to keep a close eye on cases and for signs that the virus is spreading between households.
"If the outbreak starts to gather steam, it may yet be necessary to tighten restrictions again. An uncontrolled outbreak still has the potential to rapidly overwhelm our health system.
"Once vaccination rates are higher this threat will start to recede, but we are still months away from getting everyone fully vaccinated."
Victoria University School of Psychology Professor Marc Wilson:
"I think the alert level change is a good thing, or at least the best thing to do right now. That's to say, we're hearing a little about Level 4 'fatigue', and about now is when I think it might be a good idea to drop to Level 3 – which is closer to Level 4, than 2 – to provide people with a breather.
"This may NOT be the right thing to contain the virus, however."
ACT leader David Seymour:
"Everything Jacinda Ardern based today's decision on was true two weeks ago, the only thing that's changed is politics.
"Two weeks ago, there were about 20 cases each day, most new cases were within households, but a few new cases popped up to keep the outbreak burbling along.
"Very little new transmission was through the workplace and a lot more business could have been done than was allowed under Alert Level 4.
"As ACT said last Monday, Alert Level 4 was not working to contain Delta but destroying business made it the worst of all worlds.
"The Government is now accepting what ACT has been saying all along, it needs to balance COVID with all aspects of New Zealanders wellbeing. COVID is very important but it is not the only challenge to New Zealanders wellbeing and for more and more people it's not the most urgent either.
"We just spent an extra week at Level 4 for no reason at all by the Government's own admission.
"Now, it's totally unclear what the future holds because the next decision will be as logical as the last.
"The only new thing today was Jacinda Ardern's new triumph of spin terminology "transmission to secondary households"… also known as community transmission."
University of Otago Public Health Professor Nick Wilson:
"The NZ Government is making a relatively brave move lowering the Alert Levels for Auckland – given that the outbreak is clearly not fully under control as seen with the recent spread into the north Waikato and also persisting mystery cases.
"Hopefully the Government will also shortly move to intensify a range of control measures that will increase the chances of eliminating this outbreak. These include mandatory universal use of masks indoors – including in schools in Alert Levels 2 and 3.
"A range of other improvements include accelerating vaccination efforts in Auckland, enhancing surveillance, and increasing the economic support package for people in Auckland as some of us have recently argued for.
"It is important that all these measures are considered as the price of failure is very high as can be seen with the situation in Victoria and New South Wales in Australia."
Press release from the Ministry of Health on the Whakatīwai situation
"The final household member of the northern Hauraki house where the remand prisoner stayed has now been tested and results are pending.

"An investigation into the epidemiological link (exact route of infection) is ongoing – our working hypothesis being that the individual was infected in Auckland after leaving prison, rather than by someone in the local community where he was staying.

"Further tests, including whole genome sequencing of the first close contacts, are due tomorrow.

"The ongoing investigation from Auckland Regional Public Health is looking to establish epidemiological links to the wider Auckland outbreak, guided by the whole genome sequencing results as they become available.

"The five further household members isolating at home returned negative results yesterday, giving us confidence that they have not been infectious in the community.

"All three positive cases, and an accompanying adult caregiver, have been moved to a quarantine facility.

"To date negative results have been returned from testing of close contacts among prison staff, other prisoners, police and court staff.

"A pop-up testing centre in the northern Hauraki town of Wharekawa marae in Whakatīwai has been busy today testing locals. Waikato DHB reports 340 tests have been taken as of 2pm today."
Correction: Interest.co.nz initially said Bloomfield said 90% of eligible Aucklanders were expected to be fully vaccinated by early-October. That was wrong. 90% of eligible Aucklanders are expected to have received their first dose by early-October.