National says it would use a traffic light system to reopen New Zealand once 85% of over-12s are fully vaccinated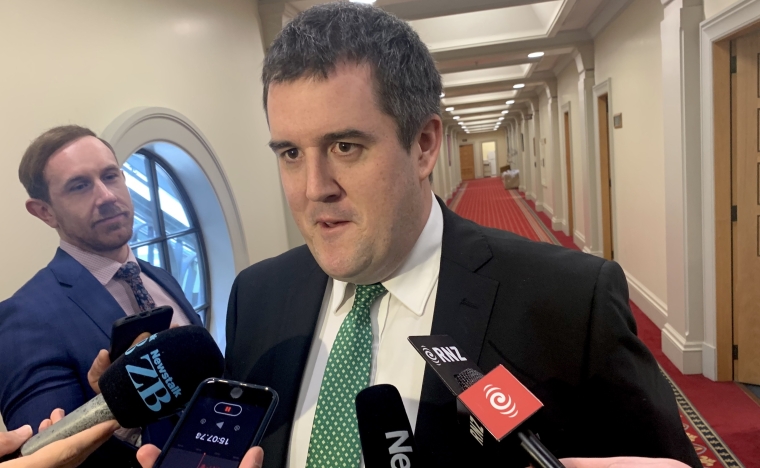 National says it would bring some Kiwis abroad home for Christmas if it was in government.
The party, in its just-released plan for tackling Covid-19, said it wouldn't use "nationwide" lockdowns once 70-75% of over-12s are fully vaccinated. 
It would also start re-opening the border once 85% of over-12s are fully vaccinated. Currently, 44% of over-12s are fully vaccinated.
The Government hasn't put a number on the level of vaccination that needs to be reached for New Zealand to open up, but Director-General of Health Ashley Bloomfield has said he would like the rate "at or above 90%".
The Government's plan is also for border restrictions to be lifted in the first three months of 2022.
National's spokesperson for Covid-19 Response Chris Bishop said once a vaccination rate of 85% is hit, a traffic light system should be used to reopen New Zealand.
Fully vaccinated travellers from places where the vaccination rate is above 80% would be able to enter New Zealand without isolating. They'd still need to do a pre-departure test and a rapid and saliva test or arrival in New Zealand.
If they test positive, they would need to either isolate at home or in a quarantine facility.
Bishop expected people from Queensland, Western Australia, the ACT, the Cook Islands and Taiwan to be considered low-risk or greenlight travellers in the first instance.
As for the medium-risk pathway, these would be travellers from places where Covid-19 is spreading but is under control and where the vaccination rate is above 50%.
Fully vaccinated travellers from these jurisdictions would need to isolate at home for seven days. There would be enforcement via spot checks and the possible use of digital monitoring apps.
Again, they would need to be tested before departure and on arrival.
Bishop expected travellers from NSW, Victoria, Singapore, the US, the UK and many European countries to fall into this category.
"Under this plan, Kiwis coming though the green and orange pathways would be able to come home by Christmas," Bishop said.
The Government in August outlined a similar traffic light system at a high level (see below). However, it didn't use specific vaccination rates to define jurisdictions' risk profiles.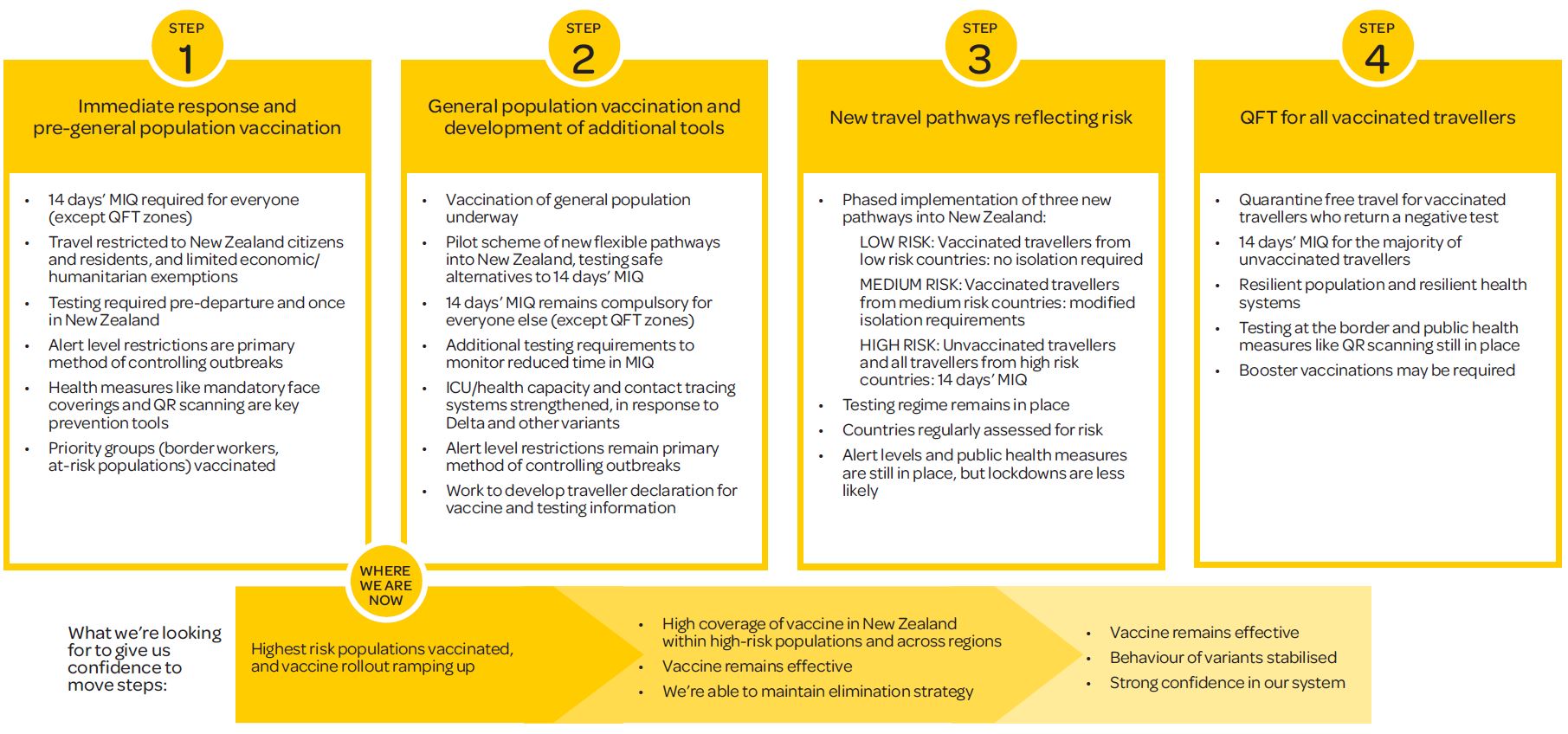 Bishop outlined 10 steps we "urgently" need to take to prepare to reconnect to the world:
Supercharge the vaccine rollout, including by offering people incentives to get vaccinated, vaccinating kids at schools, setting up pop-up stations in nightlife areas, resourcing Māori organisations and health providers more, and prioritising South Auckland
Order vaccine boosters
Upgrade our contact tracing capability
Roll out saliva testing at the border and in the community
Roll out rapid tests for essential workers and in the community
Create a dedicated agency, Te Korowai Kōkiri, to manage our Covid-19 response based in Manukau not Wellington
Build purpose-built quarantine
Launch a digital app for vaccination authentication
Invest in next-generation Covid treatments
Prepare our hospitals and expand ICU capacity
National said that at 85%, New Zealand could replace the "elimination" strategy with a "vigorous suppression" approach towards the virus.
"This is a strategy where New Zealand aims to keep the number of Covid-19 cases very low, but not necessarily at zero," Bishop said.
"There will likely be cases of infection under this strategy, but the aim is to rapidly respond when they occur and minimise the number of people infected."
See National's 52-page plan in full here.