UPDATED: Government unveils Covid-19 plan for when 90% vaccination target is reached; More support for businesses and low-income earners available in the interim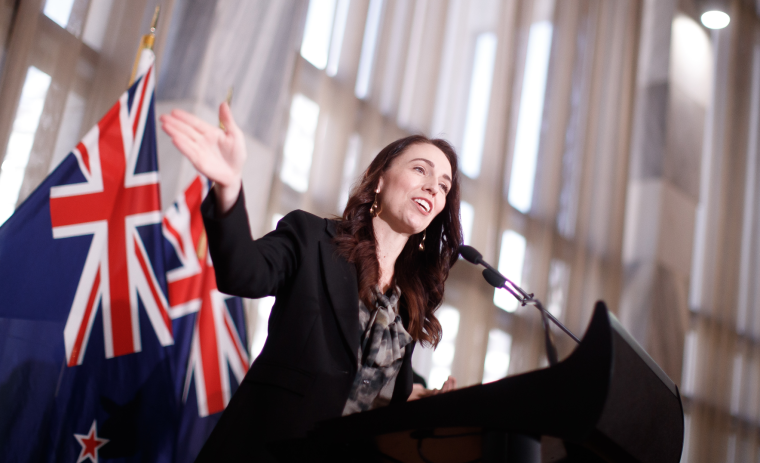 New Zealand's vaccination rate will need to reach 90% for the country to move to a new Covid-19 framework. 
The Government on Friday unveiled what this 'Covid-19 Protection Framework' will look like. Here is a summary (click on the magnifying glass to zoom in):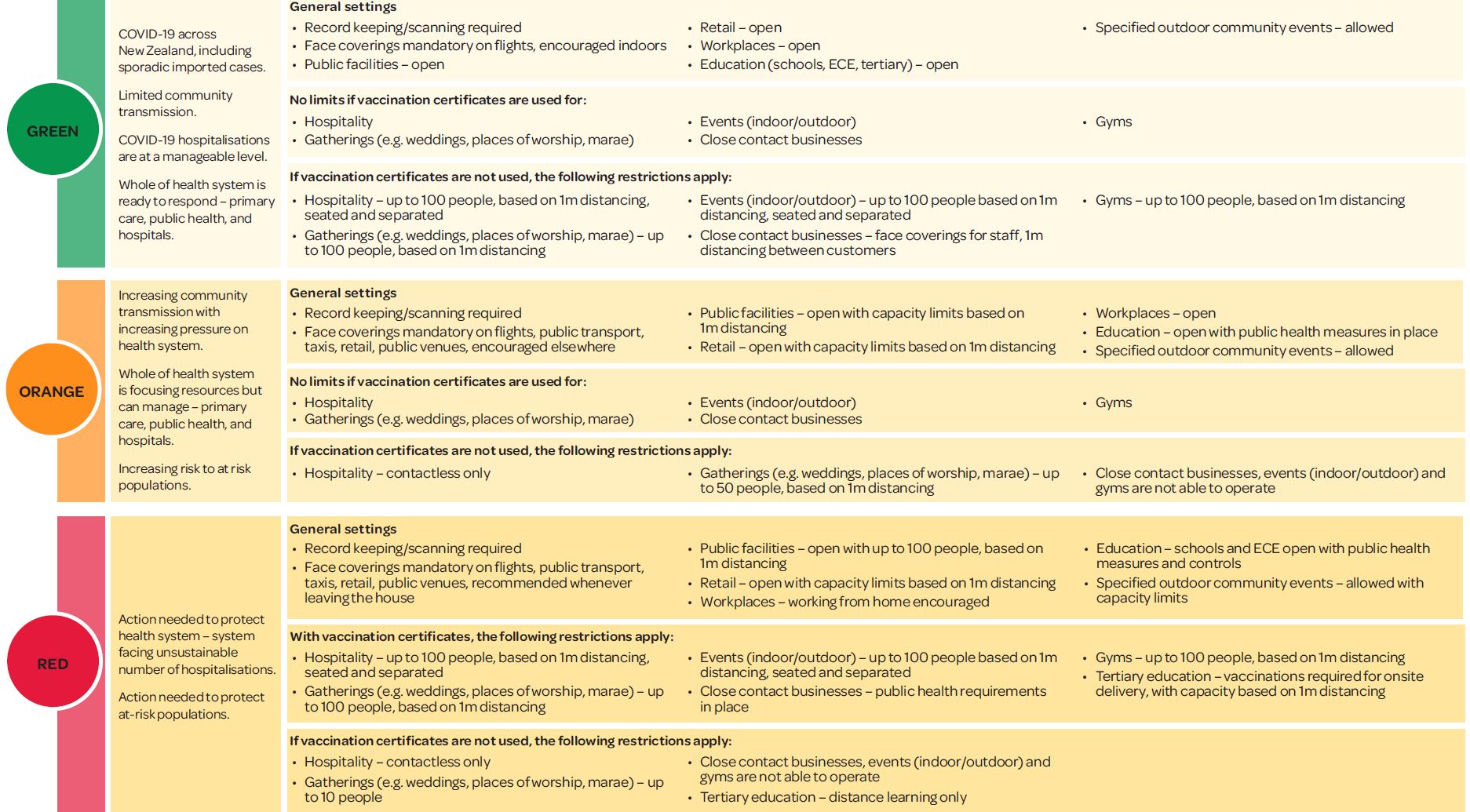 Auckland will move to the red level of the framework once 90% of the eligible population across all three of the region's district health boards are fully vaccinated/have had two doses of the vaccine. 
The rest of New Zealand will move to orange once that 90% target has been reached across all district health boards.
However, Prime Minister Jacinda Ardern said the Government would consider moving the South Island to the new framework, should it hit 90% before the North Island. 
She didn't put a date on when travel in and out of Auckland would be able to resume. 
89% of eligible Aucklanders have had one dose of the vaccine; 74% have had two. Nationwide, 86% of the eligible population has had one dose and 69% two doses. 
Key features of new framework
Under the new framework lockdowns may still be used. While the Government says they will be "localised", it's also keeping the door open to "wider lockdowns, similar to measures in Alert Level 3 or 4".
A key feature of the new framework is that it uses vaccination certificates. Bars, restaurants, retailers, gyms, churches, and close-contact businesses will be able to operate under looser restrictions if they choose to require people who come onto their premises to present their vaccine certificate to prove they have been double-vaxxed. 
Presenting vaccination certificates will be mandatory in high-risk settings like music festivals and big events. People won't need to present certificates to access basic services like supermarkets and pharmacies, and there will be exemptions for people who can't get vaccinated. 
The Government will consider the following factors when considering shifts between traffic light colours: vaccination coverage, health system capacity, testing, contact tracing and case management capacity, levels of community transmission, and the impact on key populations. 
Financial support for businesses
Businesses across the country will be able to continue to access the Wage Subsidy while Auckland remains at Level 3. 
Businesses across the country will also be able to continue to access the Resurgence Support Payment, which is available to businesses affected by Level 2, 3 or 4 restrictions.
But from November 12, the rate of this payment will double to $3000 per business plus $800 per fully time employee, up to 50 employees. The payment will be made available fortnightly.
Once Auckland moves to the new framework, the Resurgence Support Payment will be stopped nationwide. But, the Government has decided in principle to make some sort of transition payment available at this time. 
The Government will next month decide what sort of financial support will be available when the new framework is in force. 
Finance Minister Grant Robertson expected the Wage Subsidy and Resurgence Support Payment to be "reworked to a new targeted payment" that will be available at the red level of the new framework. 
Separately, Auckland businesses will be able to apply for up to $3000 worth of advice and planning support, and then $4000 to implement that advice through the established Regional Business Partners programme. 
Financial support for low-income earners
The Government is temporarily broadening the criteria for Hardship Support, so more people are eligible. 
A single person who works 40 hours a week and earns the minimum wage will be able to receive this support. Previously their income would've been deemed too high. 
The Ministry of Social Development expects to see an extra 25,000 grants paid to those in need. 
The additional support will only be available between November 1 and February 28. 
This policy is expected to cost $38 million.
The Government expects to spend $940 million per fortnight on Wage Subsidies and the enhanced Resurgence Support Payment. Since the start of this Delta outbreak, businesses have received $4.8 billion in government support. 
The tables below detail how income thresholds for various types of Hardship Support are being lifted: