House prices rise; volumes up in February from January (Update 2)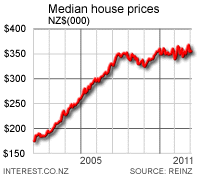 The Real Estate Institute of New Zealand (REINZ) announced the median house sale price in February was NZ$330,000 and that 5,228 houses sold over the month. The median price was up NZ$5,000 from January and sales volumes rose from a 17 year low of 3,706. (Update 2 to include Auckland, Wellington and Canterbury figures.) The national median for days to sell was 62 (a record high since 2001), up from 59 in January, and 50 in February 2008. This only records the time it took the last real estate agent to sell the property. Auckland days to sell reached 56, also a record high since 2001. The median price in February was 6.25% down from its peak of NZ$352,000 in November 2007. The median sale price in February 2009 was below the NZ$337,500 recorded in February 2008. There were 6,556 sales in February 2008. "January was an exceptionally bleak month and there is no doubt the figures were affected by the holiday period, REINZ President Mike Elford said. "While we must still take a cautious approach, the February figures seem to indicate that lower interest rates and real estate as an investment option are having a positive impact on the market," Elford said.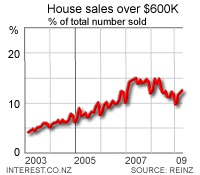 "The bounce back from the horrific January figures is welcome, but we must still acknowledge we're dealing with light volumes compared with recent years," he said. "February figures are certainly an improvement on January. However, there is no doubt these are difficult times, so we must be cautious in our optimism. One month's results do not form a trend." There was a slight twist in the balances of what houses were sold, with the proportion of houses sold for less than NZ$400,000 falling 1% from January to 66%. In February, 9% of sales were of houses priced between NZ$600,000 and NZ$999,999 which was up from 8% in January. A total 3% of houses sold in February went for over NZ$1 million, up from 2% in January. The Auckland median sale price fell again to NZ$421,500 (Jan: NZ$422,000). This was its lowest level since its December 2007 peak of NZ$460,000 (down 8.4%). The number of sales rose 38% from January, to 1,590. In Wellington, the median price rose NZ$12,500 from January to NZ$375,000 (8.5% below March 2008 peak) which was similar to its level in February 2008. Days to sell fell slightly to 61. The number of sales in February rose 61% from January to 639. In Canterbury/Westland, the median price in February 2009 was NZ$290,000. This was up from NZ$285,000 in January but still 8.5% below its February 2008 peak. Days to sell rose by 9 from January to 57. Sales rose to 815, up 45% from January.