NBNZ: Next 12 mths will be hardest for NZ in 20 years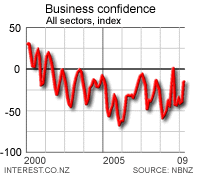 The National Bank said it expects the next 12 months to be the most challenging in more than two decades after releasing the results of its November 2008 Business Outlook survey. It said that trust needs to be restored in the economy in order to stabilise the deterioration caused by global economic events and that the Reserve Bank may well be set to lower the Official Cash Rate by 150 basis points next Thursday. Business confidence "stabilised" in November, the National Bank said, with a net 43% of respondents expecting general business conditions to deteriorate over the coming year. A total of 61.2% of respondents expected general conditions to get worse, 20.7% to stay the same and 18.2% to improve. The October figure was a net 42.3% expecting deterioration. "It is abundantly clear from the survey that the coming 12 months will be the most challenging this economy has faced in more than two decades," National Bank Chief Economist Cameron Bagrie said.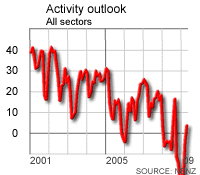 "Lacking trust, work is not commissioned, money is not lent out, cash is not being put to work, leaving little for investment and consumption, buyers are absent and asset prices fall. The collapse of some financial institutions has dented the circle of trust that underpins entire business, economic and financial relationships. Such is the brutal reality of the current environment. Restoring trust is the first order condition to stabilising the macro environment," Bagrie said. A net 14.2% of firms expected their own business activity to get worse over the year, from a net 11.4% expecting worse activity in October. A total of 33.7% of respondents expected their own activity to get worse, 46.7% expected it to remain the same, and 19.6% expected it to increase. "Domestically, natural responses to weak confidence "" and the flow-on real economic consequences "" are lower interest rates and a government lending a sympathetic ear to business. Indeed, the RBNZ may well be set to trump October's 100 basis point move with 150 basis points next week," Bagrie said. Profit expectations hit an historical low of a net 39% of respondents expecting lower profits in the coming year: 52% expected a decrease, 35% the same and 13% to improve.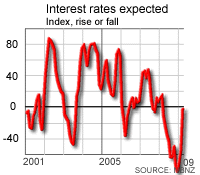 A net 85.6% expected the unemployment rate to rise, up from a net 79.1% in October. A net 21.2% expected to have fewer staff in their businesses in a year's time: 31.1% for staff numbers to decrease, 59.1% to stay the same and 9.8% to increase "The negative streak in employment intentions now spans 10 months. Brace for a sharp rise in the unemployment rate. Generation Y'ers beware," Bagrie said. The average expected inflation rate over the next year was 3.74%. The survey showed 10.1% of respondents expected the prices of goods and services to decrease, 57.3 expected prices to remain the same and 32.6% expected prices to increase over the next year. A net 74.3% expected interest rates to decrease over the year: 78.4% to decrease, 17.4% to remain the same and 4.1% expected increases. The National Bank Business Outlook is a monthly survey which in November had 439 respondents nationally from across different sectors of the New Zealand economy. It is widely regarded as a good leading indicator for economic activity.