Recession confirmed, but June qtr better than expected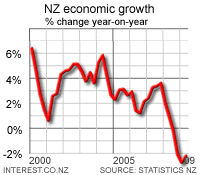 Gross Domestic Product fell 0.2% in the June Quarter, confirming that New Zealand's economy is in recession, Statistics New Zealand said. But this was better than economists' forecasts for a fall of around 0.5%, reflecting strong government spending, heavy infrastructure spending and a surprise rise in manufacturing activity. However inventories growth contributed 0.1% to the GDP move, meaning the 0.2% fall may have underestimated slightly the size of the contraction in GDP as stocks sat on shelves for longer.  The negative June GDP followed a 0.3% fall in the March quarter, satisfying the technical definition of a recession being two consecutive quarters of negative growth. The last time New Zealand's economy experienced consecutive quarters of recession was the three quarters ending March 1998. Economists generally expect the recession to last through the current September quarter before growth rebounds slightly in the December quarter. Economists see growth coming from better consumer and business confidence, a lower New Zealand dollar, high dairy export returns and the effects of the drought waring off.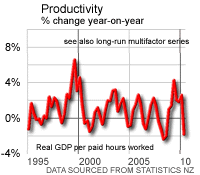 The better-than-expected result saw the New Zealand dollar rise to 68.7 US cents from 68.0 US cents before the data was released as traders reconsidered their expectations about a deep cut in the Official Cash Rate by the Reserve Bank on October 23. 'Construction' in the June quarter fell 3.8% from the March quarter and was down 6.0% from the June quarter last year. 'Retail, accommodation and restaurants' output fell 1.9% from the previous quarter; 'electricity, gas and water was down 1.6%; and 'wholesale trade' was down 1.2%. 'Manufacturing' grew from the March quarter, up 1.4%, as did 'transport and communication, up 1.2%. Government administration and defence rose 1%, on top of a 1.6% rise in the March quarter. Our simple measure of productivity, which divides the total output by the number of hours worked found productivity fell 2.4% in the June quarter from the same quarter a year ago. Productivity growth has been negative for most of the last 4 years and has been falling since 2002.