Housing affordability improves record amount in August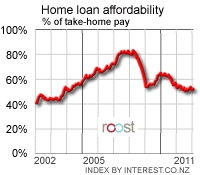 Housing affordability improved by a record amount in August to its best level since January last year after house prices fell sharply and fixed mortgage rates fell below 9%, the Wizard Home Loans Affordability report shows. The national median house price fell 2.9% in August and the average 2 year fixed mortgage rate fell 13 basis points to 8.96%, adding to the benefits from a slight increase in disposable income because of wages growth. Tax cuts on October 1 and further falls in house prices are expected to improve affordability significantly over the rest of 2008 and through the spring when many home sellers put their houses on the market.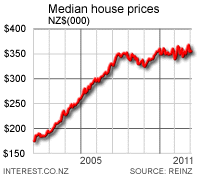 This monthly report measures the proportion of a single median after tax income needed in each part of New Zealand to service an 80% mortgage on the median house price in that region. The Wizard Home Loans Affordability report shows it took 74.2% of the median take-home pay to service the mortgage on the median house in August, down from 77.4% in July. This 3.2% improvement was more than double the previous record improvements of 1.5% each in May and June of this year. Affordability is now at its best level since January 2007, but remains well above the 40-50% levels seen in 2002, 2003 and 2004 before house prices took off. "Tax cuts due on October 1 and the lower prices being offered in the housing market are likely to further improve affordability through the rest of this year," said John Grant, Wizard Home Loans, Director, New Zealand Business. "Spring seems finally to have sprung for housing affordability," Grant said.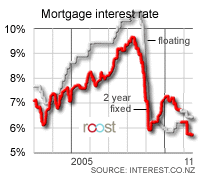 The report also shows the proportion required for a first home buyer (someone aged 25-29 that has saved 20% of their after tax income in the previous five years) buying a cheaper house (first quartile price). The first home buyer's affordability ratio improved to 59.3% in August from 61.1% in July and is also back at its best levels since January 2007. Affordability looks set to improve through the rest of 2008 as interest rates fall at the same time as house prices keep falling. Tax cuts due from October 1 are also expected to improve affordability ratios as take-home pay rises slightly for most home-buyers. Nominal wages are also rising relatively fast. However, housing affordability remains much worse than before the housing boom took off in late 2003 and before interest rates rose from under 7% in 2003 to over 9% in mid-2008. House prices rose 64% between November 2003 and November 2007. In July 2003 the affordability ratio stood at 43.9%. Most home-buyers are still forced to pool almost two median incomes to afford the mortgage on the median house, although that multiple has dropped from 2.1 in November last year to 1.85 in August.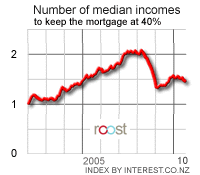 The biggest driver in the improvement in August was the fall in house prices, although the 13 basis point drop in the average 2 year fixed mortgage rate was also a major driver. The Reserve Bank of New Zealand cut the official cash rate from 8% to 7.5% last week and its own forecast track implies it will fall to around 6.5% over the next year. Banks passed on around half of last week's cut in the former of lower fixed mortgage rates. About 87% of all mortgages in New Zealand are on fixed rates. There remains some doubt, however, about how quickly banks can cut their fixed mortgage rates given the turmoil on global financial markets that has increased the international funding costs for New Zealand's banks.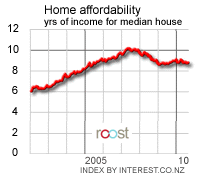 The Reserve Bank's own forecasts are that the effective mortgage rate, which takes into account the actual costs of the various tranches of mortgages issued, will only drop from 8.8% to 8.7% over the next two years. Every region reported improvements in housing affordability except Southland, where house prices bounced in August. The biggest improvements in home loan affordability were in Northland and Central Otago Lakes (Queenstown and Wanaka) where house prices fell 9.5% and 17.7% respectively in August. Southland's affordability at 46.7% remains the best in New Zealand, although it was up from 42.8% in July. Central Otago Lakes at 112.9% remains the least affordable, although its affordability has improved from 138.9% in July.