NZ house prices down 7% in 7 months, says QV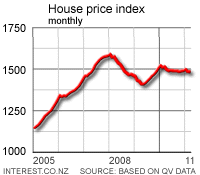 Residential property prices dropped almost 7% from their peak in January and are expected to decline further, says a report from government owned valuer Quotable Value (QV). Property values for the three months ended August 2008 declined by 4.5% from a year ago, with noticeable declines in the main centres. Average Auckland residential property values fell 5.8% since August last year, with Hamilton values falling 8.5%, Wellington by 2.9%, Christchurch by 5.8% and Dunedin by 7.8% "Property values continue to fall across the country with all main and provincial centres now showing values lower than they were 12 months ago," said Blue Hancock of QV Valuations. The increase in properties available to rent had an impact on investment returns. "Across the country investment returns are being impacted by an increase in properties available for rent, higher mortgage payments, and an outlook of minimal capital growth," Hancock said.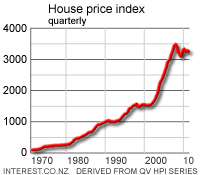 QV said that there were early indications of a positive mood from buyers. "Many buyers are realising that price decreases are making this a good time to buy, and that they can bargain strongly. As a result there will be further declines in value before the market levels out," said Hancock. It also said that some investors seem to be re-entering the market, especially in Auckland and Wellington. In Auckland, "indications are that the declines in the apartment market are easing, with buyer interest perhaps sparked by greater affordability," said QV's Glenda Whitehead. In Wellington, "the QV statistics show a persistent decline in values that we expect to continue for the next few months. Some buyers are being attracted by the lower prices and some of the older stock is starting to sell. If this trend continues we can expect to see volumes begin to increase and the market may gradually return to more normal levels of activity, but without the property price rises of the past few years," QV's Max Meyers said. Southland saw the biggest increase in value growth from a year ago in all 92 regions surveyed. For the three months ended August 2008, values increased by 11% from August 2007, but prices were down 0.1% in Invercargill from a year ago. Gisborne saw the biggest fall in values, down 10.4% for the three months ended August 2008 from a year ago.