Leading indicators for house prices turn sharply lower in May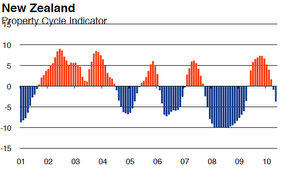 The Mike Pero Mortgages Infometrics Property Cycle Indicator (PCI) slipped further into negative territory in May and is at its lowest level since March last year.
The PCI brings together a compilation of leading indicators for the housing market, including changes in house prices, changes in the number of days to sell and changes in the volumes of houses sold. The PCI fell to a negative 3.71 in May, from -0.86 in April.
"For the first time since March last year, houses spent longer on the market than in the same month the previous year. In May 2010, the average number of days to sell property was 43 days, compared to 42 days in May 2009," Mike Pero Mortgages Chief Executive Shaun Riley said.
"All regions moved further into negative territory in May, with Auckland also having a negative PCI last month." Auckland moved into negative territory to -0.95 (down from 2.17 in April) and Wellington also lost ground, dropping to a PCI of -2.57 (from -0.12 in May). In the South Island, Canterbury/Westland's PCI dropped slightly to -4.90 (a decrease from -4.14 in April), as did Nelson/Marlborough's, with a PCI of -4.55 (from -3.51).
Otago also lost ground with a PCI of -6.71, down from -4.89 in April. Rental inflation eased to 1.9 per cent per annum in May, which is weaker growth than in previous months, but was still stronger than at any other time since the end of 2008, Mike Pero Mortgages and Infometrics said.
Infometrics forecast in August last year that house prices would rise by 24% over the next three years.