Trade Me to launch services search category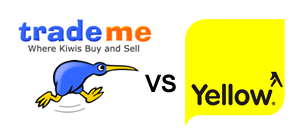 Trade Me launching services listings, posing new challenge for indebted directories group
On the block directories business Yellow Pages Group faces new competition with Trade Me launching a services category later this month targeting small business advertisers and consumers wanting to search for service providers.
Auction website Trade Me says its services section will be a place where small businesses can "cost-effectively" advertise their services.
"On the consumer side, Kiwis will be able to search for local businesses, as well as deliver and review the businesses' feedback," Trade Me says.
Trade Me's move comes as Yellow Pages, whose falling earnings have breached its banking covenants, has been put up for sale by its banks including BNZ, ANZ and Westpac who are owed about NZ$1.7 billion and could recover only about 50 cents in the dollar.
Trade Me says it will work with services focused website NoCowboys to build listings in the services category, as well as working on a range of other activities with Trade Me, including a role as the exclusive third party reseller for the category.