Clear scope for OCR cuts if Govt got spending under control, former RBNZ governor and National leader Brash says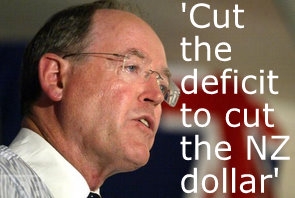 There would be scope for a cut in the Official Cash Rate (OCR) if government were able get its spending under control, former Reserve Bank governor and former National Party leader Don Brash said.
In a speech to the Orewa branch of the National Party, which he is still a member of, Brash said interest rate cuts would help take pressure off the New Zealand dollar, which was at a level where it was holding back a rebalancing of the New Zealand economy, which was urgently needed.
Getting government spending under control was "absolutely crucial" because it would not only begin the process of scaling back the size of the public sector in New Zealand, "which is very much larger than the public sector in Australia – vital if we're going to grow faster", but it would also enable monetary policy to be eased, Brash said.
"Interest rates in New Zealand are now much lower than they have been for most of our modern history, but they're higher than in most other developed countries, and this has the highly undesirable effect of keeping our exchange rate at a level which is holding back the rebalancing of the economy which we so urgently need," Brash said.
"New Zealand now has a higher level of overseas indebtedness relative to the size of our economy than almost any other country in the developed world, but we continue to add to that indebtedness as year after year – indeed, every year since 1973 – we spend more on imports of goods and services than we earn from exports," he said. 
"If the Government were to get its own spending under control, there would clearly be scope to cut interest rates – indeed, there would be a need to cut interest rates – and that would almost certainly produce some of the fall in the exchange rate which we so clearly need."
'It hasn't changed'
Government spending as a share of GDP was the same this year as it was when National took office two years ago, Brash said.
"Because the Government was not willing to reverse some of the seriously dopey policies introduced by the Labour Government during its final term in office – think interest-free student loans and universal child-care subsidies (policies which, incidentally, Bill English sometimes rather unkindly blames on me because of how close the 2005 election was!) – we're now running a primary fiscal deficit larger than at any time in the last four decades," he said.
Most of that deficit was 'structural', and would not disappear when the economy resumed its normal growth rate, Brash said. 
"Getting that deficit down will take tough, and potentially unpopular, decisions: unfortunately, it can't be done simply by driving a bit of inefficiency out of the Wellington bureaucracy. So far, the Government has stated its intention to reduce the deficit, but has not announced any measures that will actually enable it to do so," he said.
'Corporate tax rate still too high'
In the speech, Brash also took aim at government asset ownership and what he thought was a still-too-high corporate tax rate.
"We urgently need to get the tax on business income down," Brash said. "The Government's 2010 Budget announced a reduction in the corporate tax rate from 30% to 28% and that was a cause for modest celebration." 
"But that reduction was offset by changes in depreciation and some other arrangements, so that the overall impact of the Budget is that the effective tax on companies was increased by about 1%, not reduced by 2%," he said.
National thinking of asset sales?
Brash said there needed to be an explanation to the public on why governments "did not make good long-term owners of businesses, and why we will therefore be selling at least those which operate in competitive markets".
Brash chaired the government-appointed 2025 Taskforce, set up under a confidence and supply agreement with the ACT Party to look at how New Zealand could match Australian incomes by 2025. See our story on its second report here.
He pointed to the second report saying the argument for privatisation was different today than it was in the 1980s.
"No longer are government trading operations grossly inefficient; nor is our government debt yet at dangerous levels. Rather, the argument for privatisation today is that, by selling SOEs into the private sector, we empower them to respond to the challenges and opportunities of the future in a way which is impossible while they remain in state ownership," Brash said. This from his speech notes:
As a Party, we need to be at the forefront of challenging why the state should be:

The biggest owner of dairy farms in New Zealand;
The biggest fund managers in New Zealand;
The 50% owner of a large chain of petrol stations;
By far the biggest owner of rental properties;
The dominant generator of electricity;
The dominant owner of our trains and planes;
The owner of our most aggressively growing bank.