Westpac NZ CEO George Frazis says his high pay can be hard to explain especially compared with his immigrant father's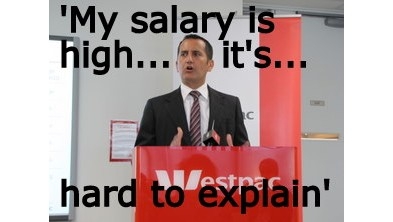 By Gareth Vaughan
Westpac New Zealand CEO George Frazis says his almost NZ$6 million annual pay can be hard to explain, especially compared with the salary made by his house painting immigrant father.
Frazis' remuneration for the year to September   for  th  for      , disclosed in the Westpac Group's annual report last November, showed he received a total of A$4.38 million, equivalent to almost NZ$6 million at today's exchange rates.
News of his pay led to significant media coverage given it's among the highest for New Zealand executives, was described as "unethical" by bank workers' union Finsec, and came under fire from Labour and Green MPs.
Asked about it at Westpac's interim results briefing yesterday Frazis acknowledged his pay was high.
"The thing with executive salaries is they are high," Frazis told interest.co.nz.
"I look at my father who was an immigrant. He has worked as a painter all his life, it's hard to explain."
"(But) at the end of the day executive salaries in Westpac are determined by the board, they are very much performance driven and it's on public record in terms of what they are," Frazis added.
Frazis' 2010 pay was not too far short from being as much as the combined A$5.03 million received by his counterparts at ANZ and BNZ, Jenny Fagg and Andrew Thorburn. It compared with A$2.6 million for the period of the 2009 financial year he worked for Westpac after moving from a group executive general manager role at BNZ's parent National Australia Bank, where he received A$336,380 in the 2009 year. Frazis took the helm at Westpac in March 2009.
Finsec campaigns director Andrew Campbell said, in November, it was unethical to pay such a large salary to one person while the economy faltered and the average worker had seen no, or limited, wage growth. He also noted the remuneration covered a period when the banks were covered by the Crown retail deposit guarantee scheme.
Frazis' pay comprised A$967,330 in fixed remuneration, A$1.29 million in annual cash performance awards accrued during the year, A$292,613 of non-monetary benefits which Westpac says covered Frazis relocating from Sydney to Auckland, accommodation payments and travel between Australia and New Zealand.
He also received superannuation benefits of A$14,586, A$399,634 worth of options, plus A$1.4 million worth of unhurdled share rights.