China's giant sovereign wealth fund ready to spend NZ$6 bln on NZ assets and government bonds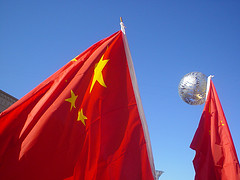 By Gareth Vaughan
China's enormous sovereign wealth fund, the China Investment Corporation, may have set aside up to 1.5% or about NZ$6 billion of its massive foreign exchange reserves to invest in New Zealand assets, including government bonds, companies and potentially dairy farms.
The 1.5% figure was suggested by a well placed source, alongside the likely scenario that the China Investment Corporation has been a heavy bidder of late in the bond tenders run by the New Zealand Debt Management Office (NZDMO), the government's debt manager. The China Investment Corporation itself is keeping mum with interest.co.nz's requests for comment, perhaps unsurprisingly, met by a deafening silence. It is also thought to have allocated 2% of its reserves, estimated at well over US$330 billion, to invest in Australia.
Set up in 2007 to invest some of China's now more than US$3 trillion in foreign exchange reserves accumulated through trade surpluses, the China Investment Corporation is thought to have been shifting some of its vast resources away from US dollar assets while the US Federal Reserve undertakes its quantitative easing policy, driving the greenback down, and America's economy struggles to recover from the global financial crisis. The China Investment Corporation is among the world's biggest sovereign wealth funds with about US$332 billion in assets.
Key says we're borrowing from China
What we do know is that China has been buying our government debt, being sold in record volume in recent months. Prime Minister John Key singled China out in a post Budget interview on TV3's Campbell Live as a country New Zealand is indebted to.
Asked about reduced government contributions to the KiwiSaver scheme Key said: "The Government this year is going to put NZ$1.1 billion into KiwiSaver and we're borrowing that money. So I say to New Zealanders we can carry on doing that if you want," said Key. "So we can carry on borrowing money from China like we do and putting it in your KiwiSaver account, but that leaves a weaker government balance sheet for New Zealanders."
We also know the NZDMO is issuing NZ$20 billion of debt in this 2010/11 June financial year as it soaks up strong investor demand and raises money to help rebuild Christchurch after the devastating February 22 earthquake. That NZ$20 billion is equivalent to NZ$4,500 for every man, woman and child, or 10% of the country's Gross Domestic Product (GDP).
And we know that China's credit rating agency, Dagong International Credit Rating Company, has New Zealand placed seventh on a ranking of 50 countries credit ratings. We're behind just Norway, Denmark, Luxembourg, Switzerland, Singapore and Australia, although our ratings are identical to Australia's. The 50 countries covered account for 90% of the world's GDP.
So who holds our government bonds?
As for the ownership breakdown of government bonds, the Reserve Bank does track this in terms of the types of owners such as state owned enterprises and registered banks, and surveys a number of ways of viewing offshore holdings, or non-resident ownership. However, the NZDMO itself takes this data with a grain of salt.
Andrew Turner, the NZDMO's head of portfolio management, told interest.co.nz the Reserve Bank data offers useful information around trends.
"But in terms of a precise measure of the holdings, I don't think you could use them for that," Turner said. "Because so many of the bonds are held by custodians and the like."
Turner says the NZDMO doesn't have a great deal of knowledge of who holds government debt, although it has recently said offshore investors are buying about 60% of the bonds it issues.
"What we really get is some anecdotal information from the banks who intermediate the transactions, and then from some of our own investor relationships as well.," says Turner.
"But even then we may not end up talking in a great level of detail about specific holdings because all investors can move their portfolio around in the secondary market. (And) the bidder banks could be bidding on their own behalf or for clients that are interested in participating in the tender or to have an inventory of bonds they can sell."
The NZDMO would "love to" have better information on who is buying government debt because it would be "incredibly helpful" to know where the demand is coming from.
"This is probably something that a lot of sovereigns have a similar sort of issue (with), in terms of knowing exactly where their investors are," Turner says.
More travel for NZDMO staff includes trip to China with Bill English
In an attempt to gain better knowledge of their customers since the global financial crisis, NZDMO staff led by Treasurer Philip Combes, have been travelling more overseas, speaking at conferences and striving to leverage off the relationships their bank bond tender bidders have with investors.
Turner says this creates opportunities to talk directly with investors. Combes is currently in Asia with Finance Minister Bill English. And Combes also accompanied English on a visit to China last month where the Finance Minister met with officials from the China Investment Corporation.
Speaking at a Beijing conference last November, Combes said China had increased its holdings of New Zealand government bonds without providing any specific figures. And speaking at the same conference attended by English in China last month, Lou Jiwei, the China Investment Corporation's chairman, said the fund was still looking at European investment opportunities despite the problems the economies there face.  It's also eyeing Russia and it owns stakes in US private equity group Blackstone and investment bank Morgan Stanley.
Deep pockets could target any assets on the block
Aside from government bonds, the China Investment Corporation has pockets deep enough to buy any New Zealand asset on the block that takes its fancy, Overseas Investment Office (OIO) approval not withstanding. How about the 83.3% stake in Fonterra's biggest supplier, Dairy Holdings, currently on the block as a result of the South Canterbury Finance receivership? Dairy Holdings is attracting overseas interest as China's Pengxin International Group awaits the OIO's decision on its application to buy 16 central North Island Crafar dairy farms from receiver KordaMentha.
Elsewhere, high profile completed Chinese purchases in New Zealand in recent times include Agria Corporation buying a controlling stake in PGG Wrightson, and Haier helping rescue an ailing Fisher & Paykel Appliances by taking a 20% cornerstone stake. China's partly state-owned Bright Dairy also bought 51% of Canterbury's Synlait Milk dairy processing operation last year for NZ$82 million.
One thing is for sure, in an election year with the opposition Labour Party promising to introduce stricter controls on overseas purchases of New Zealand farm land , influential commentators like Brian Gaynor suggesting asset sales make New Zealanders "serfs in our own country, " and the National Party promising to sell minority stakes in state owned enterprises if it's re-elected, we're going to hear a lot more about foreign, especially Chinese, buying and/or potential purchasing, of New Zealand interests.
This article was first published in our email for paid subscribers this morning. See here for more details and to subscribe.