Crafar farms receiver says new Chinese bidder Pengxin International Group has lodged OIO application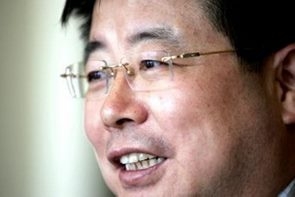 Crafar farms receiver KordaMentha says China's Pengxin International Group has lodged its application for approval to buy the central North Island dairy farms with the Overseas Investment Office (OIO).
The application has been lodged through Pengxin's subsidiary, Milk New Zealand Holdings Ltd.
"We ran a comprehensive sales campaign and the Pengxin offer was by far the best," said KordaMentha's Brendon Gibson.
"We hope the OIO application receives a successful and timely response so we can proceed with the next steps in the sale process."
KordaMentha accepted Pengxin's offer - pending OIO approval - for 16 central North Island farms in January after fellow Chinese group UBNZ Funds Management withdrew its conditional offer having failed to secure OIO support. KordaMentha's Michael Stiassny told interest.co.nz at the time that Pengxin's offer was less than UBNZ's, which was believed to be worth about NZ$213 million, but "significantly higher" than other offers.
Pengxin's chairman, Jiang Zhaobai, is listed at number 293 on last year's Forbes' 400 Richest Chinese list with assets of US$550 million. He is reported to be 47 and a Shanghai property developer.
UBNZ and sister company Natural Dairy Holding's bid for the Crafar farms was rejected by the Government on 'good character' grounds in December after its front woman May Wang was bankrupted. The Serious Fraud Office is investigating transactions between Natural Dairy Holdings and UBNZ based on information received from the OIO.
The Crafar farms group was put into receivership in October 2009 owing about NZ$216 million to its lenders Westpac, Rabobank and PGG Wrightson Finance after interest.co.nz revealed animal welfare issues at the farms.
Later,Shanghai Pengxin issued a statement saying it planned to increase milk production from the Crafar Farms by 10% and wanted to capture a bigger share of the Chinese market with branded, dairy-based consumer products. It said it planned to spend more than NZ$200 million to buy and upgrade the farms. It then planned to invest a further NZ$100 million on marketing cheeses, ice creams and baby formula for the Chinese market.
Here is the rest of their statement here:

In doing so it will invest in upgrading the farms, employ more New Zealanders and work co-operatively with New Zealand dairy plants to create and manufacture products such as baby food, cheeses and ice creams that will appeal to the fast-growing Chinese and other Asian markets.

Shanghai Pengxin Group is a successful conglomerate, founded about 15 years ago, with significant investments in commercial and residential real estate, infrastructure, mining, finance and agriculture, and increasing involvement outside China. It is building up sheep breeding operations in China and plans to have flocks totalling three million within five years. Since 2005 it has had a controlling interest in a large-scale farming operation in Bolivia producing sorghum, soybeans and corn and is negotiating further farming investments in Argentina and Cambodia.

For its planned New Zealand dairy industry involvement, Shanghai Pengxin Group has established a fully-owned, Hong Kong based subsidiary, Milk New Zealand Holding Ltd, whose only director will be Jiang Zhaobai, chairman of the Shanghai Pengxin Group.

Milk New Zealand has this week lodged an application with the Overseas Investment Office for approval to purchase the farms. Capital to fund the purchase of the farms and other related assets will be provided by a shareholder advance from Shanghai Pengxin Group.

The initial commitment, once approval has been received, is an investment of more than NZ$200 million in buying the properties and related assets and upgrading the farms in the first two years. 

DETAILS OF NEW ZEALAND PLANS 
Company spokesman Cedric Allan says the company intends to make a positive contribution to dairying in New Zealand, tapping into New Zealand expertise, and increasing employment, milk production and export earnings, as well as spending in local communities. 

Milk New Zealand Holding Ltd will establish a fully-owned subsidiary, Milk New Zealand Farming Ltd, to run the farms in New Zealand, totalling about 8,000 hectares.

Milk New Zealand Farming Ltd will be responsible for day-to-day management of the farming operations. Two of the three directors will be New Zealanders with appropriate experience in the dairy industry.

The company will also work with New Zealand processors to develop, manufacture and export a range of added- value, dairy based products to be marketed in China and elsewhere in Asia.

Mr Allan says the company would prefer to work in partnership with New Zealand processors rather than establish a new facility. 

FARMING PLANS:-
 

During it due diligence period Pengxin has taken advice from leading New Zealand farm consultants and environmental consultants on a farm-by-farm basis to ensure the credibility of its plans for the farms it has conditionally purchased.
Sharemilkers and staff currently running the Crafar farms will be retained and will be advised by a team of professional New Zealand farm consultants, in turn working under the direction of a New Zealand general manager of Milk New Zealand Farming Ltd.
Existing herds will be purchased from the Receiver at independent valuation and progressively upgraded.
An upgrade programme will be implemented for each property including herd improvements, increased soil fertility, re-grassing as appropriate, new management techniques and other initiatives.
The farms will also be upgraded from an environmental perspective, with better control of run-off, and fencing off native bush, wetlands and sensitive areas in accordance with detailed assessments and plans completed by New Zealand environmental consultants. The quality of water in rivers and streams flowing through the properties will be enhanced, and the properties will be farmed on a sustainable basis.
Areas of importance to local iwi will be preserved and respected and arrangements for access made.
The aim is to increase milk production by more than 10% by the end of the third year.
Milk New Zealand Farming will work cooperatively as part of the New Zealand dairy industry, and intends to offer scholarships for young New Zealand farmers and the opportunity of exchange visits to China.


PROCESSING PLANS:-

Initially the company will continue to supply raw milk from its farms to Fonterra.
However, the aim is to add value to the raw milk produced on the farms by developing new products for export to the booming Asian market, recognising the strong demand for dairy products in China, which is already New Zealand's biggest market for dairy products.
Products such as baby formula, ice cream, cheeses and others, would be created and branded to appeal to Chinese and Asian consumers
The company plans to work in partnership with North Island dairy processing plants to develop and manufacture this range of products, rather than establishing its own manufacturing operation.
Manufacturing and exporting will create more employment in New Zealand and further increase New Zealand's export earnings.
The intention is to invest more than NZ$100 million in marketing this range of products over the first five years, and to make best use of Pengxin's business contacts and local knowledge in China.


"There are a number of winners under this overall scenario," said Mr Allan. "The country gains significant overseas investment, spending on upgrading the properties from a production and environmental perspective will benefit local communities and suppliers, more milk will be available for export and --as soon as processing arrangements are in place -- New Zealand can benefit from supplying the Asian market with new added- value products. 

FUTURE OPPORTUNITIES 

"Having a strong friend in China, now the world's second largest economy, could have many advantages for New Zealand," said Mr Allan."In time, the Shanghai Pengxin Group may be interested in other investments in New Zealand, as well as seeing opportunities to use its connections and local knowledge to help New Zealand organisations export various products to China and other Asian countries."

Shanghai Pengxin Group has established the MOY Global Innovate Enterprise Centre to assist companies wishing to break into the Chinese market, providing contacts, local knowledge, access to capital, a Shanghai base from which to work and other assistance. American companies are already using this resource , which can also be accessed by New Zealand businesses wanting to do business in China.
(Updated with background, detail from Pengxin)