Crafar farms receiver accepts new Chinese OIO dependent offer after UBNZ withdraws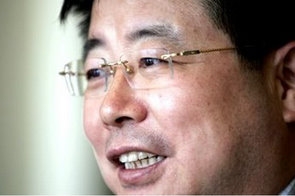 The Crafar farms receiver says it has accepted an offer from China's Pengxin International Group for 16 central North Island farms after fellow Chinese group UBNZ Funds Management withdrew its conditional offer having failed to secure Overseas Investment Office (OIO) support.
Receivers Michael Stiassny and Brendon Gibson of KordaMentha said the Pengxin offer was "by far the best offer we have." It was now a case of waiting for OIO approval.
"We understand that the lodging of their OIO application is expected to occur in March," the receivers said.
Stiassny told interest.co.nz Pengxin Group's offer was less than UBNZ's, which was believed to be worth about NZ$213 million. However, it was "significantly higher" than other offers.
Shanghai Pengxin Group itself said it would make "full disclosure" of its plans to participate in the New Zealand and Chinese dairy industries when it lodges its OIO application before the end of March.
 It wouldn't be appropriate to release details of the bid before it has been given to the OIO, chairman Jiang Zhaobai, who has been to New Zealand "on a number of occasions," said. Here is a Seattle Times interview with Jiang Zhaobai from June last year.
Jiang Zhaobai is listed at number 293 on last year's Forbe's 400 Richest Chinese list with assets of US$550 million. He is reported to be 47 and a Shanghai property developer.
"What we can say at this stage is that we believe we will bring substantial benefits to New Zealand, some of them, perhaps outside the dairy industry."
Shanghai Pengxin Group says it had total assets of about US$2 billion as of last year and about 4,000 staff. The group has four major business units operating in property development, infrastructure, mining and agriculture, with the latter largely devoted to sheep breeding, plus wheat and soybean production.
'Not a front for anyone else'
Cedric Allan, a spokesman for Pengxin Group, said there was no connection between the new Crafar farms bidder or any of Natural Dairy, UBNZ or May Wang, the bankrupted businesswoman leading that bid.
"We're not a front for anyone else," Allan said.
Pengxin was putting in place a "calm, credible" bid and aiming to tick all the boxes for the OIO.
UBNZ and sister company Natural Dairy Holding's bid for the Crafar farms was rejected by the Government on 'good character' grounds last month. The Serious Fraud Office is investigating transactions between Natural Dairy Holdings and UBNZ based on information received from the OIO.
The Crafar farms group was put into receivership in October 2009 owing about NZ$216 million to its lenders Westpac, Rabobank and PGG Wrightson Finance after interest.co.nz revealed animal welfare issues at the farms.
Stiassny said KordaMentha had been talking to Pengxin Group for "quite a while" and had entered a formal contractual arrangement.
"The significant condition in the contract is around OIO. If the OIO application was accepted we would expect that we would conclude this transaction," Stiassny said.
KordaMentha had not seen anything "untoward" or to "cause us to be concerned" about Pengxin Group, he added.
Meanwhile, Pengxin Group said it believed it could be a strong ally for the New Zealand dairy industry through its international trade connections and "networks of influence" in China and Asia.
(Updates add comments from Michael Stiassny and Pengxin spokesman Cedric Allen plus further detail on Jiang Zhaobai).