ASB economists delay expectation of RBNZ rate hike until end of 2012 from mid 2012, citing European crisis. Your view?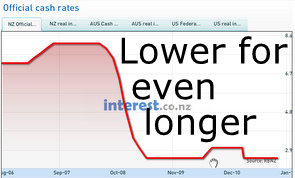 ASB's and ANZ's economists have changed their views on when the Reserve Bank of New Zealand (RBNZ) will next increase the Official Cash Rate (OCR) to December 2012 from June 2012, arguing the European debt crisis created uncertainty over the economic outlook.
ASB Economist Christina Leung said the European debt crisis felt like it was coming to a head with the growing risk that Italy or Spain could fail to raise money and need to ask for help.
ASB still assumed Europe would be able to contain the crisis, although it noted Germany's vehement and continued resistance to measures that could contain the crisis, including any move by the European Central Bank to expand its role buying Italian and Spanish bonds.
"We have pushed out our view of when we expect the RBNZ to lift the OCR to December 2012, from June 2012.  The first half of next year no longer looks soon enough for the RBNZ to have confidence that the risks to the global economy have been sufficiently defused, even assuming Europe contains the crisis very soon," Leung said.
"An ever-increasing proportion of mortgages on floating terms will also give the RBNZ a lot of traction when rates eventually go up.  That, combined with still-muted credit growth, suggests the RBNZ will have the time to wait until it is very confident the global and NZ recoveries are firmly on track," she said.
"We expect the first few 25bp OCR increases to be consecutive, but to be spaced out beyond that on the way to a 4% peak.  In the current environment the OCR outlook is likely to be fluid, as a lot depends on Europe's actions.  It is entirely possible that Europe acts quickly now to reduce the risk of Europe's debt problems triggering a full-blown financial crisis – and that OCR increases occur earlier in the year.  And, back in July, the RBNZ was close to lifting the OCR.  But there is still the risk the ambulance, currently parked somewhere near the top of the cliff, is itself pushed over the edge."
Leung said New Zealand's direct exposure to Europe was less than 10% of goods exports.
"What will matter more during a period of European weakness is how well Asia's domestic demand holds up during a period of weak European (and US) growth, as NZ's export fortunes are increasingly tied to the Asia Pacific.  But interest rates remaining low for longer, combined with weakness in the NZ dollar while uncertainty remains, would give NZ some added insulation," she said.
ANZ view
ANZ's economists said in their weekly Market Focus the European situation was deteriorating and continued to dominate local nuances.
"While the direct impact on the NZ economy to date has been mild, we're becoming more wary regarding what the first half of 2012 may bring. In this environment interest rates will stay lower for longer and we've pushed out prospects for the OCR moving up until late 2012," they said.
ANZ expected the Reserve Bank to conclude a permanent solution was unlikely in next Thursday's December quarter Monetary Policy Statement.
Wholesale interest rate markets are expecting the Official Cash Rate will actually be cut over the next year.
"We're not concerned by this. Markets will be markets: they play a risk-return game, and if we see the OCR moving down it won't be by 25 basis points. It was only in July that the market thought the OCR could approach 4 percent by the end of 2012!,"  ANZ said.
"We're relatively bearish regarding the global scene but are mindful of marketdriven swings and the support NZ is getting via a lower currency. In such a situation it's the spirit of one's view that matters. Pushing out prospects for a hike until late 2012 is really saying the OCR is going nowhere for a long time."
(Updated with more detail on ANZ's view, feature image)