Concern over future of National Bank brand 'storm in teacup' with 99% of customers just wanting good service, says ANZ NZ boss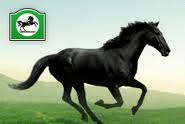 By Gareth Vaughan
The ANZ Banking Group is still yet to decide whether to ditch the National Bank brand, but ANZ New Zealand CEO David Hisco says 99% of customers don't really care about brands so long as they get good service.
Hisco told interest.co.nz that, having kicked off debate with staff and customers last year about the future of the National Bank brand the feedback suggests most people are focused on good customer service rather than whether it comes from a staff member working under the ANZ or National Bank name.
"We wanted to get the debate going last year to really talk about it with our staff more than anybody else to get their views on it," Hisco said.
"And I think it has been really useful because generally the theme coming through from customers and staff in the work that we've done essentially suggests that 99% of people don't really care as long as the person who serves them at the bank is going to be there the next day and the customer service levels are strong."
"And if you look at what we've been doing, we've been focused on improving our customer satisfaction and all those sorts of things," he added.
"I think it's almost a little bit of a storm in a teacup for a minority of people. The majority of people just say 'I want to deal with the guy I deal with and as long as that's not any different I'll be happy'."
The ANZ Banking Group bought National Bank from Britain's Lloyds TSB in October 2003 for A$4.915 billion (NZ$6.3 billion), excluding a dividend paid to Lloyds of NZ$575 million from National Bank's retained earnings, and kept both the ANZ and National Bank brands and branch networks.  In 2010 ANZ renewed its rights to use the Lloyds black horse on a green and white background as the National Bank logo until the end of 2014.  Any further renewal on use of the logo would be subject to negotiation with Lloyds.
The National Bank consistently records stronger customer satisfaction ratings than ANZ as demonstrated in the Nielsen survey below.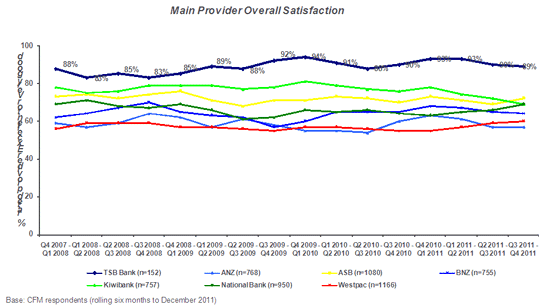 Last year ANZ NZ spent NZ$30.342 million advertising the ANZ brand - which was an official Rugby World Cup sponsor - and just NZ$4.292 million advertising the National Bank, according to Nielsen AIS base rate card data.
Last November Hisco told interest.co.nz the issue of most concern to people with the future of the National Bank brand up in the air was the potential closure of branches and loss of front line staff.
"I've already given an assurance to our front line staff that their jobs are safe so we've closed that issue down and they're all comfortable with that. We need all our front line staff to serve our customers," Hisco said then.
This article was first published in our email for paid subscribers this morning. See here for more details and to subscribe.