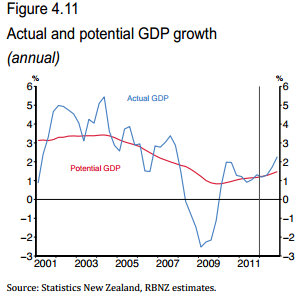 By Alex Tarrant
Subdued investment, slow growth in the working age population, and low labour productivity growth over the last few years have reduced New Zealand's potential growth rate by to about 1.2% a year, the Reserve Bank says.
Meanwhile, the amount of spare capacity in the economy is much less than would be expected given New Zealand's unemployment rate was still near its recessionary peak, it said.
High household and corporate debt levels, the persistently high currency and a weak global environment had restrained GDP growth over the past few years, the Bank said in its June Monetary Policy Statement.
This had restricted expenditure as households and firms moved to pay down debt and consolidate their balance sheets.
"This restraint has been most notable with major purchases, such as the undertaking of capital investment. Indeed, construction, both of residential and non-residential buildings, as well as business investment more generally, have been very weak for the past four years," the Bank said.
"This reduced capital investment, while having an immediate negative impact on GDP, has also negatively affected the economy's future capacity to grow," it said.
"In addition, economic uncertainty and cautiousness in the willingness to borrow and lend has limited risk-taking, further inhibiting potential growth."
Consistent with this, indicators of capacity usage were much tighter than would have previously been expected, given the weakness in GDP growth, the Bank said.
"Surveyed skill shortages, for instance, sit close to their historic norm despite the unemployment rate being near its recessionary peak. Consistent with the skill shortage data, wage inflation is close to its average of the past two decades," the Reserve Bank said.
Capacity pressures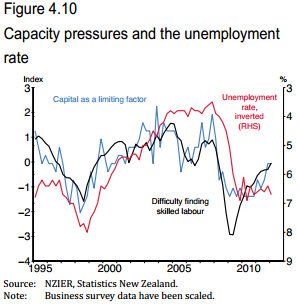 Survey measures of capacity pressures had tightened and in many cases were approaching historical averages. Notably, there were signs that pressures were building in the construction sector, particularly in Canterbury, the Reserve Bank said.
"This lift in surveyed capacity pressures has occurred despite the modest pace of economic growth over recent quarters. Following the global financial crisis, business investment spending has been subdued, and growth in the working age population has been limited. Growth in labour productivity has also been low over this period," the Bank said.
"These conditions have resulted in the economy's potential rate of growth falling to an estimated rate of around 1.2 percent per annum. Nevertheless, it appears the economy is continuing to operate with at least some spare capacity, particularly given elevated unemployment," it said.
With the economy continuing to operate with some spare capacity, non-tradable inflation had remained contained.
"At the same time, last year's appreciation of the New Zealand dollar and modest inflation in the world prices of imports have resulted in continued declines in the price of many tradable items. Subdued global food price inflation has also had a significant dampening effect on tradable inflationary pressures," the Reserve Bank said.
"Combined, these conditions have resulted in low rates of headline inflation, with annual CPI inflation falling to 1.6 percent in the March quarter. Annual inflation is expected to remain subdued over the coming quarters, reaching a low of 1.1 percent in the current quarter. There has also been a continued decline in inflation expectations, which are now below the levels seen prior to the increase in the rate of GST," it said.
Potential growth rate cut
In its June Monetary Policy Statement, the Reserve Bank gave a potential output rate of 1.2% for the year to March 2012, down from 1.5% in its March statement.
Potential output in the year to March 2013 was 1.4% (down from 2.1%); in the year to March 2014 it was 1.8% (down from 2.3%); and in the year to March 2015 was 2.1% (down from 2.2%).
(Updates with video of Bollard)