The lustre is off the gold price as central bank actions and weak Indian jewellery demand both work against the precious metal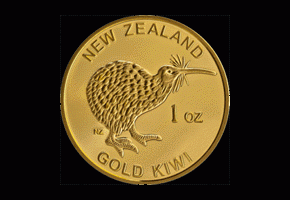 This a roundup for New Zealand readers of news about gold, silver, and other precious metals. We will be covering both the local and the global influences on prices, and supply and demand in this new series.
The gold price in US$ has weakened markedly over the past few days, principally because markets don't see the latest US Fed gesture to extend their stimulus programs as game-changing. Commodities generally weakened on the news - oil prices fell noticeably and expectations that global demand will stay weak - and gold and silver fell in price along with that trend.
Hopes for a sustained rally in the yellow metal pretty much begin and end with the US Federal Reserve. Gold is viewed as a classic inflation hedge and any further stimulus from the Fed during the next few months would likely be viewed as bad for the US dollar and good for gold.
The higher NZ dollar takes the shine off for kiwi investors, as the chart below clearly shows. Since the beginning of the year, in NZ dollar terms, gold has hovered in a pretty stable zone just above NZ$2,000 / oz. Silver has been more volatile, but is now clearly on a downward trend. The latest central bank moves and currency market reactions are unlikely to change that in the immediate future.
New Zealand's gold exports fell to only NZ$127 million in the first quarter of 2012, their lowest level since the second quarter of 2010. Lower mining outputs are the reason. That is down from a record high of $172 million in the last three months of 2011. This chart shows the annualised export value totals.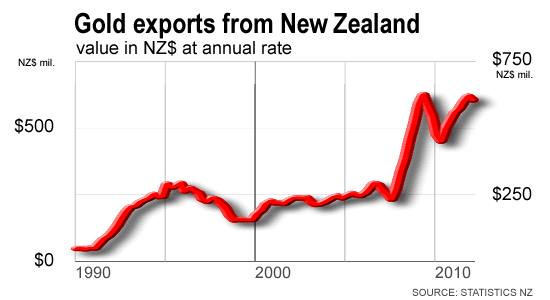 Another reason the international price of gold is not performing particularly strongly at present relates to the state of the Indian economy.
Indian jewellery demand is a significant influence in this market, and observers of that market note the Indian economy is suffering, the rupee is sliding and Indian gold demand has dried up. The country's economy registered its slowest quarterly growth in nine years in the first three months of this year. This is from the FT:
Dealers say that gold sales to India – traditionally the largest consumer of the shiny metal, although it looks likely to be overtaken by China this year – are down 50-60 per cent year-on-year since March. The consensus view is that Indian demand is likely to fall 20-30 per cent over the full year.

"Indian demand is appalling," says one senior trader.
World-wide jewellery demand represents more than half of all demand according to the March quarter data from the World Gold Council - and they easily dwarf even what central banks trade among themselves. Without strong jewellery markets, it will be hard to see strong price increases.
You can find our independent comparative pricing for bullion, coins, and used 'scrap' in both US dollars and New Zealand dollars which are updated on a daily basis here »