The recent retreat in prices for both gold and silver has analysts divided over the future direction for precious metals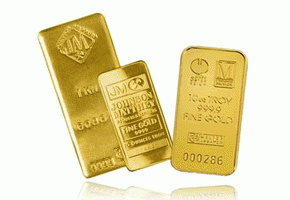 Gold has ended the week sharply lower.
It rebounded on Friday in New York after Thursday's sell-off, but it was virtually flat for the year to date and posted a weekly drop of 3.8% in US dollar terms (and a drop of 4.1% in NZ$ terms) on deflation worries and what the market believed was a timid US Federal Reserve stimulus announcement.
Reuters reported that fears of inflation helped fuel several years of strong gains for gold, but investors are starting to worry about deflation after reports this week showed signs of slowing economic activity around the world (although New Zealand obviously missed that memo).
"There is zero inflation out there. With gold being well received as a risk asset, the price is deflated because of the rising [US] dollar," said Phillip Streible, senior commodities broker at futures brokerage R.J. O'Brien.
The outlook may not be a gloomy one, however.
The lower price may encourage some investors to rebuild positions, and the huge rush into US Treasuries will reach saturation point at some stage. Further, India's demand is unlikley to stay subdued, and some long term pension investors consider themselves light on their gold holdings.
"We believe the slide in gold prices may create an attractive entry point for emerging markets buyers and long-term investors such as the official sector and pension funds, who may be looking to diversify away from the U.S. dollars and into a quality hard asset such as bullion," HSBC said in a note.
Royal Bank of Scotland expects gold to climb again, averaging US$1,800 by the fourth quarter, according to Bloomberg News. But it will then begin to sink, its analysts say.
"From there, we reiterate our view that this move will be a 'last hurrah' for gold," the bank said. "We continue to see a downtrend commence from that point, which should see gold gradually fade to average US$1,200 an ounce by 2015."
That US$1,200 level is the point at which big gold miners see an impact on exploration and other spending.
Meanwhile, silver took a substantial tumble, hitting a 2012 low in both US$ and NZ$ terms. It was down about 7% over the week. One analyst warned there is liquidation risk for silver where investors quit their holdings on fear of future falls. "We believe a break of US$26.00 has the ability to trigger liquidation of silver with it looking for US$18.00," says the latest technical analysis note from bullion bank Scotia Mocatta.
Comparative pricing
You can find our independent comparative pricing for bullion, coins, and used 'scrap' in both US dollars and New Zealand dollars which are updated on a daily basis here »
Italian flight
The economic crisis in Italy is seeing some people shifting their wealth out of the country, especially to Switzerland.
In the latest case to come to light, Italian police have arrested a man and his daughter trying to smuggle 50 kgs of gold across the Swiss border. That is a horde worth some NZ$3.5 million, and was hidden in a secret compartment in his car.
He undoubtedly wasn't the first to do this, and surely won't be the last.
Tax avoidance is a very big problem for the Italian authorities. Italians have billions of euros in undeclared wealth stashed in Switzerland - funds that Italy is trying to have the Swiss authorities tax retroactively. Switzerland's banks hold NZ$2.5 trillion worth of non-resident funds. Gold is a convenient way to relocate funds anonymously even if that method is illegal.