APEC discussions tempered by dose of realism about European economic woes, Key says; But NZ in good position to face headwinds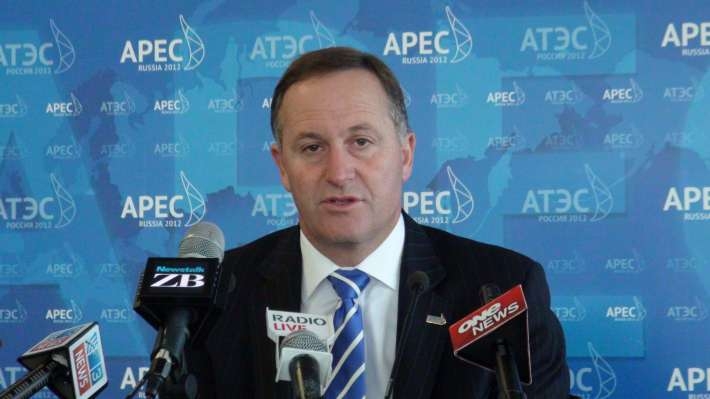 By Alex Tarrant in Vladivostok
Talks at the APEC trade forum in Russia have been tempered by a dose of realism about the challenges facing the eurozone, Prime Minister John Key says.
Add in a slowdown in China, and problems emerging in Latin American giants Brazil and Argentina, the sense in Vladivostok is the global economy is still fragile and that the outlook remains uncertain.
But having navigated through four years of turmoil already, world leaders are likely to have a better sense now of what the ongoing effects of the financial crisis might be, and how to better counter them, Key told media on Sunday.
And New Zealand was in relatively good shape to face the headwinds due to its connections to growing Asia-Pacific economies.
China slowdown, Euro woes, Latin America concerns
"What we're seeing is some sort of slowdown in China, and definitely the European situation is casting quite a big shadow over the global economy in general," Key said.
"While there is a sense that everyone would like to see that position improving, I think that there's a recognition that it's almost certain Europe will be in recession, that none of the countries there are experiencing any levels of significant growth – outside of Germany – and that is likely to have quite an impact for a period of time," he said.
There was a bit more confidence in terms of progress with the United States economy.
In terms of Asia, most of the countries New Zealand officials talked to at APEC were experiencing reasonably good growth.
Latin America was a mixed bag. Brazil and Argentina were facing very high levels of inflation, falling commodity prices and an overvalued exchange rate, all of which were affecting both economies quite dramatically, Key said. Others, like Chile and Peru, were still growing at reasonable levels.
Key touted greater trade integration as a cure which was not financially costly, and was likely to stimulate growth.
NZ in better spot than most
New Zealand was in relatively good shape for dealing with weaknesses in parts of the global economy.
"It's got it's challenges but [New Zealand's] in a part of the world which is still, in my view, likely to present growth," Key said.
"And actually, there is an argument that given the growing demand for food, it may well be that over the next decade or two soft commodity prices are fundamentally stronger than hard commodity prices, simply because of the demand for food," he said.
Key said his position on Europe had not changed based on talks at APEC.
"When we came back from Europe [in June] it was pretty obvious to us that there are very significant issues there, and they're quite long-term structural issues that won't be resolved easily," Key said.
"These are countries that have high levels of debt, high levels of bureaucracy, inflexibility in their labour markets, and significant cost bases," he said.
The biggest issue facing New Zealand, and the global economy in general, was what the final impact of the European slowdown on the Chinese economy would be.
"From New Zealand's point of view, we're very Australia-China dependent now. If China really slows down then that could slow Australia down," Key said.
"One of the slightly worrying things is that you saw iron ore prices [fall] – eight or nine years ago they were $23 a tonne, it went all the way up to about $260 a tonne, [and] the general feeling was that there would be a floor at $120.
"Last week they're $83. The only reason that is happening is because China's demand is currently on hold or reducing," he said.