KiwiRail write-downs push govt deficit to worse position than expected in May Budget in year to June, govt financials show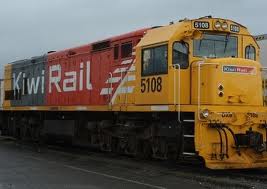 By Alex Tarrant
The government's books are in a worse position than forecast in May, even though core tax revenue was higher than expected and core expenses lower than expected in the 2011/12 year.
KiwiRail's NZ$1.4 billion asset write down announced in June contributed to a government operating deficit before investment gains and losses of NZ$9.2 billion in the year to June 30, 2012, the government's Financial Statements for the year show.
In the May 2012 Budget, Treasury forecast a deficit before investment gains and losses of NZ$8.4 billion in 2011/12.
That was forecast in the Budget to fall to NZ$7.9 billion in 2012/13, and NZ$2.0 billion in 2013/14, before turning into a NZ$197 million surplus in 2014/15.
The 2011/12 deficit halved from a massive NZ$18.4 billion in 2010/11, half of which was due to Christchurch earthquake costs.
The latest operating deficit included NZ$1.9 billion worth of earthquake expenses, net of reinsurance payments, Treasury said.
Finance Minister Bill English said an improving economy pushed tax revenues up during the year. Lower than expected core expenses were recorded due to a number of factors, including costs associated with the Emissions Trading Scheme and the leaky homes assistance package.
Lower earthquake-related costs also helped.
Core Crown tax revenue rose to NZ$55.1 billion (26.9% of GDP), compared with NZ$51.6 billion (26.1% of GDP) last year, and was slightly higher than the NZ$54.7 billion Treasury had expected in May.
Core Crown expenses fell to NZ$69.1 billion (33.8% of GDP), from NZ$70.5 billion (35.6% of GDP) last year, and below the NZ$69.6 billion expected.
Finance costs increased in line with the government's level of borrowings, costing the government NZ$3.5 billion (1.7% of GDP) in 2011/12.
The Government's two large long term liabilities, ACC and the Government Superannuation Fund (GSF) increased over the year, resulting in a loss of NZ$6.8 billion being recorded, Treasury said.
"Because these liabilities are paid out over more than 50 years, the present-day value of these future payments is sensitive to interest rate changes," Treasury said.
"When interest rates fall, as they have in the past year, the present-day value of these liabilities increases. Conversely, if interest rates rise, the present day-value of these liabilities is expected to decrease," it said.
In addition to the losses on ACC and GSF, significant gains recorded last year by the Government's investment funds – the Super and ACC funds – were not repeated this year, as growth in international markets was more subdued, Treasury said.
"The operating balance deficit (after taking these gains and losses into account) was NZ$14.9 billion, compared with NZ$13.4 billion last year," Treasury said.
Net core Crown debt was NZ$50.7 billion (24.8% of GDP) at June 30, lower than the NZ$51.9 billion expected in the May Budget. Net debt was up from NZ$40.1 billion at June 30, 2011.